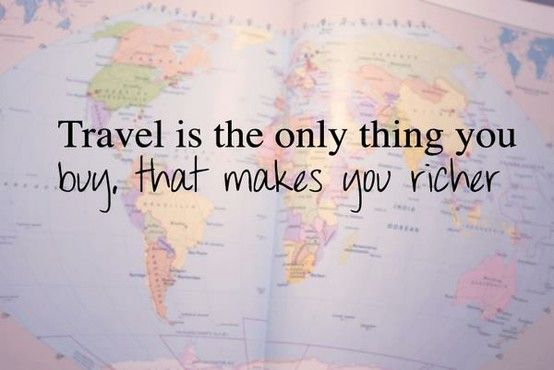 Is the cost of travel worth it? I think you already know my opinion ... YES! As the picture states, it makes you richer. The experiences, the education, and the people met throughout are priceless!
I recently heard about a study that found most people retain happy memories from vacations and personal interactions ... not from purchases of material items! I didn't need a study to know that, but makes sense.
Our costs of travel and cruising won't only be monetary, but will consist of so many other sacrifices as well. We're banking on the value of it all! =)
I will say there is one other thing I can think of that you can buy that makes you richer ... education. We'll get some of that too in cruising .... sailing, boat maintenance, navigation, geography, and so much more!
Hasta luego ... until then. Mid-Life Cruising!

*You may have noticed this "Frugal Fridays" post didn't come out until Saturday. With so much going on lately, I just wasn't able to get this post out on time. I think this may be a good time to "wrap up" this series, as committing to a Friday post isn't always easy and I'm hoping to be busy the next few months with cruising preparations.

I'll still post some frugal tips whenever I have some, and feel free to share your tips too!
**For those that missed the other posts of this series, check them out below: