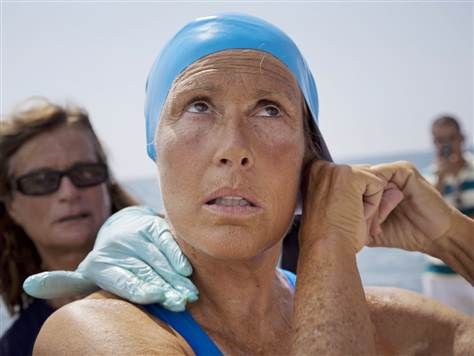 As I was drinking my coffee and watching the morning news yesterday morning, I heard that Diana Nyad was debating whether or not to continue her swim from Cuba to the Florida Keys. For her sake, I was hoping she could continue. Whether or not Ms. Nyad continued her swim, she was a success and a hero to me! However, she had been trying to achieve her dream for over 35 years and she deserved to achieve her goal. On her fourth attempt she'd already endured 41 hours of swimming, numerous jellyfish stings on her lips and face, hypothermia, and a bad overnight storm.
Diana Nyad's plan was to celebrate her arrival in the Florida Keys along with her 63rd birthday, which is today. Unfortunately, she arrived in the Keys ... without achieving her dream.
Ultimately, the jellyfish were her greatest challenge and the main reason for stopping her swim. As she said on the
Today Show,
"It was devastating. On the other hand, it's like life isn't it? We don't always get what we want. All our dreams don't come true. This is a big, big, larger-than-life dream. This journey over the last three years has been magnificent. What I've learned, and the spirit of it, I don't have any regrets."
This morning I saw a clip on the news of Ms. Nyad, and she said, "I'm not a quitter. Maybe this isn't possible. Things aren't like they used to be ... those jellyfish". Her words really struck me.
When hearing her comments about the jellyfish, I recalled hearing about the invasion of giant jellyfish in Japan and how it's thought to be a cause of pollution in the ocean. I couldn't help but wonder of Ms. Nyad's experience with jellyfish was also an indication of man's bad habits.
Another thing that really struck me was her statement about not being a quitter. I totally agreed with her, and was hoping that she wasn't beating herself up for having to put her health first. As her news story was being introduced, some idiot reporter said something to the effect of ... "Diana Nyad's attempt to swim from Cuba to the Florida Keys was a failure". I got so angry when I heard that. A failure?! Just the fact that she'd attempt such a thing ... for the fourth time, and at 63 years of age ... come on man! How insensitive!
The final thing was her words about not always getting what we want and her magnificent journey over the past three years in her attempts to achieve her dream. All of this made me wonder, "What is considered a success? What's considered a failure?"
I think that going for your dreams and doing your best is a success! The end result may not be the desired result, but it does NOT mean failure!
My thoughts then went to our dream and plan to go cruising. WHEN we go, will we be considered a failure if we hit a reef the first six months and sink our boat?! Will we be considered a failure if we decide we've had enough after a year or two ... or ten? What if we realize that we hate cruising? Does that mean we've failed? My answer ... hell no!
It takes guts to go for one's dreams, no matter what they are. Stopping after making every effort and doing your best is not a failure! Never trying because of fear and insecurity ... that's the failure!
So, "Happy Birthday" Diana Nyad! You are amazing and a true success story!
Hasta luego ... until then. Mid-Life Cruising!