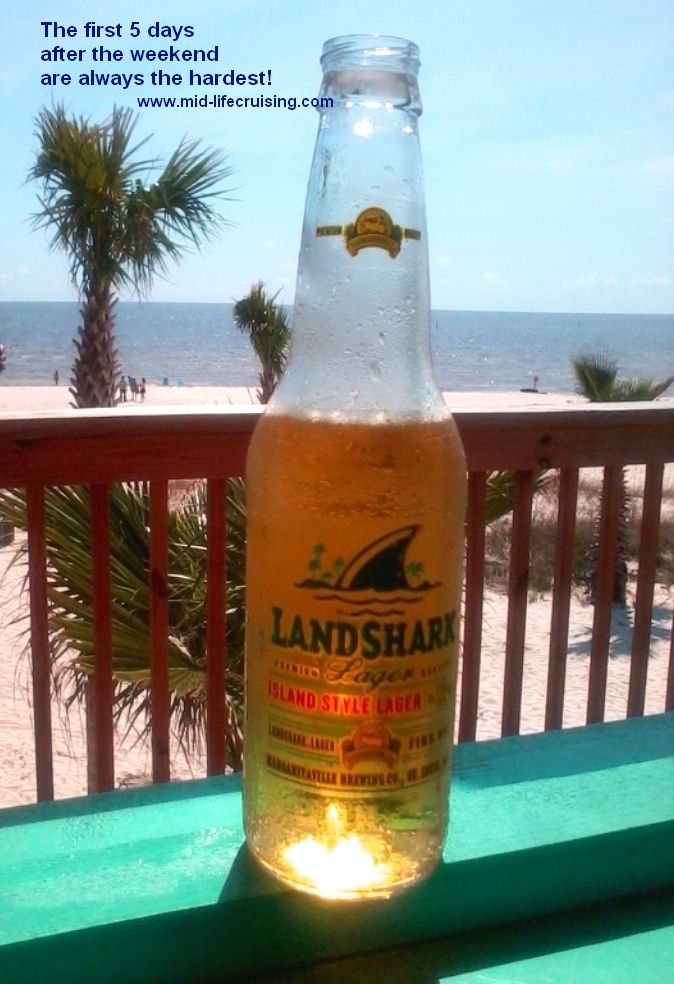 After a whirlwind
weekend in Florida
, we can relate to the above photo. The older we get, the longer it takes for us to recover from a good time! Today's Friday, and we're almost back to normal.
Leaving town was almost impossible, and after coming home Sunday night we were quickly thrown back into reality. This past week has been really tough, with being exhausted and fitting in work and hurricane repairs. Sometimes it seems that we really pay for leaving town!
Without going into a bunch of negative talk, let's just say that the
hurricane repairs
to our house have NOT been going smoothly. Ken has been trying to find the source of our leaky roof. You know how boat repairs just seem to grow ... same goes with our house. With
repairs complete
on our home before the hurricane, and now re-doing sheetrock two and three times ... ugh! Add to that some damage to our rental from an overflowing a/c in the attic AND the 8 month old pool pump destroyed by hurricane waters ... Ken replaced it before we left town and it's already burned up from oblivious tenant. Pump number 3 to be installed tomorrow, and damage from a/c is just gonna have to wait for repairs. We gotta get our house finished and sold! It's been 4 months since we started renovations to our home, 2 months since we put it on the market, and 6 weeks since the hurricane damage ... we seem to be going backwards.
Speaking of going backwards, I thought I'd take a look at one of our top posts ...
Anticipation and Frustration
". I had written this post back in October, 2010 amd wanted to refresh my memory. I spoke of our hectic life and wanting to get our house sold no later than Spring, 2011 ... now I'm hoping for Spring, 2013! It doesn't seem like much has changed, but at least we're ALMOST finished with our house and it is on the market. We haven't had any viewings yet, but until the repairs are complete we're not pushing things.
Wait, I said I wasn't gonna have a bunch of negativity. This is our life ... it is what it is. We did have a great time with friends and this Sunday is gonna be a "No Work" day. Maybe it shouldn't be, but it's required to keep our sanity and a positive attitude.
Makes me think of that song, "Ain't No Rest for the Wicked" ... we don't wanna "close our eyes for good" but we do look forward to the days of slowing down. Guess we need to stop being wicked.
Oh, there ain't no rest for the wicked,
Money don't grow on trees
We got bills to pay,
We got mouths to feed,
There ain't nothing in this world for free.
I know we can't slow down,
We can't hold back.
Oh you know, we wish we could
No there ain't no rest for the wicked
Until we close our eyes for good!
Hasta luego ... until then. Mid-Life Cruising!