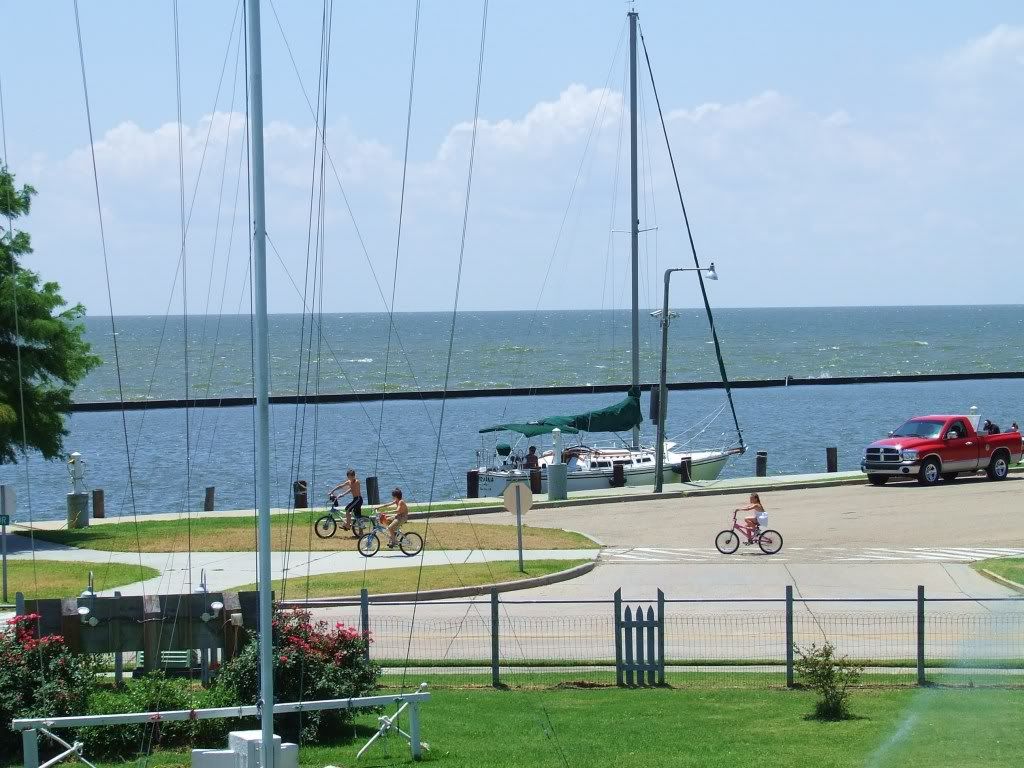 Nirvana docked at the Mandeville Harbour in front of the Pontchartrain Yacht Club
With this past weekend being a three day weekend due to
Memorial Day
, Ken and I decided to get back on the water and
back to Mandeville
for another overnighter. It had already been 2.5 months since we'd taken Nirvana to Mandeville, and we've been anxious to go again when we could stay until Monday and catch the live music on Sunday afternoons at the local restaurants.
Although we could not head towards Mandeville until Sunday morning due to other obligations, we started the weekend off with a Friday night sunset sail on Lake Pontchartrain. We went with some friends and had a really nice and relaxing evening.
Barge and crane on Lake Pontchartrain, near new twin span bridge in Slidell, LA
Sunday morning Ken and I loaded up Nirvana and pulled away from our backyard dock around 8:30. We were in a hurry to get to Mandeville in order to catch the first band at 2:00. So, in order to get to Mandeville in time we motored the entire way. However, we didn't mind as we really enjoyed the water, the breeze, and the feeling of peace that surrounds us when we're on the water. We turned up the tunes and our cockpit speakers drowned the sounds of the engine. It came to mind that purchasing those
cheap car speakers
were one of the best investments we've made so far!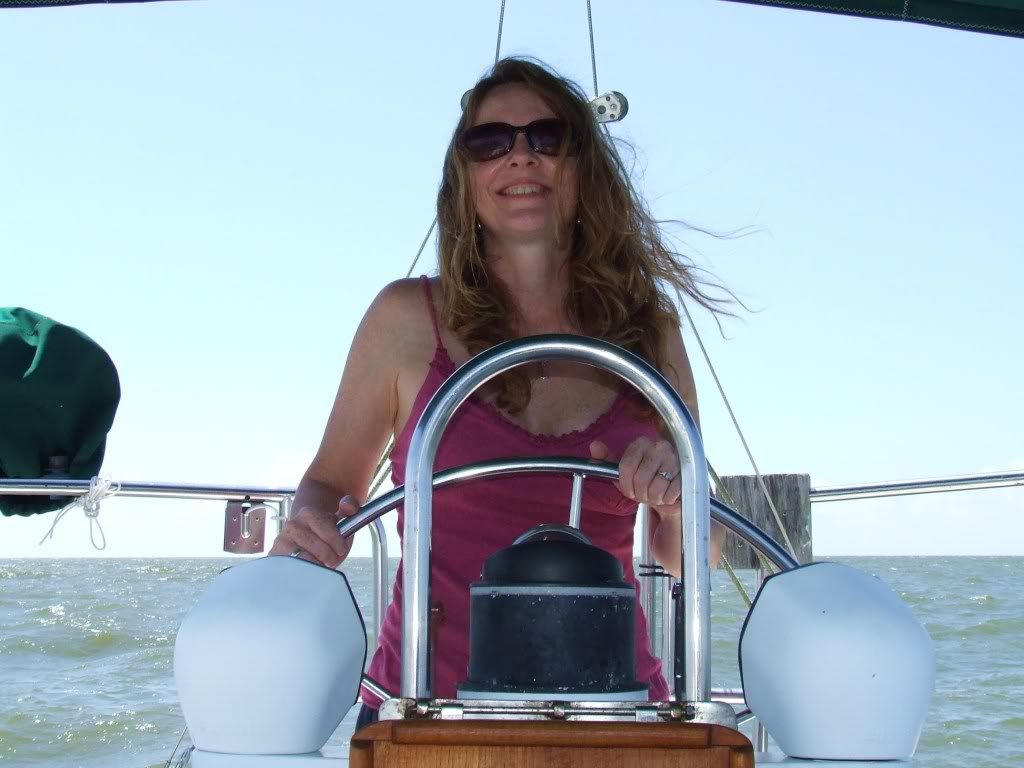 Lovin the water!
Nirvana rocked and rolled (literally) the first half of the way until we had to make a slight turn, which then allowed us to have "following seas", meaning the waves were coming from behind. We made it to Mandeville quicker than anticipated, and were at the dock for 12:30. While Ken worked on placing the fenders and tying up our sailboat for the night, I checked in with the Pontchartrain Yacht Club. We both finished about the same time and then relaxed in the cockpit for about 30 minutes, just taking in the great views of the lake and the people. As you can see in the first picture, the lakefront is a popular place for joggers, bikers and families to spend the day. Right across from us was a little park with a fountain to cool off, as well as the Yacht Club.
Fountain and Pontchartrain Yacht Club
We then walked down the lakefront to a little bar/restaurant to watch a local band. Once we got there, we found that the band had been pushed back from 2:00 to 4:00 and the other band at a nearby restaurant had cancelled. So, we made the best of it by ordering some LandSharks and nachos until the band started. I have to say, I've always preferred wine over beer but I really like the smooth flavor of this Jimmy Buffett brew! Before we knew it, the band started and we enjoyed a mix of acoustic guitar and violin for the next two hours.
As we walked back to our sailboat along the lakefront we really felt like we were on vacation! Once we got back to the boat we once again hung out in the cockpit and took in the views, watching people boat, jog and fish while the sun set. A couple that appeared to be in their early 60's walked up and struck up a conversation with us. The man mentioned that his wife didn't believe him when he mentioned to her that our sailboat had living quarters below and even room to stand up. We told her to come on board and have a look inside! I gave her the grand tour and she was amazed that not only could she stand up, but there was a little kitchen, living area, and sleeping quarters on board. When her and I came back into the cockpit she told her husband, "I want one of these"!
View from the back of cockpit, the back towards the harbour and the front towards the lake
We had a very full day and were ready for bed by 9:00. The winds weren't too bad and we had a pretty good sleep. Since we were able to hook up to electricity, we brought a floor fan and kept the hatches open. We don't have air conditioning, but we were comfortable without it.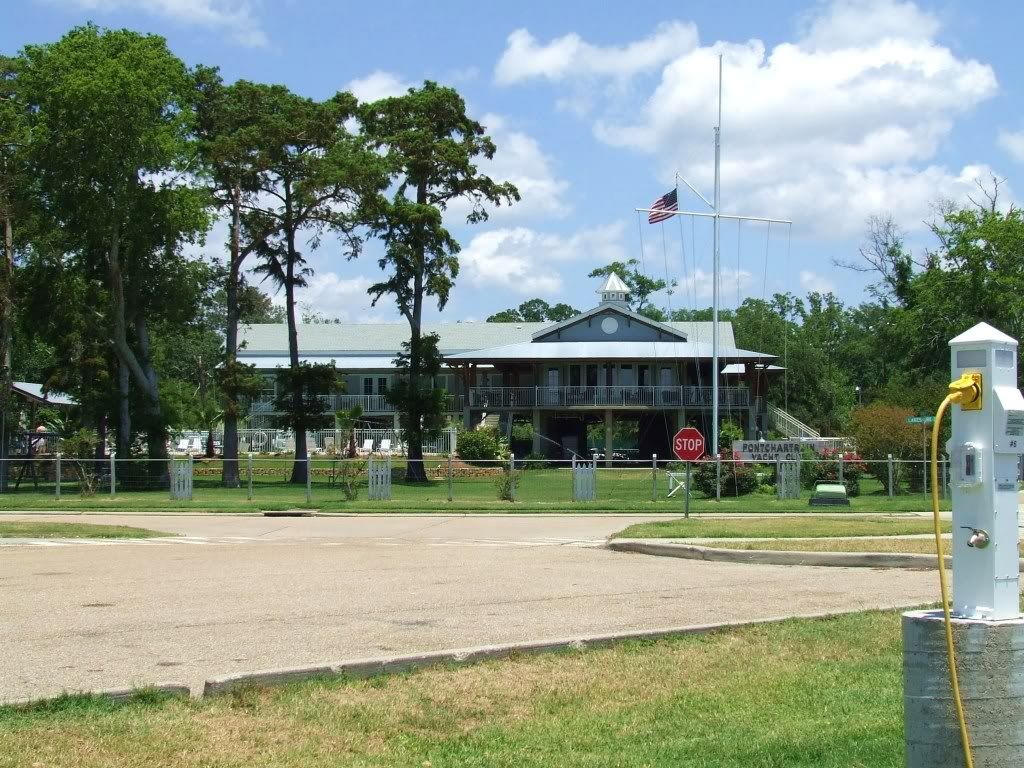 Yacht Club and our electrical hook-up
Monday morning we awoke just after sunrise, perculated some coffee and spent the first two hours in our cockpit imagining we were at some tropical island. Although we know we'll be giving us some comforts and conveniences, we think we'll really enjoy waking up in our waterfront home every morning when cruising. Being on the water really takes you away to another world! With the morning being the start of Memorial Day, we also listened to the radio and to the stories of so many that have given their lives for our freedom. We are very grateful to these fallen heroes, and we felt a little guilty for having such a great weekend while others are fighting for our country. They were in our thoughts the entire way home.
We arrived home just as our daughter was passing through town and we got to spend some time with her and her boyfriend. They had just returned from a cruise to Cozumel that her boyfriend's family took them on from New Orleans. We were so glad to be able to hear about her trip and visit a little before she headed back to Baton Rouge. She just finished her first year at LSU and we are so proud of her! We can't believe how quickly she's grown from a precious little baby girl into a smart and beautiful young woman. Her boyfriend is also a really good guy, and we are so grateful that she's on the right path. Nowadays, that's a lot to be grateful for!
By Monday evening we were ready to shower and hit the sofa. We reflected on all that we had done in such a short weekend, and best of all this little getaway only cost $16 in diesel plus the cost of a few LandSharks, nachos, and snacks/drinks on the boat. The dock and electricity in Mandeville were free, so this made for a really inexpensive getaway. No hotel rooms for us ... another reason we love our sailboat!
We really need to do this more often! Hasta luego ... until then. Mid-Life Cruising!