On the water with friends
It seems that time is just flying by and it's almost June ... wow! We can't believe how fast the year is going, and we really hoped to have our house on the market by now. However, we purchased the home "gutted" after Hurricane Katrina which means we have more than the usual maintenance projects to complete before we can put the sign in the yard. Ken has been steadily working on the list of house projects as well as squeezing in some boat work. We still want to enjoy life while preparing for cruising, so we're "enjoying the journey" and doing our best without killing ourselves. It had been several weeks since Nirvana had left the dock, so this past weekend Ken and I managed to squeeze in some time on the water.
We took our sailboat out Saturday afternoon and met up with friends that were also on a sailboat. We anchored, tied the boats together, turned up the music and had a relaxing evening. We all agreed that there wasn't a much better way to spend the afternoon.
Oak Harbor Marina - in our neighborhood and close to where we anchored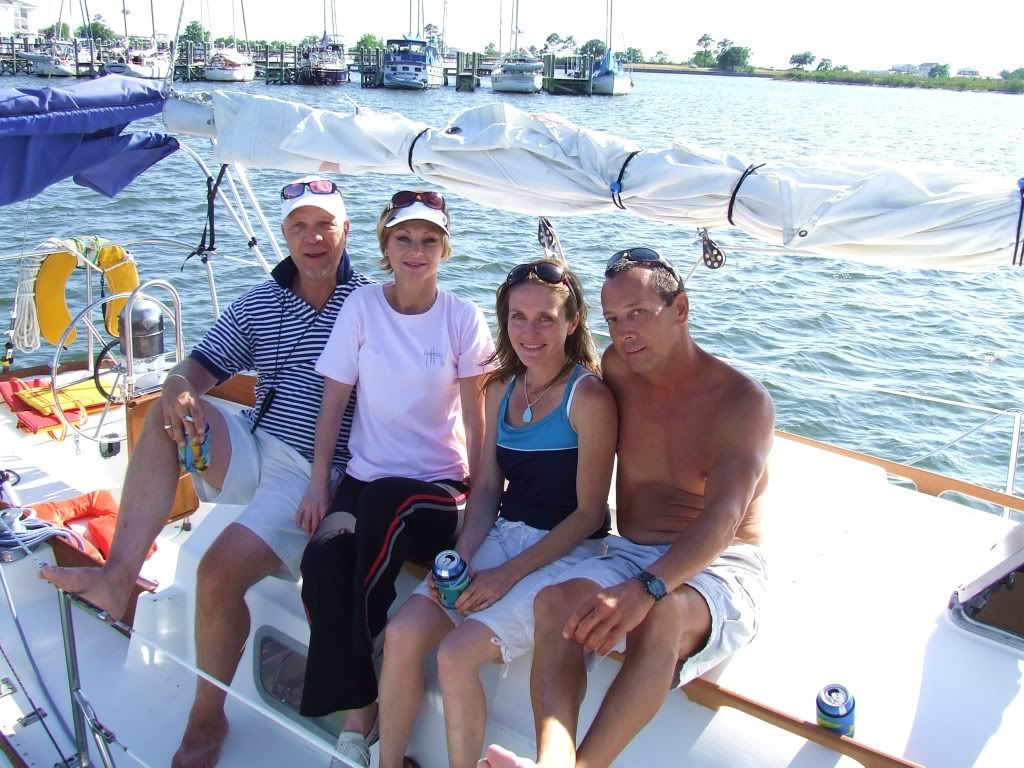 Jeff, Tammy, Allison and Ted on Ted's sailboat
Ken recently gave Nirvana's diesel engine some attention by changing the oil, the filter, and transmission fluid. He also pressure washed our house and dock then sealed the dock with the same product that we used on our sailboat's teak. It's called CWF (Clear Wood Finish) and it's now available at Wal-Mart for only $16 a gallon! We love this stuff and while Ken worked on the dock I refinished a teak chair that washed up to our home during Hurricane Katrina. I figured after all that chair has been through it deserved a makeover!
The deck and "Katrina chair" with a new look!
Speaking of Hurricane Katrina, the hurricane season starts next month and we're really hoping for an uneventful season. We were grateful to escape oil in the lake after BP's spill last year, and after all of the work we've done on Nirvana we really want to keep her safe!
Hasta luego ... until then. Mid-Life Cruising!