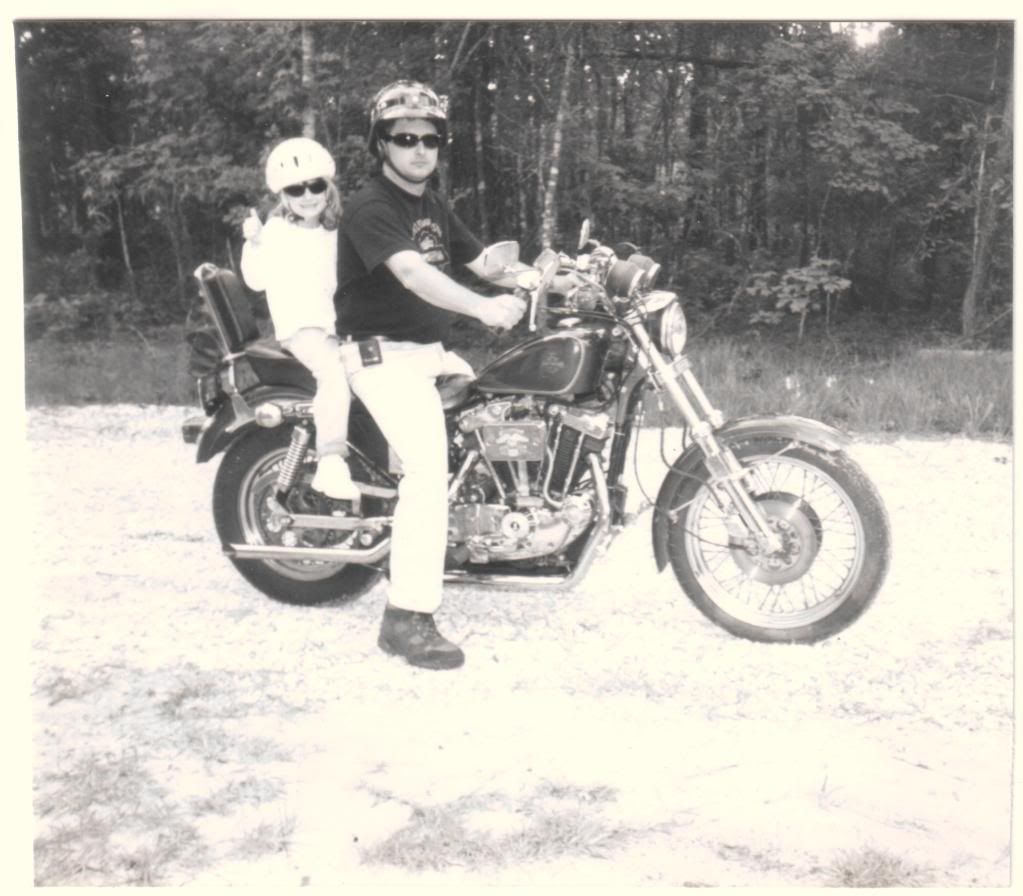 A picture of Ken and our daughter, Erica, around 1997 on his first Harley that he bought from his dad.
This past weekend Ken and a good friend worked almost all day on Ken's motorcycle, trying to get it going again. Evidently, the Harley is not too happy with being neglected for over 2 years! Unfortunately, there seems to be more work to be done ... as if we don't have enough to do already. My own bike has been neglected as well, but I just need a new battery ... I think! We're keeping our fingers crossed that we get both bikes running soon, cause we'd really like to get some riding time in this year before we sell our favorite toys.
Although we haven't ridden our bikes since we purchased Nirvana (I see why our bikes are pissed), motorcycle riding used to be a huge part of our lives. Ken has ridden a motorcycle since his teens, and I started riding when we purchased my first bike in 2001. We would have never guessed that we'd allow our bikes to sit in the garage unattended for so long! This seems to be a reflection of our hectic life the past few years.
I came across the above picture, and thought I'd post it. I love this picture, and have a lot more pics from our motorcycle days that I want to scan in the near future. It seems we've traded two wheels for two sails! However, I think motorcycles and sails are very similar. They both give you the sensation of the breeze on your face, the enhanced sense of smell and feel of the air, and they both give you a huge sense of freedom. I am so glad that we've had the joy of experiencing both!
Hasta luego ... until then. Mid-Life Cruising!