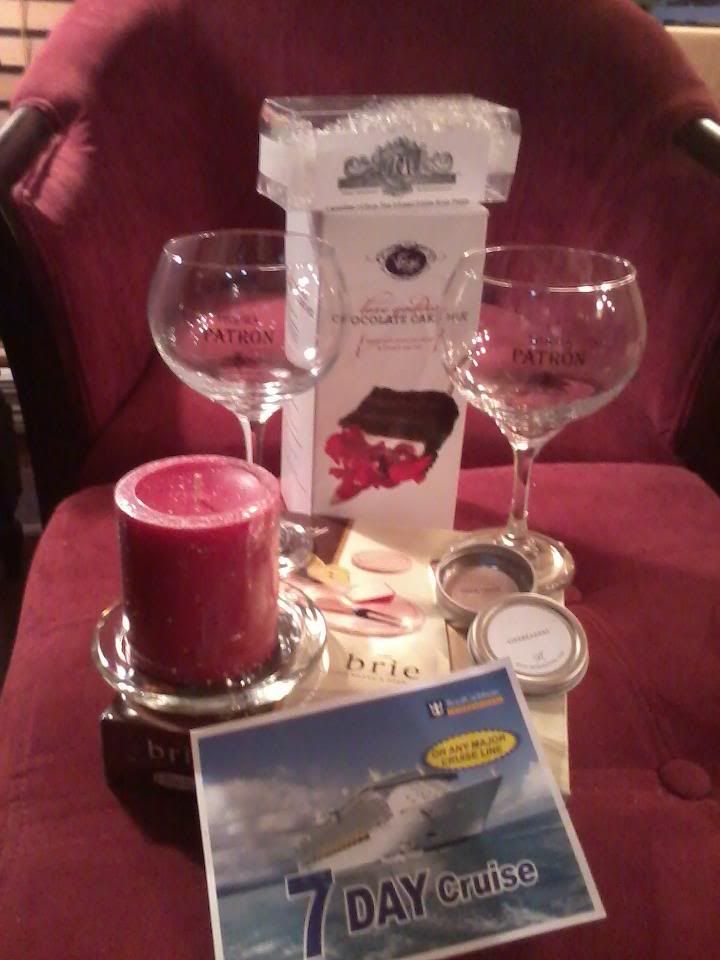 Last night I came home from work with a package waiting for me at the front door. Hmmm ... had I ordered something? No, nothing for Nirvana had been ordered lately. I excitedly opened the box ... I love surpises! There were several items wrapped in tissue paper, and the first thing I unwrapped was the "Love Goddess" chocolate cake mix. Could this be the Patron tequila gift set that I had tried to win by entering a contest last week?
The next thing I unwrapped was a red candle, then some edible rose petals, a cheese cutting board, and then ... two Patron glasses. Woo hoo!
Yes, this was the Patron gift set that I was hoping for! Although I have to admit I was hoping to find a little bottle of Patron tucked in the box ... I was still stoked! I'm so easily amused and was grinning from ear to ear over my new prize.
To make things even better, we received a postcard in the mail stating the Ken had won a 7-day cruise from any port in the United States. Yeah, yeah ... I bet it's another time share presentation! We know better than to think we've just "won" a free cruise, like we won our Patron prize pack. That would be too good to be true! But, we figured that Ken should give the number a call to claim our "prize" and see what the catch is. Yes, we do have to attend a one-hour presentation, but we've been promised it's not a time-share. Evidently, this is some kind of new "club"... kind of like a Sam's Club. Soooo, this Thursday night we're headed to New Orleans to hear the presentation, expecting to claim our free cruise without spending a dime. We've been to some time-share presentations in the past and we're really good at standing our ground, frugal folks that we are. Ken and I have never been on a cruise, and the cruise ships leave every Sunday right down the road in New Orleans. We desperately need a vacation, so we hope this works out as promised.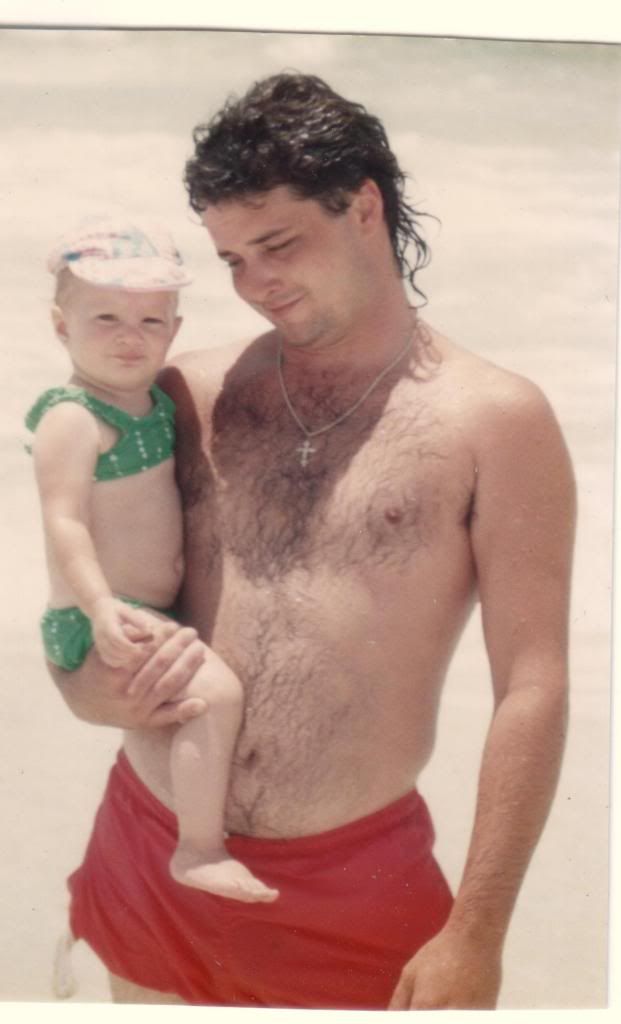 So, the eve of Valentine's Day was pretty good and for once the mail didn't have any bills ... just these two items. As I mentioned on our last
Frugal Friday's post
, Ken and I don't do a whole lot for Valentine's Day. I find the day a great excuse not to cook, but we don't want to fight the crowds in the restaurants nor spend a lot of money so ... pizza tonight! I may even make the chocolate cake that came in the Patron prize pack so we'll have a little dessert. What more could a girl ask for ... LOL! Money saved now is money in the future for Nirvana and our cruising dream.
I posted this picture to the left last year and thought I'd post my "sweethearts" again. This is Ken and our daughter in Destin, FL about 19 years ago. I love this picture ... they are my heart!
Here's a little "gift" for ya'll on Valentine's ... a great little video that shows how to tie your own celtic heart knot. This would make a great necklace, and I hope to try this soon. Enjoy ... "Happy Valentine's Day"!
Tomorrow I'll be in the stores stocking up on all the half-priced Valentine's candy!
Hasta luego ... until then. Mid-Life Cruising!