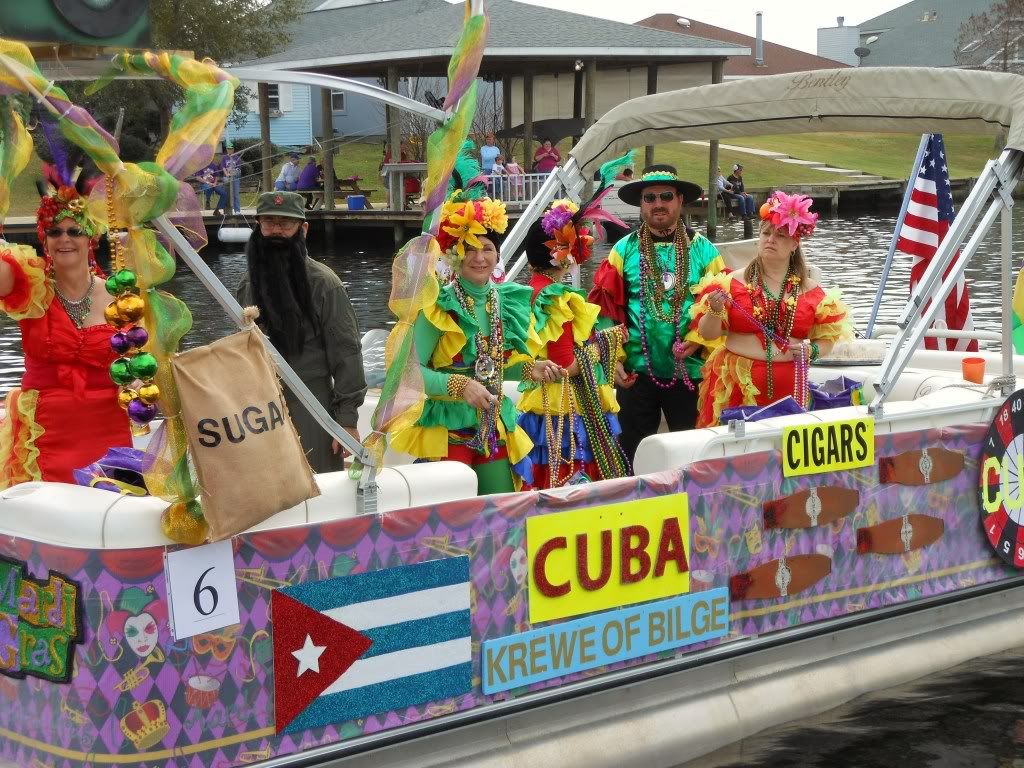 After a couple of stressful weeks, Ken and I were able to finally have a weekend off. Actually, Ken still had to work Saturday morning, but the rest of the weekend was ours! To kick off the weekend, we went around the corner to our friend's place to watch the annual Krewe of Bilge boat parade. Although it was a cloudy day, the temps were in the 70's .. making for a pleasant afternoon.
Our friend, Ted, lives on his boat and the parade passes right by his "Squatter's Park". The parade consisted of about 20 decorated boats, and the boat pictured above was one of my favorites. I can't wait to sail to Cuba in the next few years.
Spending the afternoon near the water with boats, friends, plenty of food, and some wine (beer for Ken) was just what we needed. The only thing that could have been better was if we had been on our own boat, but I don't think neither of us had the energy. We just kicked back and enjoyed the day.
Our friend, Dennis, was cooking up some chicken wings while me and Judy visited.
Ken and friends ... the host, Ted, is in the middle with the blue shirt and that's his sailboat .. Liberty.
The three guys to the right of Ted are all liveaboards, and the one in the middle with the black shirt (Charles) has been cruising for over 5 years and happened to be in town for a quick visit. We had been hearing a lot about Charles from Ted, and were glad to finally meet him. He said cruising is "addictive" and once we left, we wouldn't be back soon ... sounds great!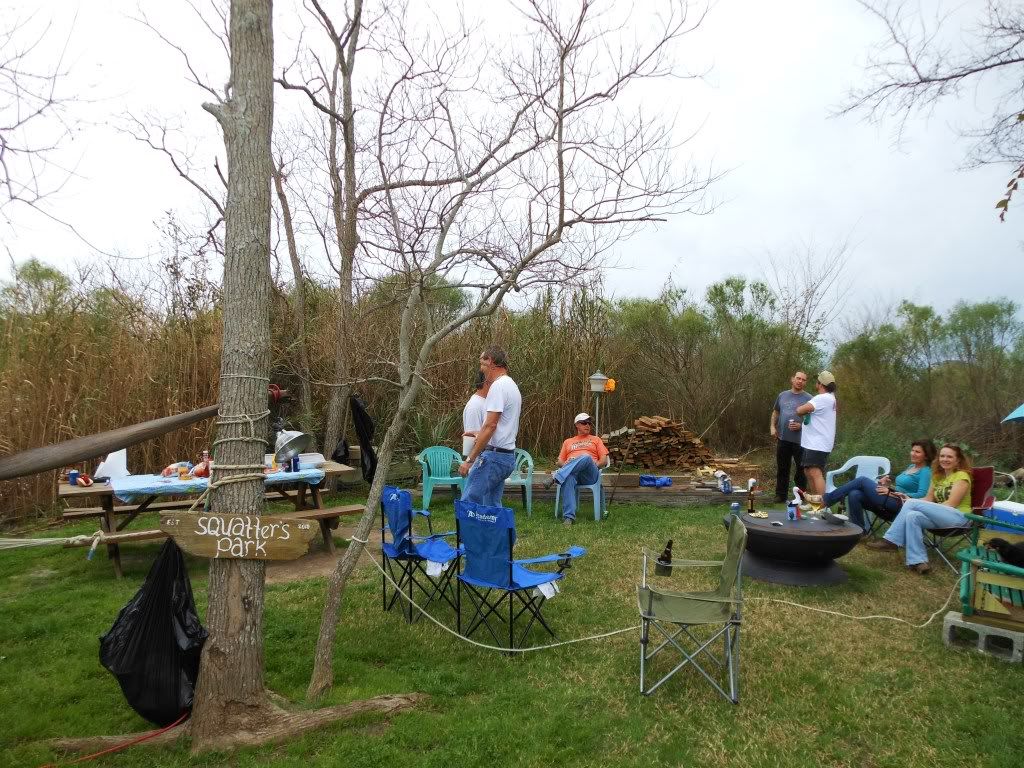 "Squatter's Park"
On Sunday, the weather was a lot colder and cloudier ... a great day for getting some rest. We drove to the Mississippi Gulf Coast for
another jazz brunch buffet
at the local casino. We had to visit the carving station, and pile our plates with beef and horseradish sauce. Then, it was on to the crabs! All of this while enjoying the music of a live jazz band. The best part .. it was all free! I'll be posting how we got this feast totally free in one of our upcoming
"Frugal Fridays"
posts.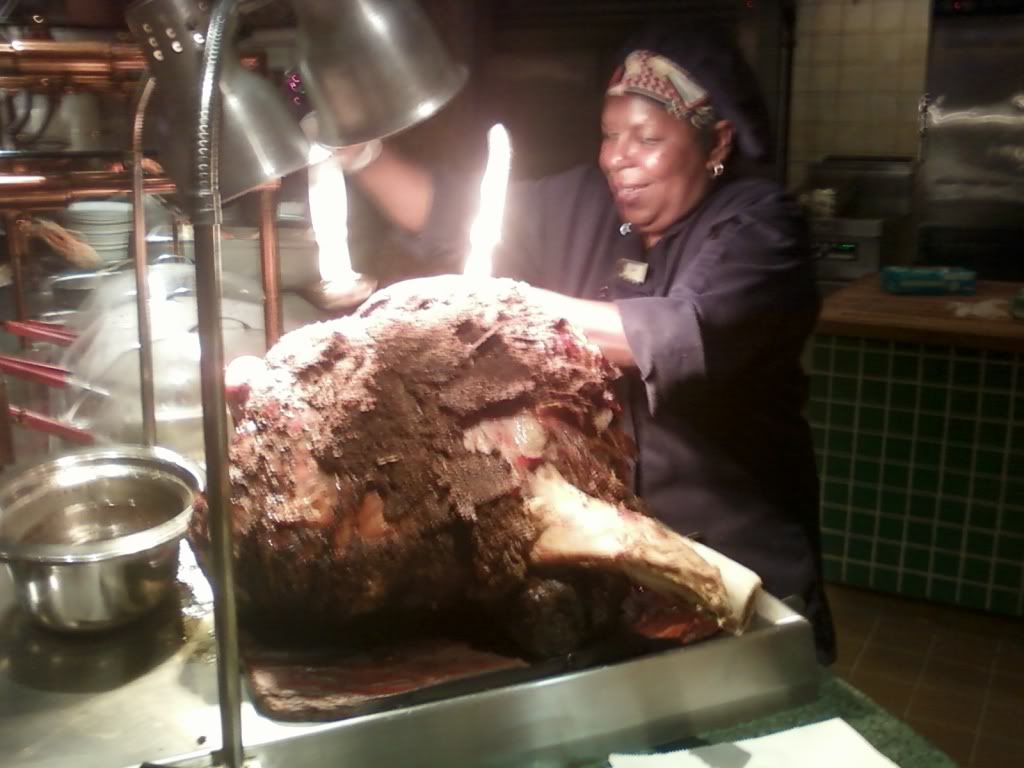 When we got home, we put on our pajamas and got ready to watch the Superbowl. We needed an evening on the sofa!
Our landlord troubles have already started looking better! We rented the house this past Thursday night to a man that's been transferred here by the railroad system. He's renovating the trolley tracks along the New Orlean's Riverfront in preparation for next year's Superbowl. The best part is that he rented the place for February instead of March, which means our losses will only be half of what we anticipated. Hallelujah!
Of course, taking the weekend off and getting the house rented right away meant that Ken and I had to work late last night. After our regular jobs we headed to the rental house to clean the carpets and the house. However, having this behind us is such a great feeling! Hopefully, our tenant troubles will stay quiet for a while. Although .. as soon as we signed the lease we received a letter from our other tenant that she was leaving her spouse and vacating the premises. Really?! We felt good for about 30 minutes. At least we received February's rent and we'll have the next few weeks to find out what's going on.
Never a dull moment around here! I only wish I was makin' this stuff up. Gonna think positive and as always ... keep on movin' on!
Hasta luego ... until then. Mid-Life Cruising!