Should have brought my hat!
Since our daughter would be with her boyfriend for the holiday, Ken and I decided to do something a little different thisThanksgiving. We went to the races! Not a regatta or anything to do with boats ... we went to the horse track. The New Orleans Fairgrounds has long been a tradition for many folks at Thanksgiving, as it is the start of the racing season. Although Ken and I grew up around New Orleans, the only time (many times) we'd been to the race track was for the annual
Jazz and Heritage Festival
. We're always looking for a new adventure, so we promised our family that we'd be around for Christmas (this year ... hopefully the islands in the future) and we headed to New Orleans on Turkey Day!
While Ken and I love the casino (blackjack, not the slots) we had no idea how to bet on a horse. Luckily our friend, Sheri, came with us and showed us the basics. Between each horse race we'd walk to the stables to take a look at the horses that would be in the next race. The horses were really beautiful to look at, especially in the perfect weather we had that day. Again, Ken and I knew nothing about what to look for so we'd just bet on the prettiest horse or the one with a clever name. Frugal as always, we'd take turns betting on each race and we'd bet a big $2. Our strategy was that if we bet on a long-shot we'd win around 80 bucks ... no such luck! But, since we didn't bet much we didn't lose much.
When not watching the horses, we were watching the people! There were plenty of people to observe, many with extravagant outfits and hats. We noticed a lot of people that kind of reminded me of the forties, but with plenty of tattoos and piercings to go with it! Although that's not my thing, some people really pulled it off and I wish I would have taken more pictures. I must admit that not only did we not have hats ... we were in blue jeans! Oh well, at least we were comfortable and we definitely weren't the only ones.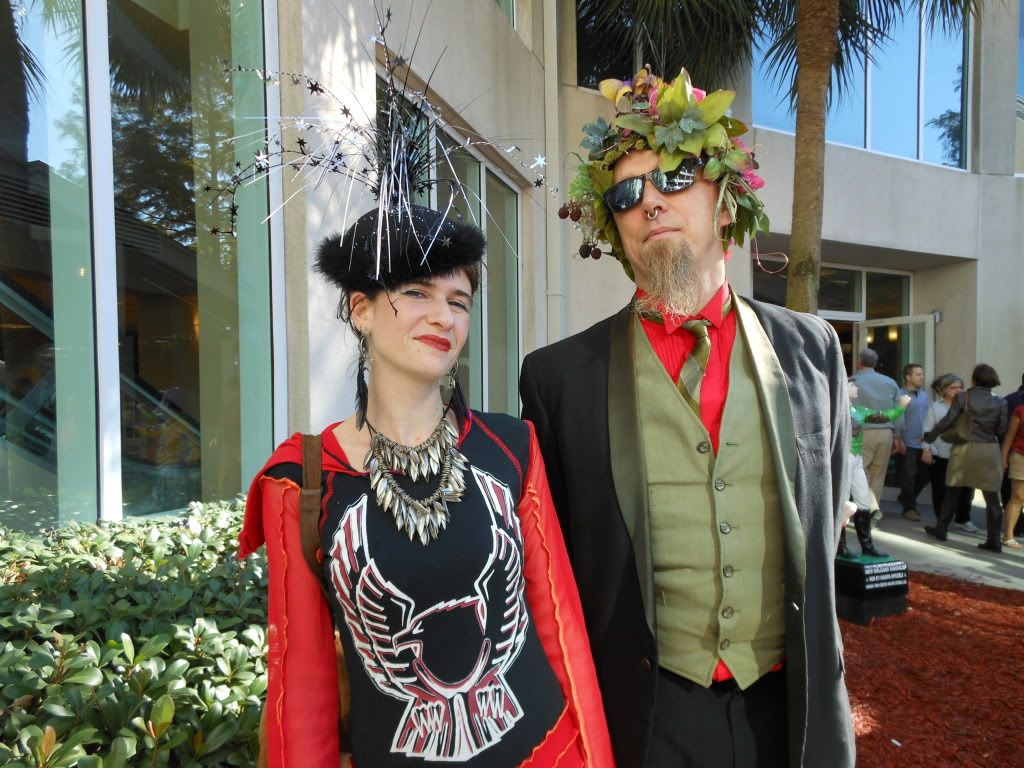 An eccentric couple!
Afterwards, we walked across the street to a local bar that was having a huge (and free) Thanksgiving buffet. We made our donation by purchasing a drink and then filled up our plates with all of the traditional Thanksgiving dishes ... turkey, sweet potatoes, mac n cheese, spinach n artichoke casserole, pumpkin pie and bread pudding! While we were busy stuffing our faces with great food, I swear we saw Rod Stewart! I really wish I would have taken a picture to prove it, but the guy's back was to us the entire (and short) time he was at the bar. Ken had pointed him out to me and I had noticed his spiked blonde hair, but only when he turned to walk out the door with his female companion did I become sure that he was Rod Stewart. He was dressed in a really nice, ankle-length black coat and I was so busy looking at his face through the window as he walked past that I didn't notice anything else. If it wasn't Rod Stewart, it was his twin! But, being a city like New Orleans .. we think it was him.
Thanksgiving is now over, we've reflected on all that we have to be thankful for (so much), and the Christmas tree is up and decorated! Our daughter and her boyfriend spent Saturday with us and helped decorate the tree while we baked a turkey in the oven. This was the second time EVER that we've baked a turkey, and we tried a one hour recipe that we'd heard about. Yep, in about 1.25 hours we had a great baked turkey! What's the secret? Butterfly! Just like a shrimp, you cut the turkey breast from top to bottom, flip over and flatten on a rack with a pan underneath, salt and pepper, then bake in 450 degree oven ... that's it! We did soak the turkey in water with one cup of salt and 1/2 cup of sugar for about 3 hours. That's supposed to keep the turkey moist or something. Anyway, it seemed liked the holidays with family, turkey and the Christmas tree ... great day. Plus, since we got around to cooking a turkey, we're finally able to enjoy all the leftovers ... turkey sandwiches and turkey n sausage gumbo! We're glad the tree is up, cause before we know it we'll be taking it down and celebrating
Mardi Gras
!
Since it's now time for all that Christmas shopping, please consider using our
Amazon link
for any of your Amazon purchases. You'll pay the same, and we'll make a few cents ... what a great way to give to two for the price of one. Just click on link, then on the
black Amazon box
to start shopping! The little black Amazon box is always on the right side of our web site for shopping throughout the year ... no having to go back and find this post ... Muchos Gracias! Did I spell that right? Gotta start learning Spanish!
*Note: Our next post will be about boating ... our hatches got a facelift!
Hasta luego ... until then. Mid-Life Cruising!