After a
rough patch
with a lot of bad luck, I was looking forward to spending this past weekend cutting loose and enjoying one of the world's greatest free parties ... New Orleans Mardi Gras! Ken and I stayed indoors on Saturday out of the rain, but Sunday we were headed to the French Quarter. With our good friend, Judy, we hit the streets around noon and had a great time people watching and taking part in the craziness. Judy had some great connections, and we were able to drop in at the Royal Sonesta for free food, drinks, a space on the balcony to throw beads, and a bathroom. If you've ever been to Mardi Gras before, you know that the last two items are priceless! Thanks Judy!
Since we all three had to work on Monday, we headed home that evening and on Fat Tuesday the three of us were back in the French Quarter! I love to dress up on Mardi Gras day, so I opted to dress as a pirate this year. I thought it would be appropriate with our future cruising plans. We saw so many fantastic costumes, and even a few famous people such as Charlie Sheen and Lady Gaga (yes, her outfit was s#@t!).
On Fat Tuesday Judy not only had passes to the Royal Sonesta again, but also to one of our favorite seafood restaurants, Acme Oyster House! What a treat it was to walk into this place and have access to an unlimited amount of free drinks and seafood. We had a choice of raw oysters, grilled oysters, jambalaya, gumbo, red beans n rice, and fried shrimp. If there hadn't been a party going on outside, we could have stayed here all day and eaten until we were miserable ... delicious!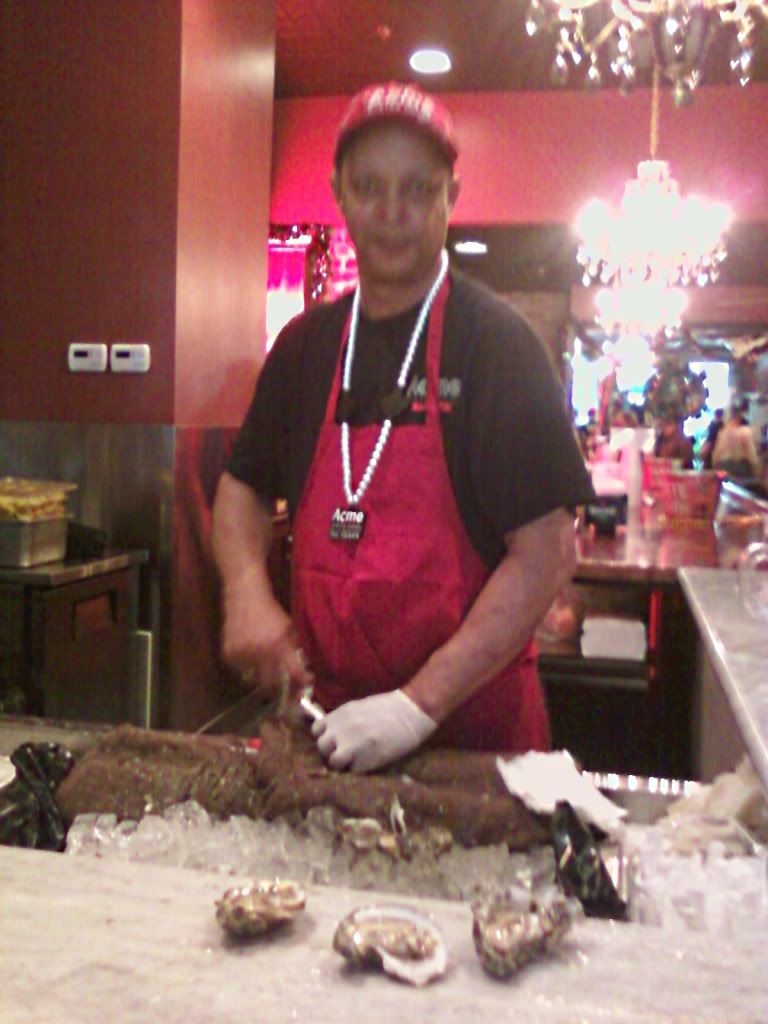 After filling up on food and drink we walked the streets, taking in all the sights. No matter how many times we attend Mardi Gras, the costumes never cease to amaze us. Some of them are really elaborate, and others just plain crazy. Since this is a "family oriented" site, I can't share half of them with you!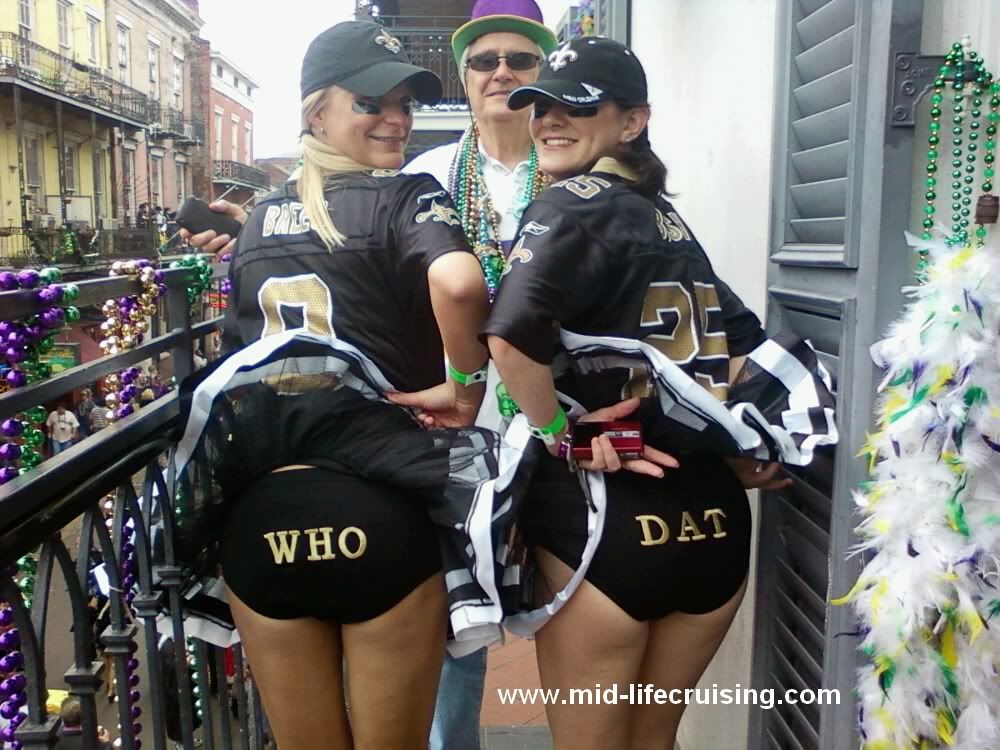 We made our way to one of our favorite bars, the "Funky Pirate". We love this place because they've always got live music, and we've never been disappointed. This particular visit was unique, as we walked in just in time to watch these two love "birds" get married! This was a first for us on Mardi Gras, and we were honored to sign the guest list.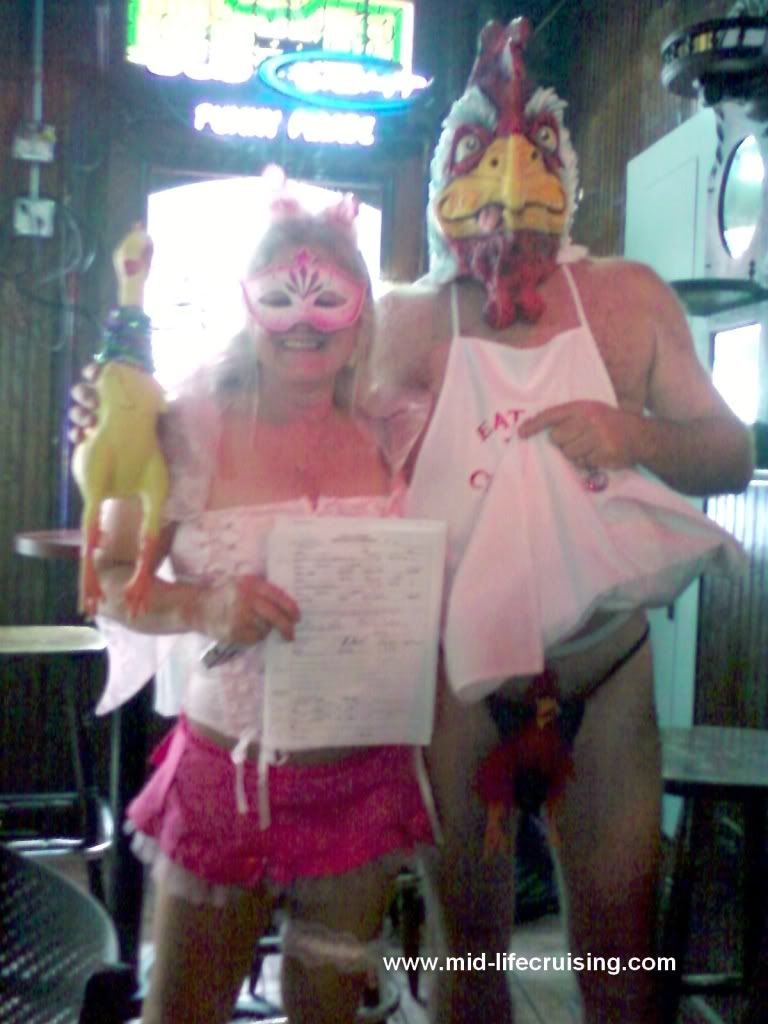 Around 4:00 the streets were really filling up, so we decided to walk through this mass of people one last time before heading home.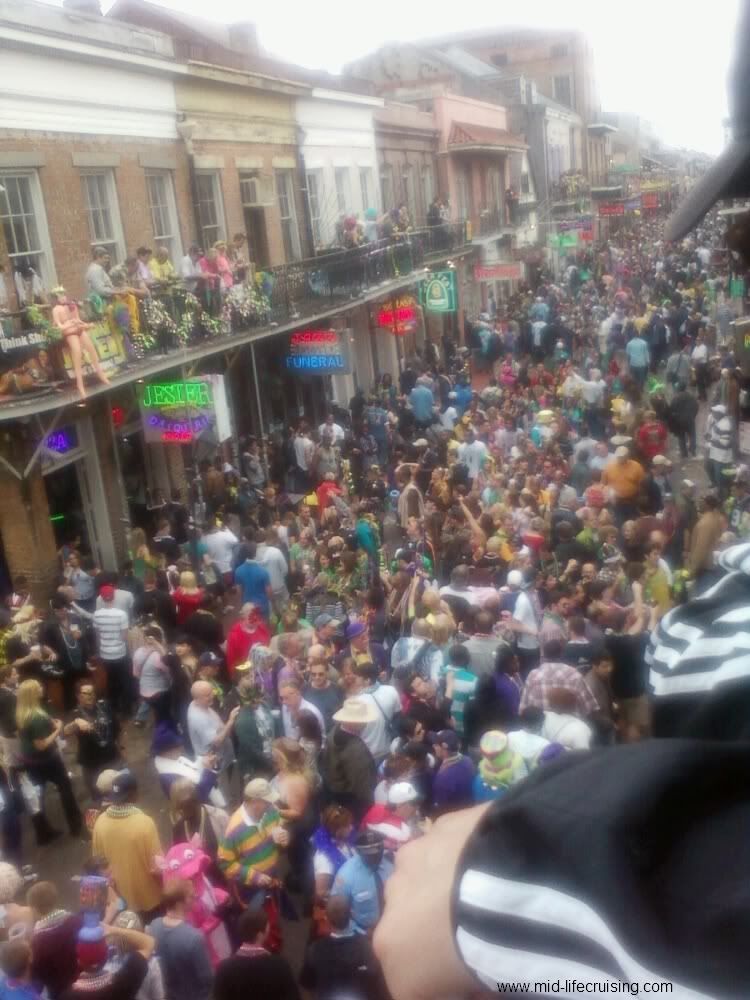 We had a great time and there's a lot more really cool pictures on our
Facebook
page, so check it out! If you've ever thought about visiting New Orleans during Mardi Gras, these pics will give you a glimpse of what it's like. While we wouldn't recommend bringing small children to this party, we highly recommend the experience! Yes, there's a lot of craziness, but everybody is there for a good time and very friendly. Come on down and check out our Southern hospitality!
Hasta luego ... until then. Mid-Life Cruising!