NKOTB (New Kids On The Boat) ... A Weekly Series Sharing Our Thoughts and Questions as Beginner Sailors and Future Cruisers. NKOTB or Experienced Cruiser ... Tell Us Your Thoughts!
While writing a recent NKOTB post about
comfort
on a boat, I also started thinking about storage on a boat. After all, if we don't have proper storage on a boat and everything is a mess, there's no way we'll be comfortable.
Our Catalina 30 does not have a lot of storage space. In fact, not only is the space under the v-berth taken up by a water tank, but so is the space under the starboard settee. So, basically the only storage space that we currently have on Nirvana is in the aft cabin and under the opposite settee, which is partially taken up by a holding tank. (For those who don't know what a holding tank is ... it holds the toilet "stuff"). We also have a little "closet" outside of our master bedroom (v-berth) that we can use for clothing or other items. Part of the "closet" has shelves and part has hanging space. We wonder if we'd be better off eliminating the hanging space and installing more shelves.
We plan on purchasing some little "hammocks" that we can hang on the sides of the v-berth for storage, as well as perhaps in a few other places. An over-the-door shoe holder will make a great storage place for smaller bathroom items, and Ken plans on building a plate and cup holder like the newer Catalinas have.
After reading other cruiser's sites, we've learned that we don't need to fill Nirvana up with tons of food. We will stock up on some favorites, but it's good to know that we can use some of our precious space for other items. Also, thanks to our "Nook" that our daughter gave us we won't need a lot of space for books. We'll have some sailing guides, but other books will be all in one little tablet! The same goes for music and movies, which can be easily stored on our computer and iPod. I've been learning the hard way about this! (
NKOTB - Memories n Melodies)
Since our settee can turn into another double bed for guests, we plan on turning our aft cabin into a storage area. We need a place to store some small tools, as well as spare parts, snorkel gear, etc. We'd love some folding bikes or an inflatable kayak, but it's doubtful we'll have room for these things. In fact, we're wondering how we're going to fit the essentials!
We realize that organization and perhaps a list of where items are stored are crucial. I'm pretty organized and I'm sure we'll find a place for what we really need. Our main concern is about weight distribution. Since our boat is smaller, we plan on storing a lot of items in the aft cabin (back of boat), and we also plan on installing davits on the stern for a dinghy, we wonder if we'll have too much weight near the back of Nirvana.
There are a lot of smaller boats out there cruising, so we know there must be a solution. Storing the dinghy on the bow and not having davits may be an option, but it's not an option for us! We're wondering how crucial the extra water tank is. We probably won't have a watermaker, so we're thinking the extra tank is pretty important.
Under the navigation station, we have a few shelves, but they're pretty much taken up with two batteries. Also, we have a lot to learn about batteries and energy but it seems we may need even more batteries?!
What little tricks or tips can you share regarding storage and weight distribution on a 30 foot sailboat? We'd love to hear your suggestions and ideas!
Here are a couple of pics of our sailboat's interior, so feel free to tell us what you think about storage.
Settees and "closet" in front of v-berth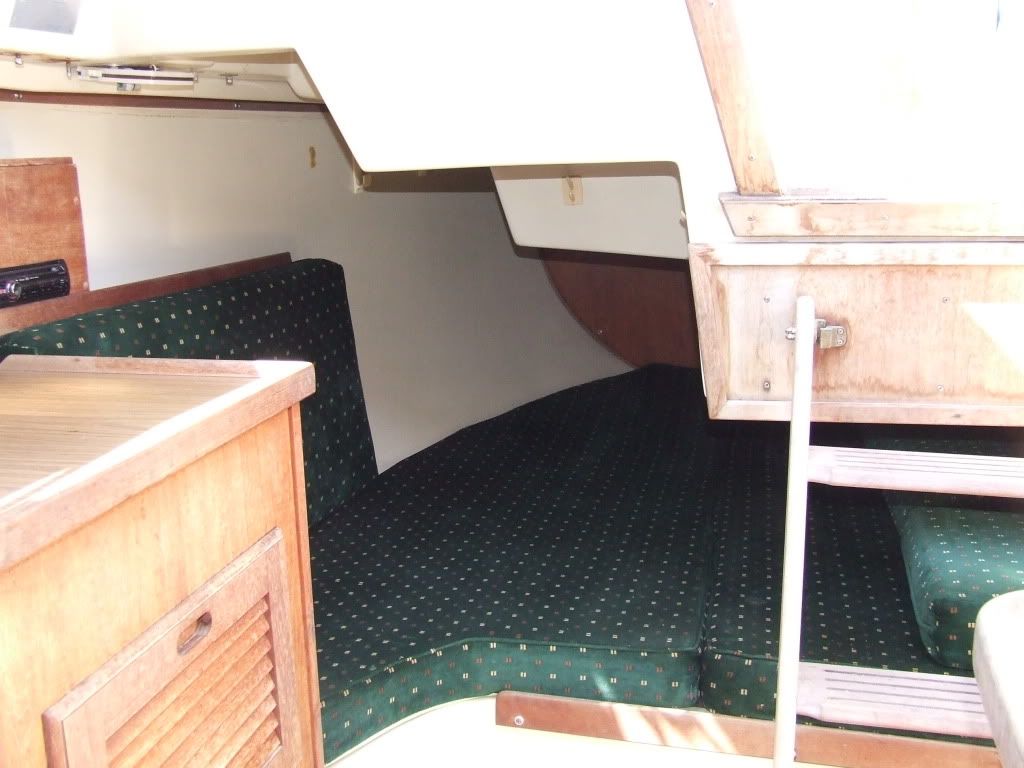 Aft Cabin and Nav Station
Hasta luego ... until then. Mid-Life Cruising!
Note: Here are the previous posts from this series. Check them out and feel free to give us your advice. We've really enjoyed reading your comments!