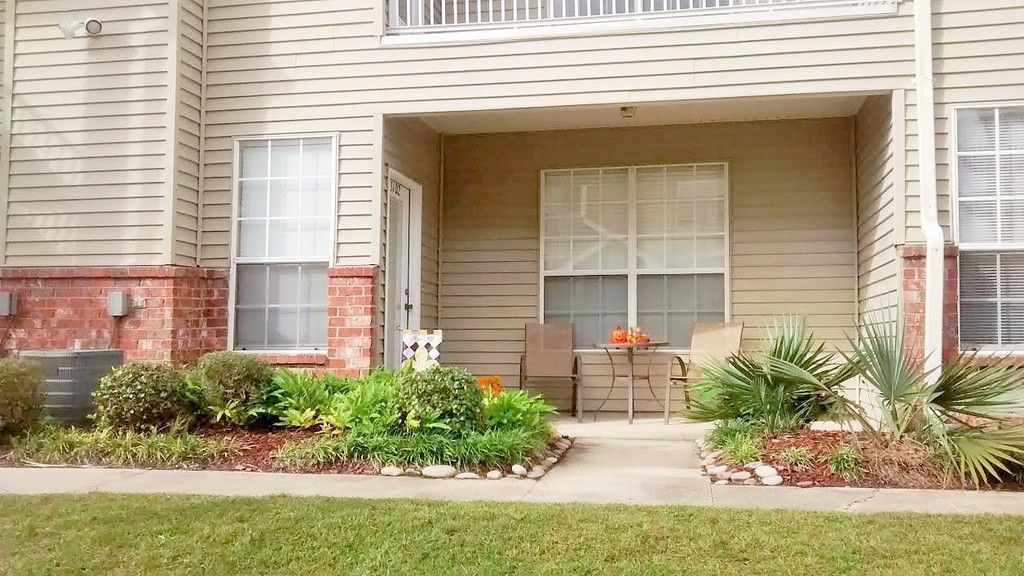 Our new front porch, and entrance on the left ...
Ken and I are finally settled in our new, tiny condo! The last week of October was consumed with work, more trips to my Dad's & Goodwill, more trips back and forth between our "old" condo & "new" condo, and a day and a half of cleaning the "old" condo. Nirvana was temporarily on hold until we got our lives back in order. We turned over the keys to our "old" landlords on Halloween afternoon and were comfortably numb on our rented furniture that night. A Halloween celebration would have been welcome, as we were glad to have yet another project behind us ... but Mother Nature wasn't cooperating. It rained all day & night on Halloween, and all day the next day too. The rain wasn't all bad ... we got some much needed rest on Halloween night and on Sunday we organized our new pad while watching the Saints defeat the Giants ...Who Dat!
While getting rid of so much stuff took some time, it wasn't near as difficult as moving from our house to our first condo last year. However, we're glad that we downsized in stages instead of going straight to this tiny condo or straight to the boat from a house ... that would have been tough! Our
"old" condo
was 2 bedrooms & around 1200 sq ft, and our "new" condo is one bedroom and less than 670 sq ft but we really don't need anything bigger, and we're loving it! When we were raising our daughter, we loved owning a house with a yard and all the "stuff" that came with it. We enjoyed having a place for parties & barbecues with friends, and space for our daughter to have her own friends over for a visit. However, life changes and now that our daughter has her own home we just don't need it all. We're feeling lighter, and it feels good!
Our tiny condo has a cute front porch ...
and a garage in the back, which makes Ken's life a lot easier until he's "retired".
So how does living small look to us right now? We don't have anything valuable .. heck, we don't have much of anything left, so come inside!
A roomy living area with an open floor plan ... plenty of space. The condo came furnished but with nothing else, except for the big clock , television & the wall sconces. Notice the sailboat picture ... I've loved that picture for years, way before I thought we'd ever buy a sailboat. Our pictures on the wall, lamps, candles, Buddha & sentimental items make this our home .. even though we're not fans of black vinyl. We're gonna throw some blankets over the sofa & chair so it feels better and will be protected from any damage. Notice LSU (our daughter's a proud graduate) on the tv? I swear I couldn't have planned that ... geaux Tigers!
We could have done without the table, since (gasp) we've eaten on the sofa in front of the tv for years. Since the table isn't ours, it's kinda pushed into the corner so we could add our desk. We brought our small end table & placed it in the corner for our wireless printer .. fits perfectly. We also purchased a black, plastic shelving unit for our spices, canned goods, etc. See it in the hallway? Just past that is the door to the garage, and just forward of it is the bathroom. The door behind the recliner ... our bedroom. The tiny laundry room is next to the microwave. That's it .. not cramped at all.
View from the kitchen ... and yes, I'm afraid of the dentist! I brought our porthole mirror ... bought that many years ago too. I guess we were meant to buy a sailboat. Can you tell that shades of orange are my favorite colors?
One small bathroom has forced me to get rid of all sorts of bath stuff that I never used.
Our bedroom is just off the den and his a large window overlooking the porch. We brought the chair and the shelves in front of the window. Oh, and also our flat screen tv that's on the dresser across from the bed .. why not?! The shelves provide extra storage space for sweaters, books and sentimental things. We also brought the large basket in the corner, which is perfect for storing our papers.
A few keepsakes ... the painting that our daughter made us, Kokopelli (from Grand Canyon) and check out the books ... The Boat Galley, Cost Conscious Cruiser, and
Live on the Margin
are among them.
We have one closet that Ken & I share with boat stuff. I got rid of a ton of clothes to make this happen. There's just enough room for a few pair of shoes ... all our summer shoes are under the bed.
We even have access to a pool and a gym. I can't wait to use the elliptical machine!
There's also a barbecue area on the bayou, but watch out for gators!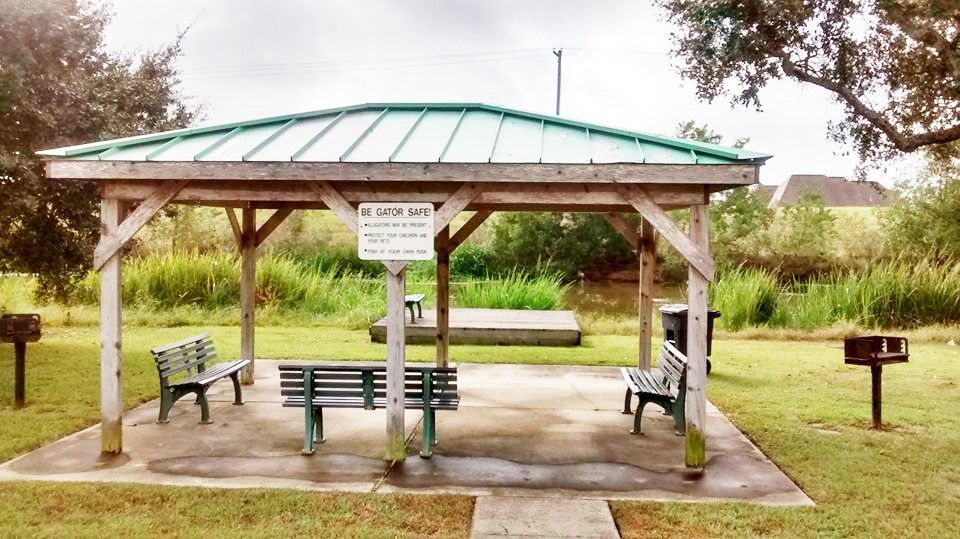 Downsizing to our 30 foot sailboat will mean eliminating even more stuff, but most of what will be eliminated seems to be related to work ... the clothes, the paperwork, the tools. Once we're ready to move aboard, we won't need all that work stuff. The sentimental items that can't go on the boat will go to my Dad's for storage. While we know downsizing yet again will be a challenge, we know we can do it. I think the main challenge of storage on the boat will be for the boat spares & tools. A wardrobe of mainly sandals & bathing suits won't take up much space, so that should be pretty easy to deal with. I do get a little anxious about storage of our canned goods, pots & pans ... where will we keep it all?! While I hate to cook and don't need a lot of kitchen stuff, just the thought of nesting pots, a few plates & bowls, utensils, coffee cups & wine glasses makes my head spin. Remember, it's a Catalina 30 ... not a ton of storage. We do plan on turning our aft cabin into our "garage", with plastic bins for the boat spares/tools and other random things. This should be a huge help ... if I can only get Ken in the habit of putting things where & how he found them.
You know, things often work out as they should. If our previous landlords hadn't decided to jack up the rent $200 bucks a month when we couldn't commit to another year, we'd still be living in the "big" condo. Instead, we've got another round of downsizing behind us, we're digging the new place, we're much closer to the marina & living back on the side of town we prefer, and we're saving $350 a month ... $550 if you include the increase in rent the old landlord wanted. Yep, I'm glad our old landlords wanted more money.
Now that this is behind us, hopefully we can finally focus on Nirvana when not working. The past three years have been consumed with selling our house, giving our daughter her dream barn wedding, building our daughter & son-in-law's house (no, we didn't pay for it), restoring a flooded rental (twice), renovating another rental due to deadbeat tenants, and moving twice ... while working. Whew, sure hope we have no more floods or evictions.
Hasta luego ... until then. Mid-Life Cruising!