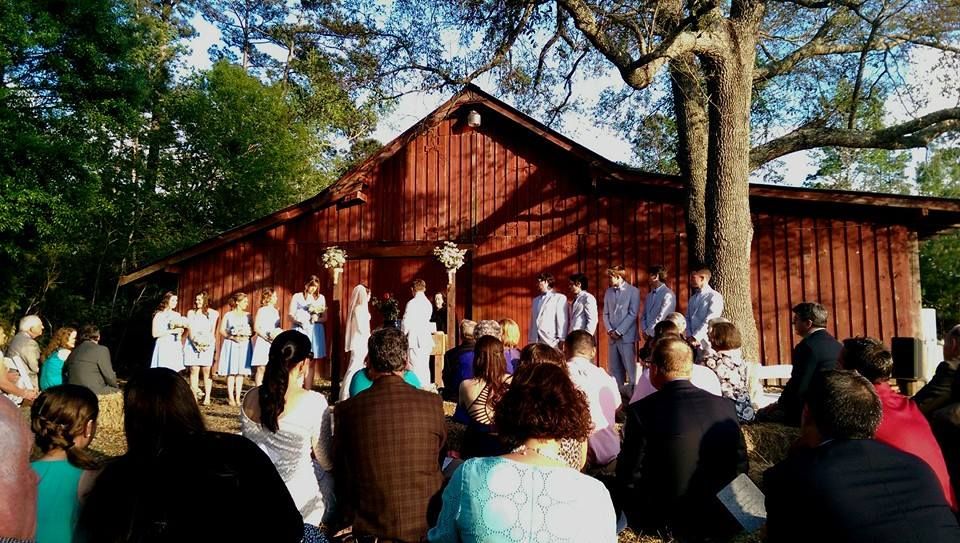 The past couple of weeks have been a blur, and my entire body still aches. This past Saturday evening our daughter had her dream wedding!
The wedding turned out "picture perfect". Everything went as planned, and we couldn't have asked for better weather. It was a labor of love, as this barn wedding wasn't held in a barn equipped for events. This was an authentic barn full of tools, equipment and lots of stuff. Both families worked together the past couple of months, spending just about every weekend cleaning up the barn and getting it ready for the big day. I can't wait to show you the inside of the barn, where the reception took place. I have to say, the wedding was beautiful ... casual yet elegant! Ken built a dance floor and wired the barn for chandeliers and lighting. For outside, he built the arbor, two really cool corn-hole games, and a life-sized Jenga game too! These were just a few of the projects he did.
My brother grows and sells hay, so he brought a ton of hay bales which we used for the ceremony seating, a really cool bar with a copper top, and an outdoor lounge area. Erica's mother-in-law had some amazing ideas and painted a lot of cool decorations. She also got a ton of parachute fabric from a local company ... for free! This was hung from the ceiling and was so pretty. Erica is also talented, and painted their initials on the dance floor and corn-hole games, as well as sewed the corn-hole bean bags and the runner for the ceremony. She created several chalk-board signs and a bar menu, which really brought it all together.
A lot of decorations couldn't be done until the day of the wedding, or the day before. Thankfully, not only did both families come together once again, but so did the bridal party. We put them to work! Groomsmen were staining the arbor and entry doors, bridesmaids were decorating the tables, and other bridesmaids were hanging parachute material with Ken's dad and the groom. While it was hard work, and we barely finished everything in time, it was great to accomplish something so important with family and friends. The bride and groom are very lucky to have so many people in their lives that love them so much.
The "Order of Ceremony" ... that's how we do it!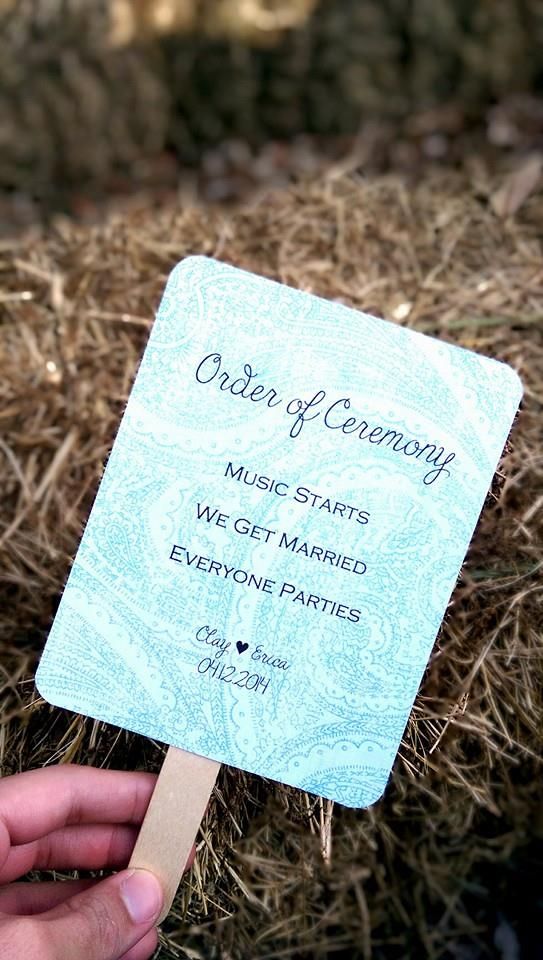 Erica's new sister-in-law taking care of her ... and fixing her dress. Check out the lace and burlap runner ... Erica sewed all that lace on herself. The arbor ... Ken built it. Lots of labor in this wedding!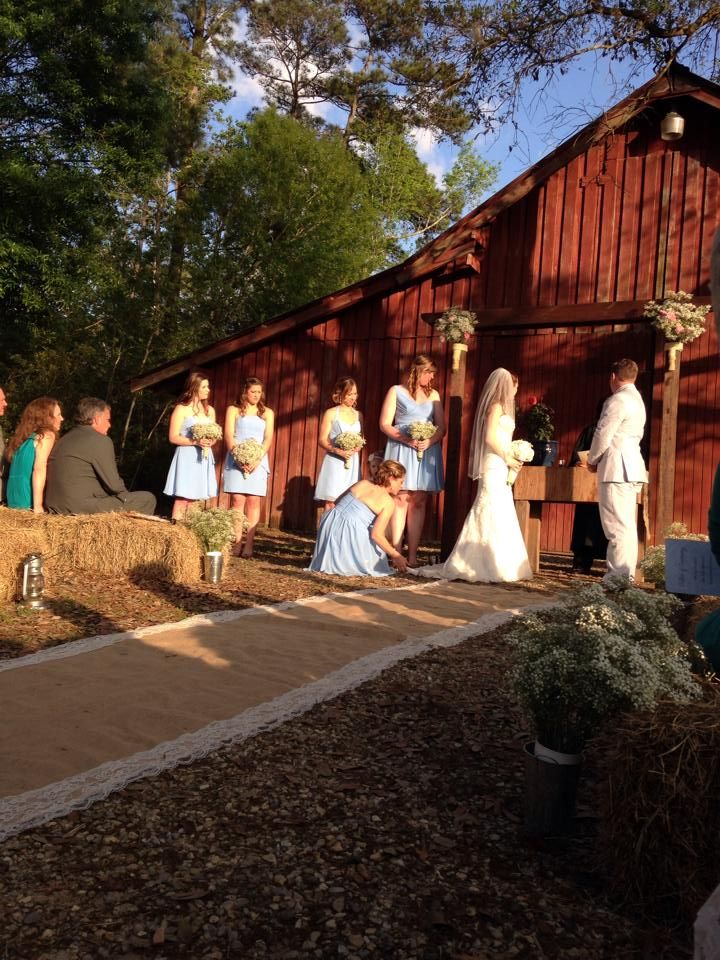 Father/Bride Dance ... this day came so fast!
Ken's dad reading some touching words that he wrote and framed for the newly wed couple ... so sweet! No, the barn wasn't empty .. everyone's on the other side by the chairs ... and bar.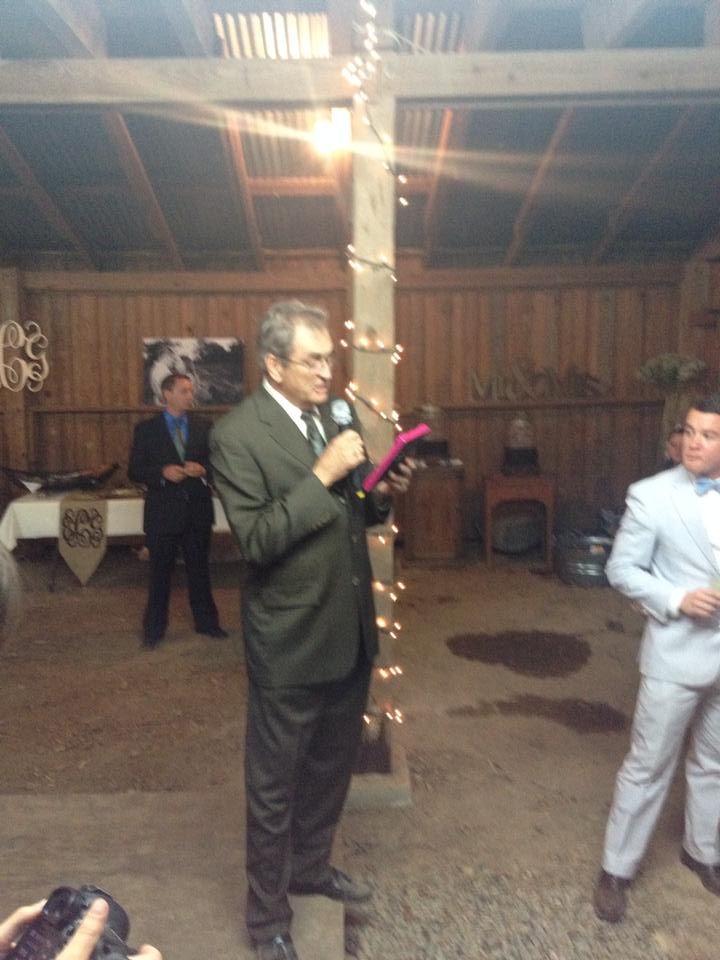 I don't have many pictures yet, but will share them when I can. We received a lot of compliments from guests, saying it was the best wedding they'd ever been to and it should be in a magazine ... we agree! A trolley brought guests from the parking area in front of the plantation-style home to the barn towards the back of the property. A 1957 (I think) turquoise and white antique car brought the bride and her dad to the ceremony, and the trolley brought the groom and the rest of the bridal party to the barn. All of these ideas were our daughter's, and it was the perfect touch! Once again, friends and family came together to make her dreams come true. The car is owned by the groom's great-uncle, and the trolley is owned by a friend of the groom's family. We were very fortunate. The reception ended with sparklers, then we all kicked back with a bonfire. This wasn't a stuffy wedding, this was a celebration! It was a lot of fun.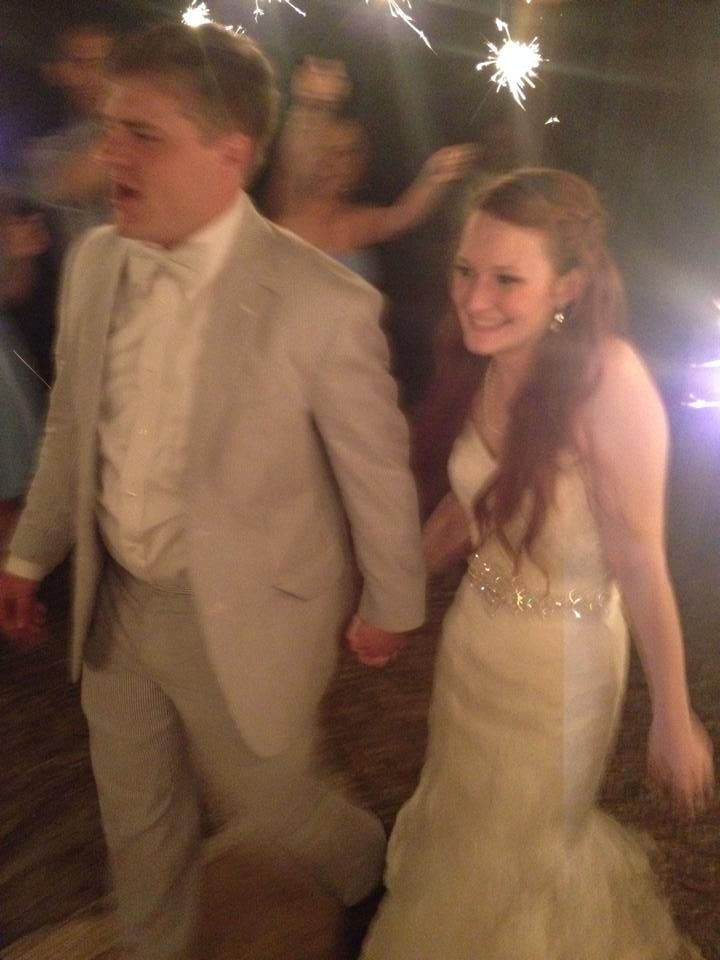 Since this wasn't a barn that we rented, Sunday meant clean-up day ... ugh! No wonder I'm still exhausted. Food and trash needed to be removed, hay bales were brought into the barn to keep dry, beer kegs needed to be returned ... Again, we were lucky to have friends of the groom's family that entertain a lot and have white wedding chairs, tables, linens, plates and glasses ... enough for over a hundred people! They loaned us everything. So, we had to wipe down tables & chairs and re-packaged them then box up the dirty dishes, glasses and tablecloths to be cleaned and returned ... whew!
With all that going on, Ken managed to participate in a friend's annual "Crawfish Cook-Off" on Sunday. There were eight teams, and guess who won ... that's right, Ken's team! He really does boil those bugs better than anyone I know. Ken and our good friend, Ted, will possess the trophy and belt until next year. The band loaned Ted their washboard for a celebratory dance!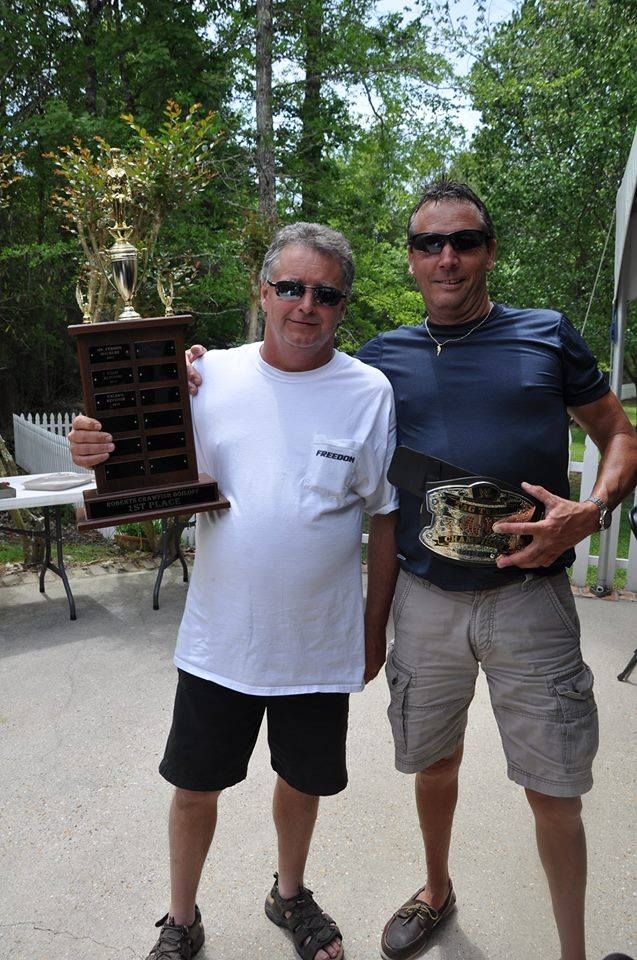 It was kinda sad to pull up to the barn Sunday morning, seeing the beautiful setting and wedding arbor ... now so empty. It really was so nice, and we hated to see it all end so quickly. The owners of the property were thrilled to see their barn so clean and nicely decorated. They're already planning a birthday party for their 2-year old grand-daughter next month, and want to keep some of that hay. At least we know our efforts restoring the barn will continue to be enjoyed, and we'll have pictures and great memories!
Hasta luego ... until then. Mid-Life Cruising!