When I realized that this year's Mardi Gras would be in March instead of February, I thought that would mean a beautifully warm Fat Tuesday ... boy, was I wrong!

On Monday (Lundy Gras), I realized that the forecast for the next day had changed for the worse ... wind chill in the high 20's with rain and sleet all day. Okay, maybe we'd wake up the next morning and find that the weather girl was wrong. It's happened before.

Well, the next morning we realized that the weather girl was accurate ... too damn accurate! The three other friends we were going with decided to stay home ... what we were gonna do? We reluctantly decided to also stay home. The news showed an empty Bourbon Street, so there wouldn't be near as many people roaming the French Quarter in crazy outfits. While we love Mardi Gras, thoughts of being cold and wet among a small crowd didn't sound like all that much fun. Just like that, Mardi Gras was cut short ... it was over.

The good news is that we did go to the French Quarter that past Saturday for some Mardi Gras fun. The weather was in the 70's and we had free, unlimited food and alcohol on the French Quarter balconies ... is there any better way?! My friend, Judy, gets passes and has been inviting us to go along with her the past few years. Most folks (including ourselves till a couple of years ago) don't have the luxury of enjoying balcony views ... and bathrooms. Judy is awesome! Anyway, we hung out a while on the balcony, threw some beads, grabbed some food and refilled our drinks (Crown & 7 for me) before heading down onto Bourbon Street. We'd walk the street, see the sites (lots of crazy sites), then turn around for another stop at the balcony for a refill of food and drink. It's always a blast, and goes way too fast.

I've been a little lazy with taking pictures for our blog lately, so I made sure to charge my camera and take a lot of crazy pictures to share with ya'll. When I grabbed my camera to take a picture of the overweight seventy-something year old man who was wearing nothing but his tye-died "tighty whities" ... the battery was dead! I haven't had this camera long enough for these kinda problems. I figured I'd try again on Mardi Gras Day ... needless to say I have no pictures. The only two that I have below are from Judy ...
Ken made some new friends ... and has a new appreciation for Bud Light!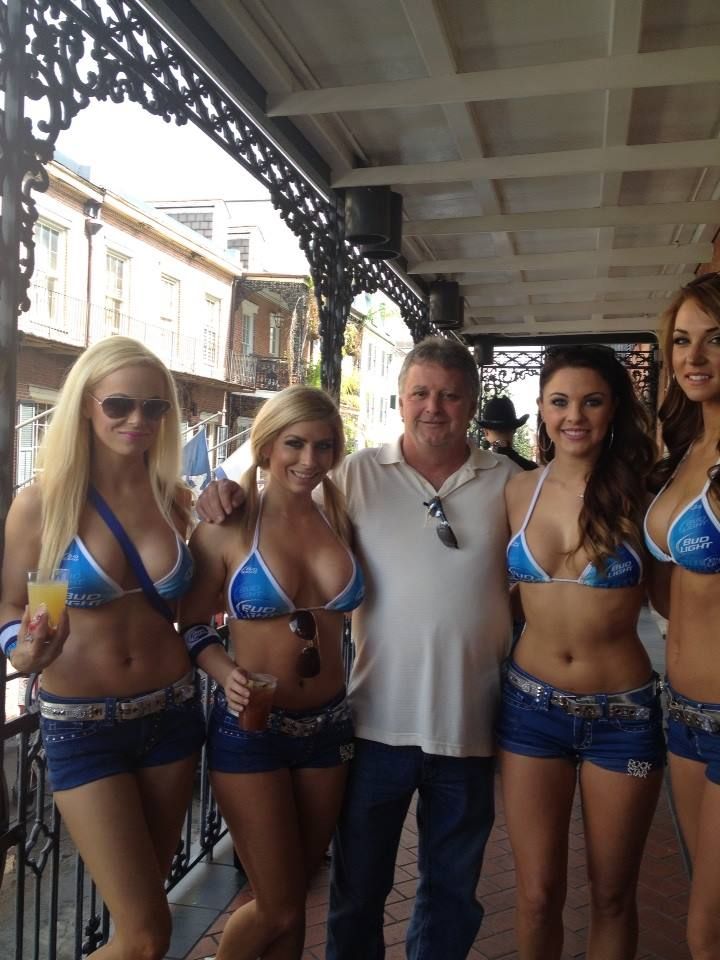 With our friend, Judy ... on the balcony overlooking Bourbon Street.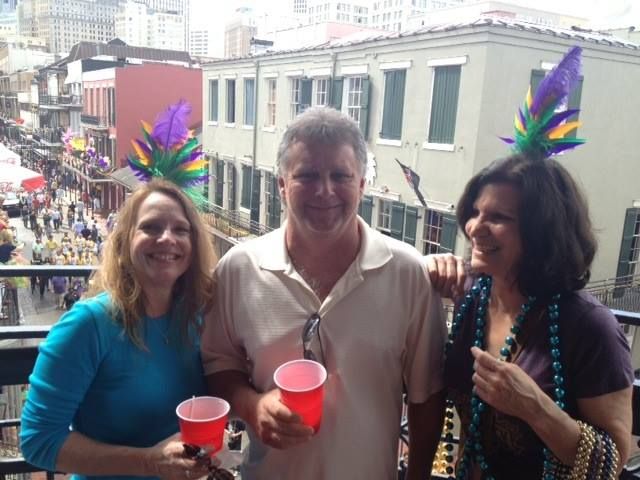 This morning, we watched the news before heading to work and saw footage from yesterday ... folks in their rain gear having a great time. We started thinking that maybe we should have gone. Oh well, too late now. Our Mardi Gras at home wasn't that bad. We finally watched "Into The Wild" on our Roku, which I really enjoyed. It's a true story about a guy who left everything to isolate himself from society and experience nature. There's some lessons to be learned from the movie. I'll write a post about my thoughts on the movie (and our Roku) soon.
Since I don't have pictures from this year's Mardi Gras, I thought I'd share some from recent Mardi Gras Days ... good times!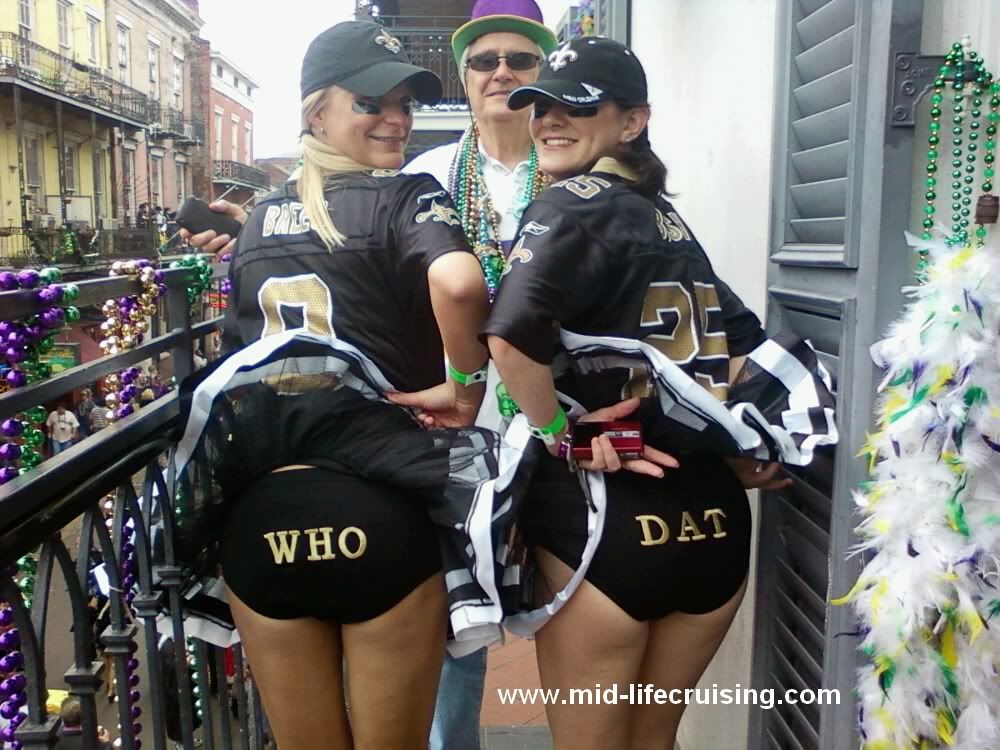 Some famous folks come to Mardi Gras ... the Hangover guy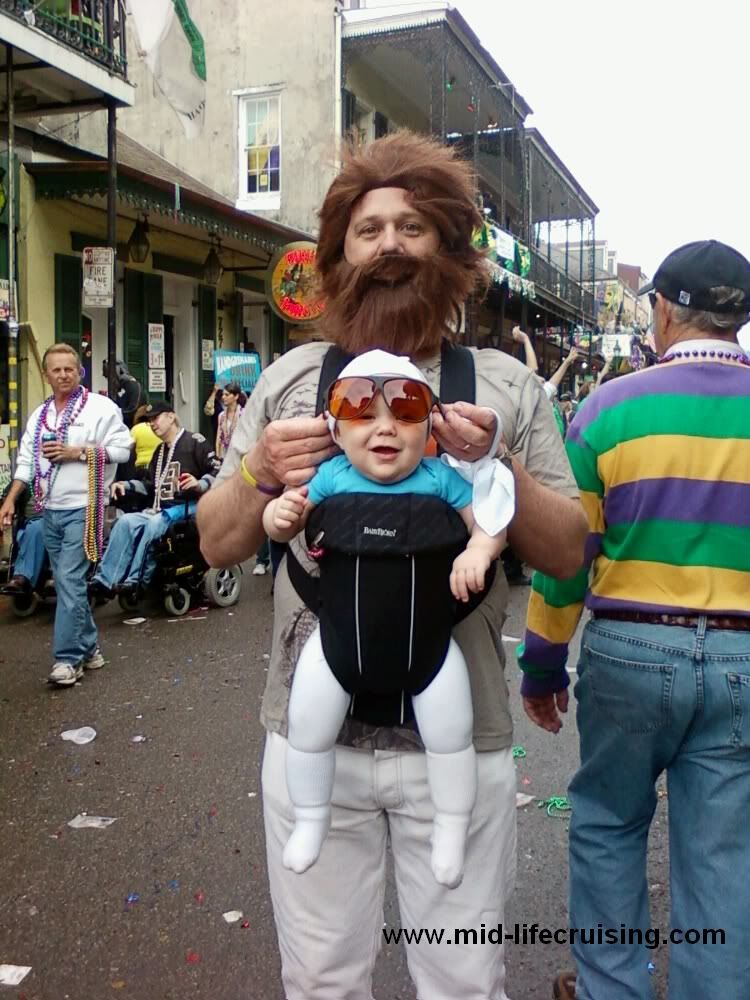 Judy and I with Charlie Sheen ...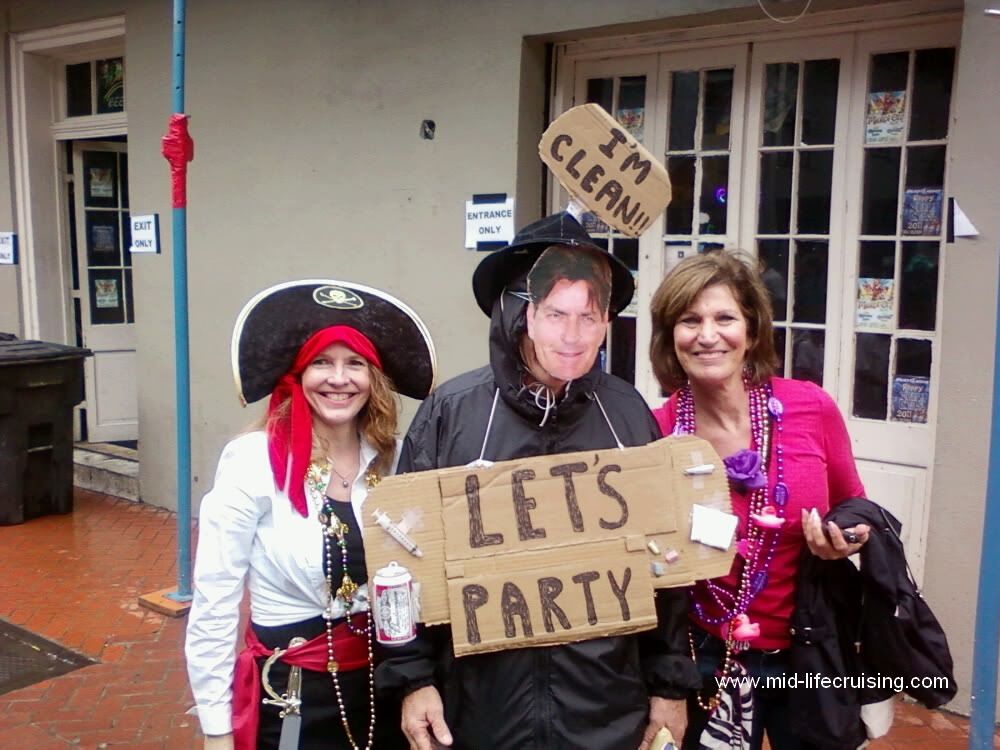 Lady GaGa ... yep that's crap on her shoulder! (
Pickled Pirate
is my other site. I haven't kept up with it lately, but I will once we're hitting those Caribbean bars!)
These folks got married on Mardi Gras 2011 ... wonder how they're doin'.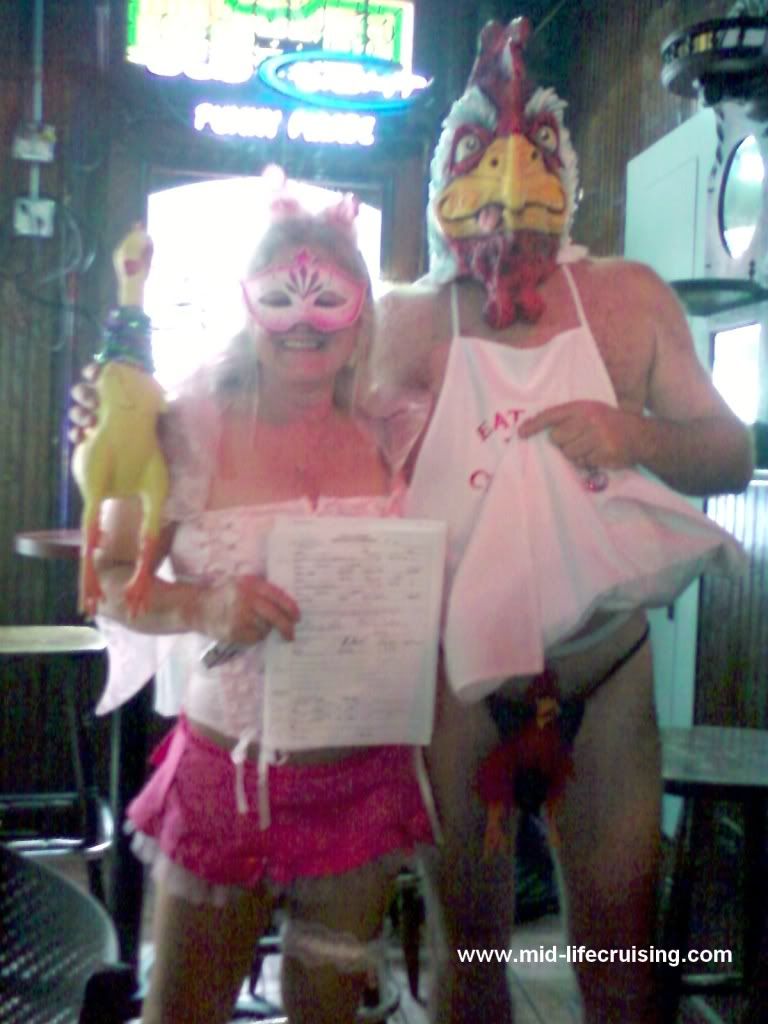 Hasta luego ... until then. Mid-Life Cruising!