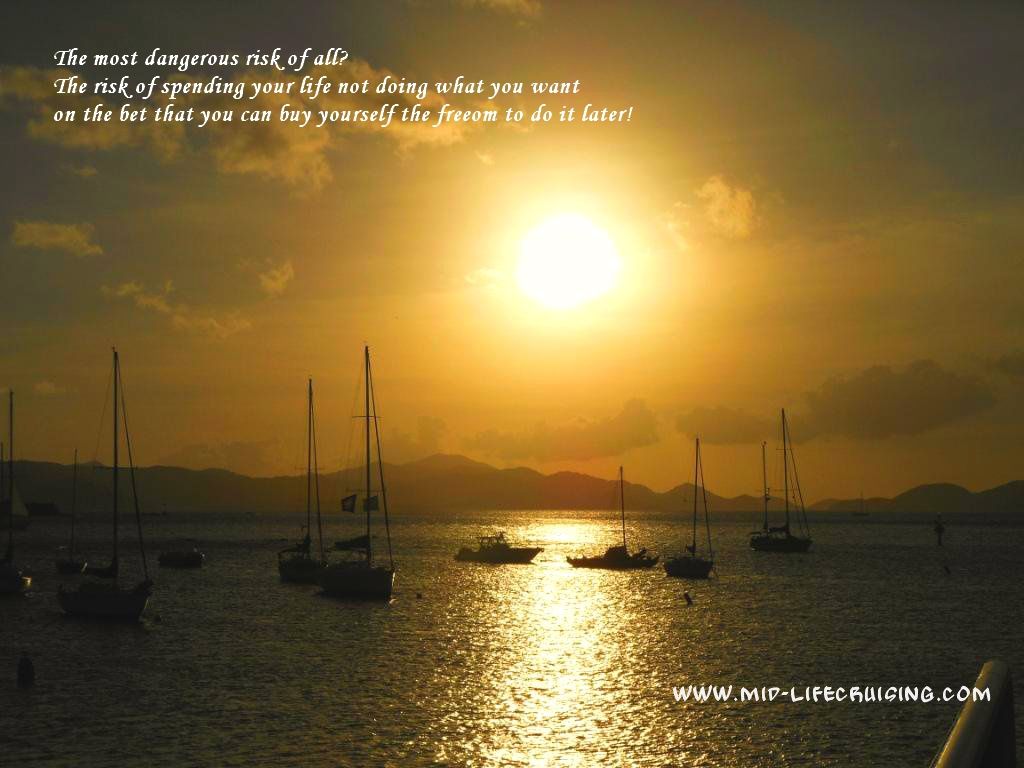 Taken at St. Thomas, USVI*
Time flies by and things have been a blur, but not much going on lately. We're reluctantly in with the herd, going to work and doing the same thing day in and day out. It reminds me of something I saw at
"The Blue Man Group"
show (excellent by the way). During part of the show, there was this huge screen that showed a cartoon of people walking in a robotic state and funneling into a chute ... like a bunch of cattle. They punched in at work and went through the day, just like the rest of the herd. They didn't speak or show emotion, so they weren't questioning their life. They just did what was expected.
I watched that cartoon years before thoughts of cruising, but I remember the impact it made on me. It really put things into perspective, and I knew I didn't wanna be part of that herd my entire life. I want to be that raging bull, busting through the cattle gate and running through the pasture!
When I look at the quote above, I think it explains why Ken and I get so impatient about cruising. Our dream is taking longer than we anticipated, and there are too many reminders that life is short. We understand that every day is a gift, and we know that we can't take them for granted.
When Ken and I were building our dream house in 1996, I remember dreaming of the day I woke up in our new home. I also remember hoping that I'd live long enough to see that day. I'm not paranoid or a hypochondriac ... I just know that I'm human like everyone else, and shit happens. Needless to say, I lived to wake up in our dream home ... for many years. I felt very lucky and grateful.
This quote also reminds me of those that are lucky enough to live a long life, but always think they have time to "do it later". The months turn into years, which turn into decades. The plans are never put into place, and then before they know it ... they're 80 years old with no possibility of living their dream. Several of our relatives are a perfect example. Three of the four people are in their seventies/eighties with no savings and lots of debt. The fourth is healthy and financially comfortable, but the spouse has been in poor health for several years ... they're not able to do much of anything because of this. "Later" didn't work out too well for these folks.
I can't wait till Nirvana is our home, and I wake up in her bed. Until I do, I feel like I'm rolling the dice ... and I don't play craps! The best way to win this bet and see our next dream come true is to take action now, not later. It's taking longer than we hoped, but everyday we remain focused and continue to make steps towards winning the bet and living the life we want ... are you?
Hasta luego ... until then. Mid-Life Cruising!
*BTW, as I reviewed this post I noticed my spelling error in the picture above. Oh well, I'm not gonna sweat the small stuff!