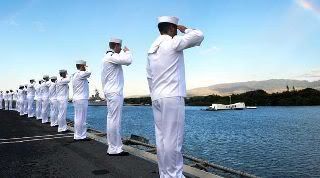 With Memorial Day weekend upon us, I thought I'd share a post that I wrote at this time last year as a reminder about what this holiday is really about. Memorial Day often brings thoughts of barbecues, a 3-day weekend, and the start of Summer. Those are all things we think of too, but it's not what the holiday is about. So, here's last year's post and I wish all of you a great Memorial Day weekend. While enjoying it, please remember those that have fought for our freedom! Here it is ...
On this Memorial Day, I wanted to remind everyone to remember the fallen men and women in our military. When doing a little research on national parks for my
Frugal Friday post
, I came across an interesting story about Memorial Day, a young girl, and her act of kindness.
On Memorial Day, there is an annual tradition of decorating soldiers' graves with wreaths and flowers. This tradition began shortly after the Civil War, and was first suggested by the women of Columbus, Georgia 1866. The custom went national two years later through the adoption of a May 30th date by the Grand Army of the Republic, a Union Veterans organization.
In February 1862, Confederate prisoners of war were held in warehouse buildings for about a month. The prisoners that died there were buried in the Greenbush Cemetery in Lafayette, Indiana. In the spring of 1868, a committee was organizing the annual ceremony and received a wreath from a local girl. Attached to the wreath was a note that said:
"Will you please put this wreath upon some rebel soldier's grave. My dear papa is buried at Andersonville, and perhaps some little girl will be kind enough to put a few flowers upon his grave". - Jennie Vernon
The wreath that Jennie provided was placed on a grave in the cemetery, and the story of her kindness was reprinted throughout the nation that summer. It turned out that Jennie was twelve years old, and she had lost her father at a military prison near Andersonville, Georgia in 1864. Her father is buried in the Andersonville National Cemetery .. Section K, grave #2428.
It's not known if anyone placed flowers on the grave of Jennie's father in 1868. However, her story is a reminder of Jennie's father and all of our nation's fallen soldiers. Please take this day to honor them! If you'd like to read the article, you can find it
here
.
Hasta luego ... until then. Mid-Life Cruising!