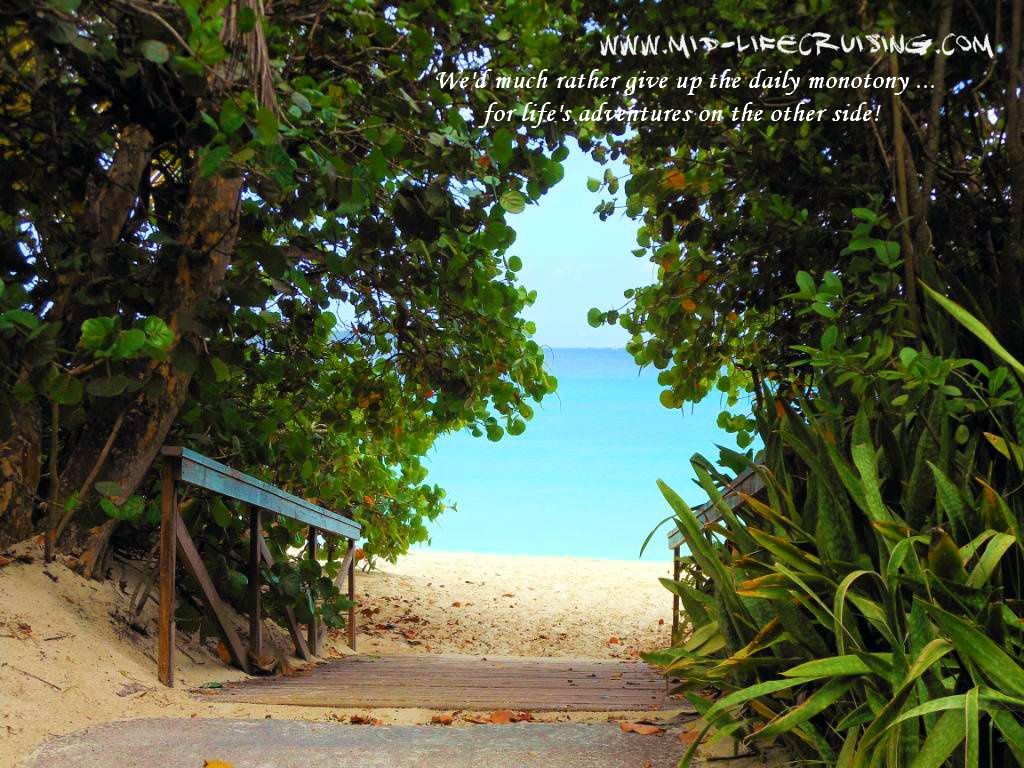 When thinking of cruising and "the other side", we can't help but think ... as they say, "the grass is greener". If only our daily life were as simple as being monotonous!
The past week has been a blur, and we feel like somebody needs to throw us a line. Yep, as hard as we try .. some things never change. Without boring you with the same ole details may I just say ... Being a landlord SUCKS!!
Home inspection, heated "discussions" on the phone with deadbeat tenant, calls for repair estimates, another inspection Saturday ... ugh! We're again preparing for a couple of weeks of missed work and spent dollars to get the house back in shape. I digress, and I bore you with details. Anyway, we're going to fix up the house and try to sell it as well. The house is starting to suffer from the neglect of others, and we hate to get it looking good again ... just to be trashed again.
We really hoped that we'd have our own house sold before being faced with a vacant rental. We'd have the money to sit on the rental until it sold, and we could move into that rental until it sold. It would make perfect sense instead of renting an apartment for 6 months while we prepare Nirvana for cruising. We could "stage" the home, live out of boxes, and "sail away" soon after the closing.
In just a few days, we'll be faced with paying two mortgages. I'm not gonna lie ... this is scary stuff! We can't do it for very long. We're going to lower the price again on our current home, and hope we can sell it in the next few months. If we can't, then we'll have no choice but to rent the other home again. Timing is everything. At least we're not losing the house, so we've gotta be thankful that we can rent it if needed.
Sorry cruisers and liveaboards, but maintaining one boat sounds like a "breeze"! The grass has gotta be greener ... and the water is definitely bluer!
While we visualize the gray hairs sprouting from our heads from worry, we're keeping our chin up and a smile on our face. We've never been the type to give up and when we're on the "other side", it will be so sweet cause we'll have overcome so many obstacles and we did it on our own. Thanks to the amazing people that follow our blog and give us hope ... we know we'll get there!
Hasta luego ... until then. Mid-Life Cruising!