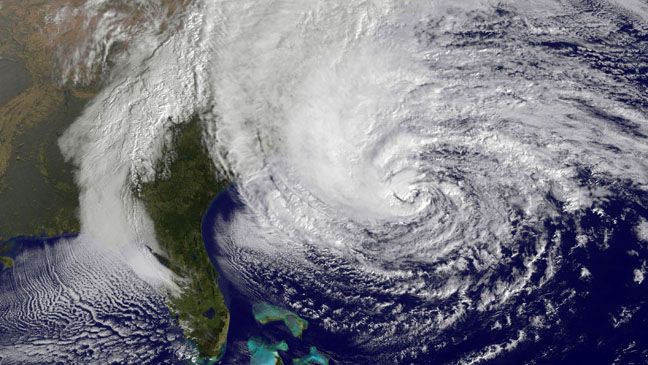 As I watched the television last night from the comfort of my home, my heart went out to the many people affected by Hurricane Sandy. It was kind of surreal watching the storm, this time looking in from the outside. I knew that I was watching a storm that would make history and not be soon forgotten. Experiencing the devastation of Hurricane Katrina in 2005 and then the recent damage to our house (we're thankful it wasn't worse) from Hurricane Isaac made me empathize with those on the East Coast. I know the anxiety that so many folks are currently going through, and I felt kind of guilty as I climbed into our warm bed last night. .
As I was beginning to doze off, my thoughts drifted to the tragedy of the HMS Bounty. This tall ship that had been around since the 1960's and had appeared in several movies had sunk. Its Captain and one beautiful young woman lost their lives (Captain has not been found, but not looking good). As a beginner sailor, I don't think I would have made the same decision as the Captain. However, he paid the ultimate price for his decision and I feel for the families of the two victims.
Thoughts of the tall ship and its demise lead to thoughts of the many sailors and/or cruisers that I've come across thanks to this site and to Facebook. I thought of those in Sandy's path, and wished the best for them and their boats. Life is much more important than a possession, but I understand their attachment to their boat. Like us, many of them view their boat as their home and the vessel to their dreams.
Yesterday I had visited the sites and Facebook posts of my sailing "friends", and several had chosen to stay on their boat ... secured in a safe harbor. Others had no choice but to secure their boat as best they could and leave the area. Some of these people had just recently begun their cruising dream, and were sailing down the East Coast before Sandy caused them to change their plans. I went to sleep hoping that all would "sail" through this storm with no serious damage. Social media does indeed bring things closer to home!
This morning I watched the news and heard about the flooded subway system in New York City, the extensive damage throughout the East Coast, and the loss of life. So many people have a long road ahead of them. I feel blessed to not be going through flood clean-up again, and my "whining" about getting our house fixed and sold for cruising seems selfish.
Once I got to work, I began checking the posts of fellow sailors (the only perk of a slow real estate market) in hopes of hearing that they were all fine. I'm happy to say that so far all are well, including their boats! There are a few folks that haven't posted an update just yet, but I'm hoping for good news from them too.
Again I'm reminded at how fragile all of us are. Mother Nature does not discriminate, nor does sickness or tragedy! As careful as we may try to be in life, safety is not guaranteed. Many people think that we're crazy to take the risk of cruising. However, tragedies can happen anywhere! Whether it's on a boat, in a car, or maybe just sitting in a movie theater ... bad things can happen. Most of us will experience our own "storm" of some sort in life.
I say this not to be depressing, but to remind you that you're not alone if you're facing difficulties. We've definitely had our share, and we haven't yet fully recovered from Hurricane Isaac. I also hope to remind you to follow your passion! Figure out the risks involved, take the necessary precautions, then just go for it! Fear is often what keeps us from living our dreams. Don't let fear take your dreams away!
Hasta luego ... until then. Mid-Life Cruising!