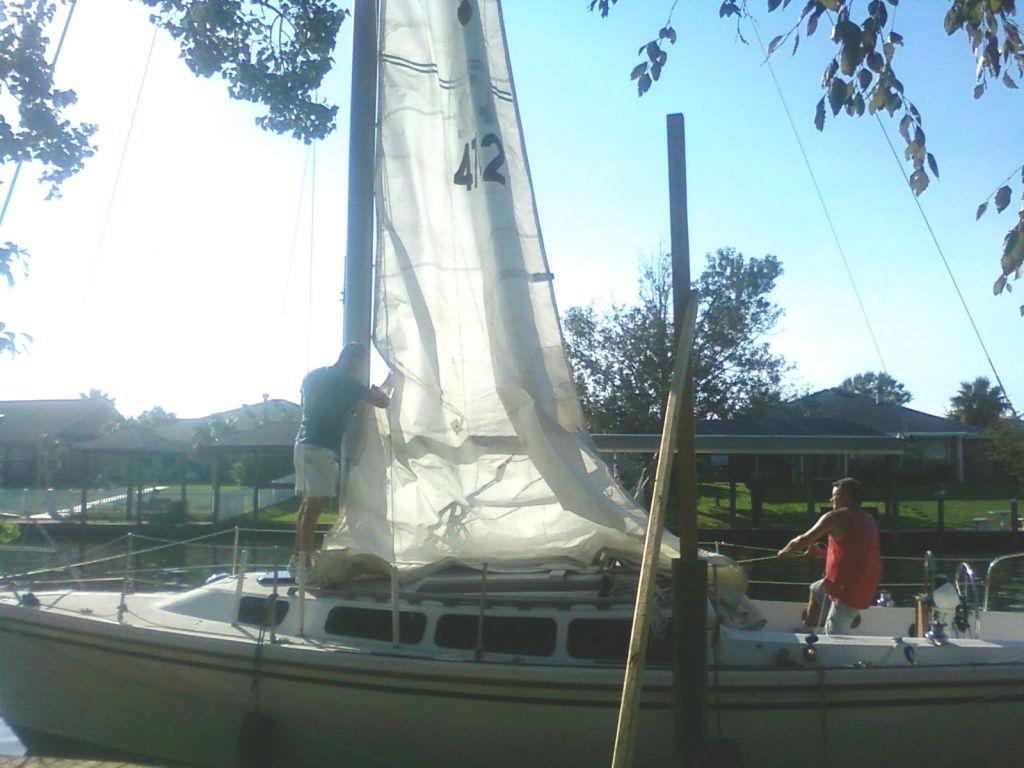 Ted attaching the slugs of the main to the mast.
Before
Robin
came over for a
sail pack fitting
, Ken and our friend Ted had to put the main sail back on Nirvana. She's been naked since we stripped her for
Hurricane Isaac
, and we still need to put the head sail, bimini and grill back on. Removing and replacing the main sail was a good learning experience, since it was a
first
for us.
Folding the main sail for the hurricane ... a lot bigger on the ground!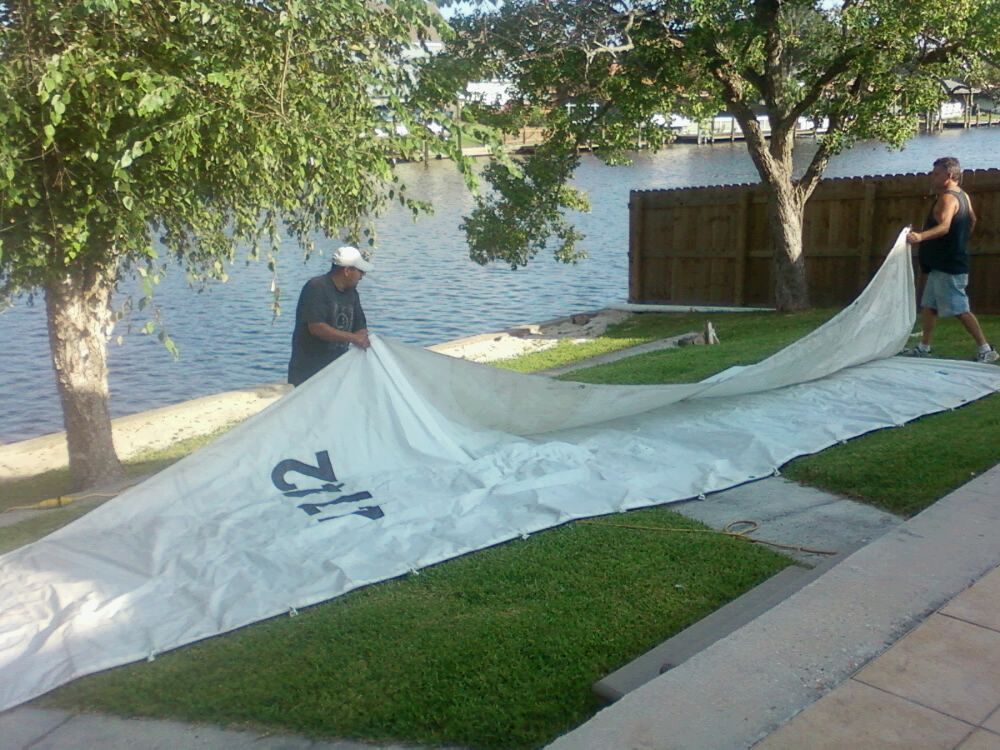 Our main sail luff (front of sail) is attached to the mast with slugs (little pieces of plastic) that slide into a track on the mast.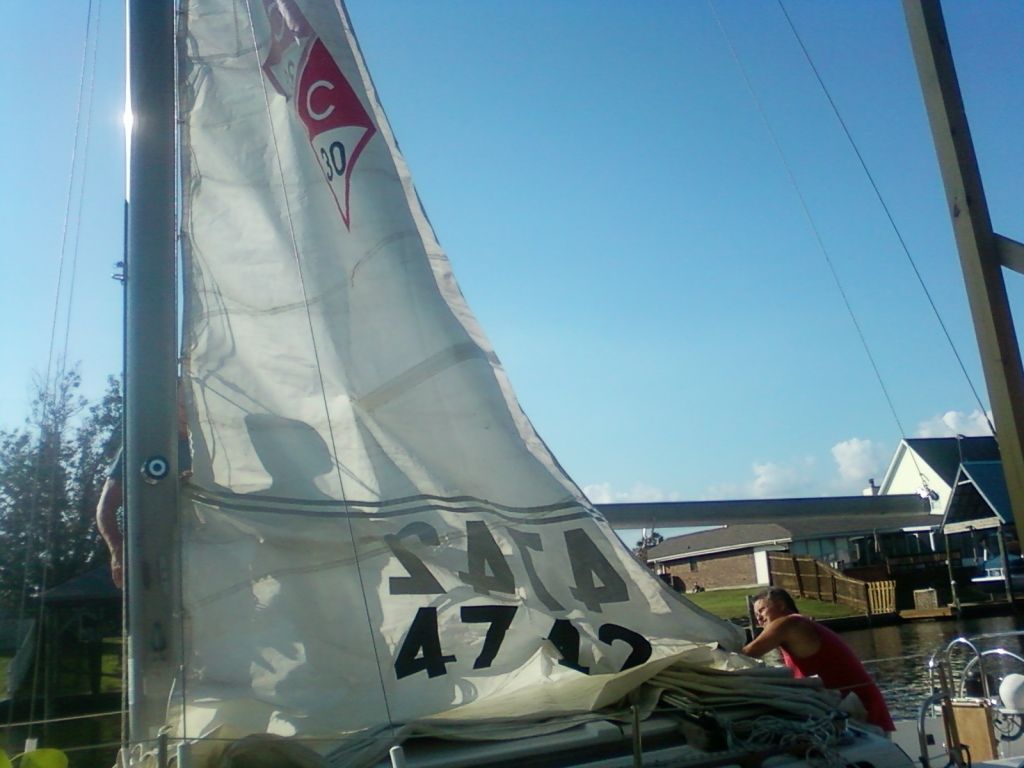 Attaching the tack (bottom of the luff) to the mast.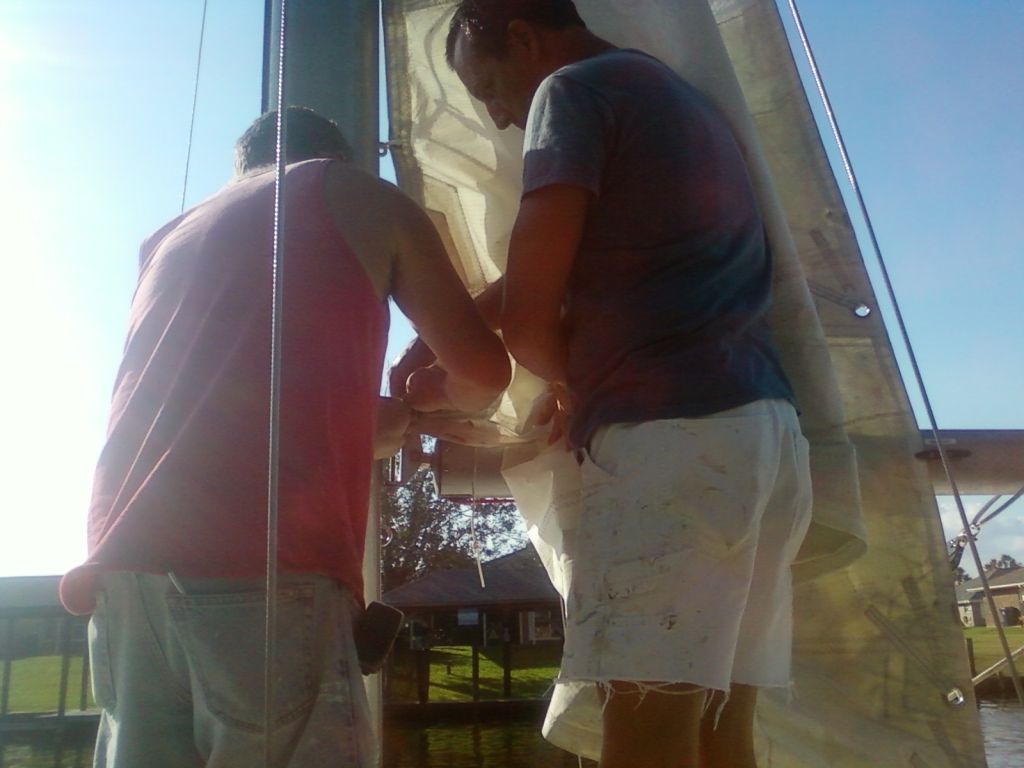 I don't know the proper terms, but it appeared that the tack was attached to the mast with some sort of locking pin. I need to find out ... now this is bugging me. The back of the sail (clew) is then attached to the back of the boom with something called a carabiner ... a metal loop with a sprung gate. We have a loose-footed main, so there are no slugs or bolt rope to worry with.
While watching Ken and Ted attached our main sail, I also learned that we have four "battens" in our sail. They don't go fully across the sail, and they start at the back (leech). They are about 3 ft long and appear to be made of some sort of fiberglass material. The battens are inserted into pockets sewn into the sail. Evidently, there are "full-batten" sails, "partial-batten" sails and "no-batten" sails. Of course, I had to look up battens to find out their purpose. The battens help support the shape of the roach. What's a roach? Although the sail is mainly a triangle, it's got an arch of extra material at the top of the leech ... that's called a roach.
I've learned so much from this experience. Before this, I had no idea that a leech or a roach were anything more than some nasty bug! I also could have never told you what a tack, clew, batten or carabiner meant. It's all coming together. I think we are visual beings, and watching the sail being attached really helped me retain the terms.

Some of you may be very familiar with these terms, but for those who aren't ... I hope this helps!
Hasta luego ... until then. Mid-Life Cruising!