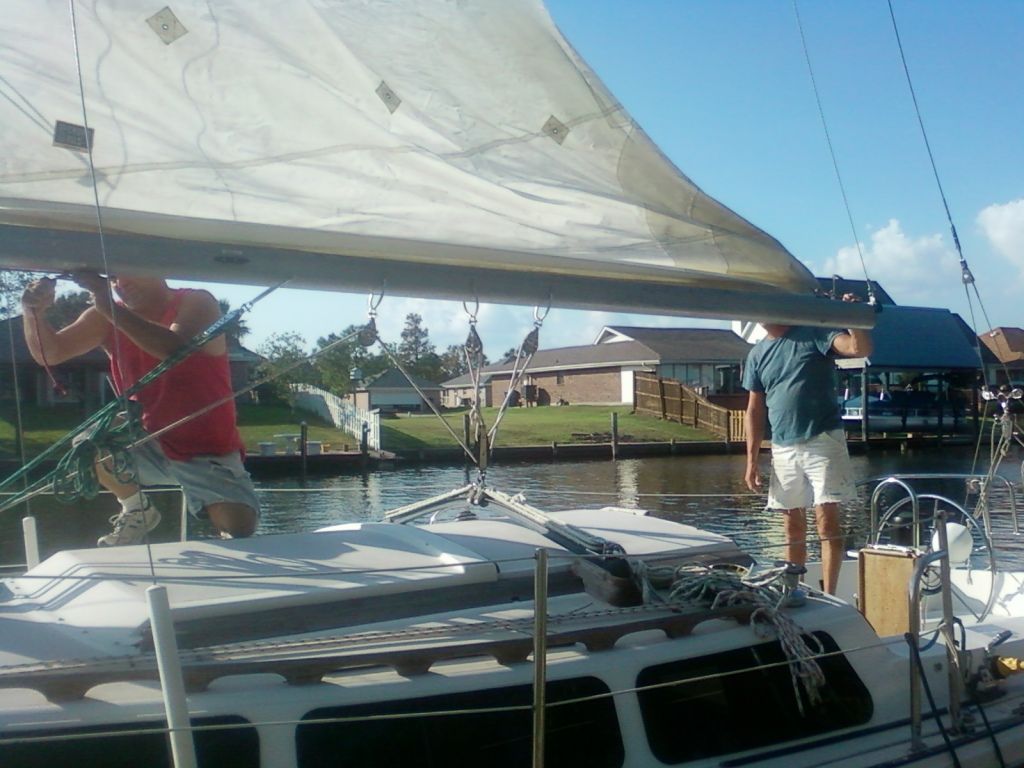 We have a loose-footed main sail, meaning it is only connected to the boom at the front and back.
Before we started working with Robin on our
sail pack
, I had no idea that sails attached differently to the boom. When
Robin
asked how our main sail was attached ... I looked at Ken. I just never really paid attention! Only then did I realize that our main sail was different from some sails, and that our main sail was called a "loose-footed main". Our sail is attached to the boom only at the front and back (
tack
and
clew
), and you can slide your hand between the boom and the sail.
After realizing that there are different types of main sails, Ken and I wondered what the advantages/disadvantages were to having a loose-footed main. In researching the difference between the sails, I learned that other main sails may be attached with a "bolt rope" or with slugs attached to the boom's track (similar to mast). Our sailboat has a track in the boom, so we can have either type of sail.
One of the advantages to having a loose-footed main is a better sailing performance, with more draft for light airs and downwind. Evidently, loose-footed mains were first used by racers, but now the majority of new sails are loose-footed. This may explain why we have a loose-footed main, since the previous owner of Nirvana used to race the boat. Also, this may explain why the past few times we've sailed with friends we've left them behind! We knew it had nothing to do with our knowledge or experience, since we have virtually none. Other advantages are an easier removal/installation, easier reefing of the sail by tying it to the boom, and easier ability to trim with less friction.
By the way, we had a difficult time finding a solution for attaching a sail pack to a loose-footed main. We decided to take advantage of the track in our boom and have Robin add slugs to the bottom of our sail pack. The slugs on the sail pack will slide into the track. I'll have more details on this in a future post.
So there you have it ... the definition and advantages of a loose-footed main sail. If you didn't know before ... now you do! BTW, I recently wrote a helpful post about the
parts of a main sail
... check it out!
Does having a loose-footed main mean we're footloose? Footloose means ...
Able to travel freely and do as one pleases due to a lack of responsibilities or commitments.
Sounds like a great name for a sailboat! We're not footloose yet, but we're sure working on it!
Hasta luego ... until then. Mid-Life Cruising!