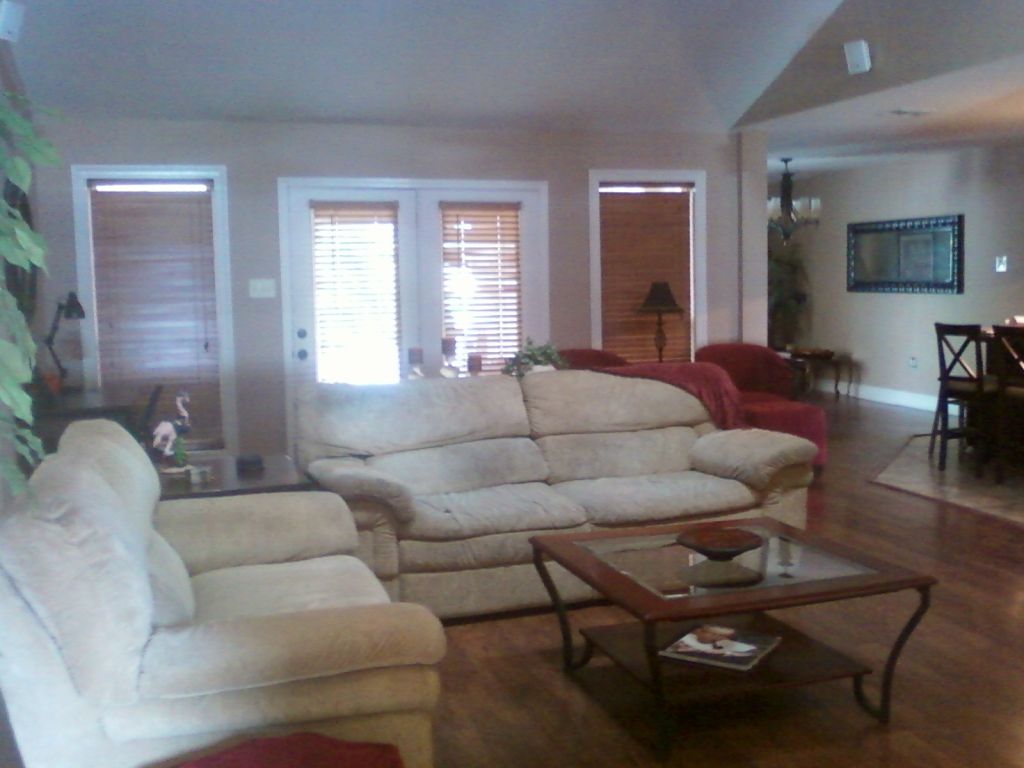 This past weekend Ken and I finally moved our furniture back into the den! We're still not finished with all the little minor repairs (our dining room is now empty so Ken can paint the ceiling), but it feels great to have the house looking "normal" again. Pictures were hung back on the wall, lamps and little mementos were again displayed, and we're "setting the stage" for our home to be invaded by potential buyers.
Got the sofas in place on Sunday ... just in time for the first Saints pre-season game!
While we have a ton of things to sell and get rid of before moving aboard Nirvana, right now we're focusing on getting rid of any extra clutter in our house. Closets have been purged and re-organized, a "drop" has been made to Goodwill, tons of old magazines have been delivered to the library, and several items have been donated to our daughter (she's got a lot more coming). Ken has started the monumental task of sorting through our garage and organizing it. A trip to the local dump eliminated a lot of "stuff" quick!
While "setting the stage", I've come across a few treasures that I know I'll have to ultimately part with in the near future. Although I'm preparing myself for those "What the hell are we doing?!" days, I refuse to spend too much time thinking about such things just yet. I plan on moving a few small treasures on Nirvana, but I know space is limited and there won't be room for much. I'm hoping our daughter will treasure some of the things that I do, and she'll take good care of them for me.
Very soon we'll have our house on the market! It's kind of surreal knowing that we're finally to this point, and our "dream" is starting to evolve into so much more ... it's becoming reality! The amount of work to get our house ready to sell was overwhelming, but we took one step at a time and got it done.
While sitting on our sofas Sunday night, we felt relaxed and the weight on our shoulders has already been so much lighter. Our first night in our renovated den was spent watching the first Saints' pre-season football game ... perfect!
Hasta luego ... until then. Mid-Life Cruising!