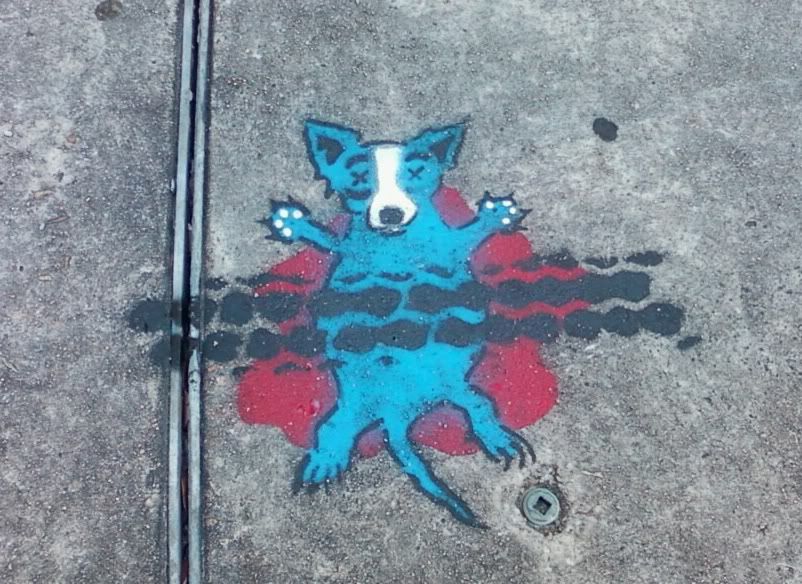 Run over
by a truck ... that's how Ken and I feel today! We worked all weekend at our rental, cleaning and fixing. We're still not done and will have to go in the evenings this week to have the house ready for our new tenants this Friday. Needless to say, I'm once again disgusted with the lack of concern (and broken promises) so many people have in our society. The house was left a mess and careless things were done ... like at least 30 nail holes in our wooden fireplace mantle and countless others in our exterior vinyl siding ... really?! While I know the cruising community isn't perfect and there's always a bad apple in the bunch ... I really need to get out there before I become too grouchy and pessimistic, giving up on the human race. At least this will be behind us when we go
on vacation
next week!
The picture above was taken on the streets of New Orleans (literally) a while back when my daughter, Ken and I were
extras in a movie
. We had to get fitted for our outfits, and this was on the sidewalk. My sick sense of humor told me that I had to take a picture! Evidently, not everyone likes the "Blue Dog", which has made his artist pretty rich and famous here in New Orleans. I've never really understood the craze.
Although I like to think that my consistent workouts keep me in shape, every part of my body aches! Ken and I were so tired and sore Sunday night, yet we didn't sleep well at all. Yesterday (Monday) we felt like that blue dog and it took everything we had to get up and go to work! Luckily we both slept well last night and I'm finally starting to feel better. I swear, I don't know how Ken does this for a living. He's definitely starting the "feel the pain"!
We hope to have a day off on Sunday, as Saturday is already booked with work. I'm working as a voting commissioner for the first time ... working from 5:30 in the morning till around 9:00 that night. I'm starting to think that $200 pay isn't all that great ... a long day! Ken will be working on trying to finish up some jobs before we leave town. If we're not just too exhausted on Sunday, we'd like to go to New Orleans for
Navy Week
and take free tours of some tall ships from Indonesia and Ecuador.
Our seven day getaway can't get here soon enough! Hasta luego ... until then. Mid-Life Cruising!