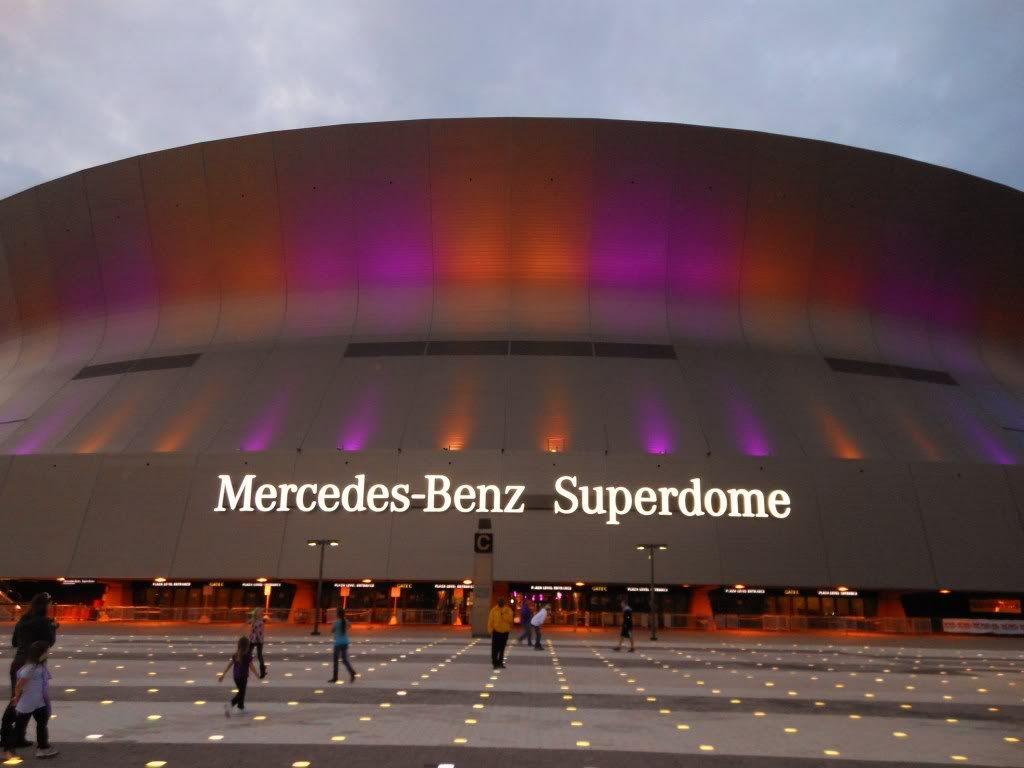 What do we do for fun when the weather gets cold and we're not sailing ... watch football! With teams like our New Orleans' Saints and LSU Tigers, the past few years have been really exciting. This year is no exception! Both teams have been doing great, and LSU won the SEC Championship this past Saturday.
As I've mentioned before, our daughter goes to LSU and she is now in her second year. Needless to say, we're big Tiger fans! We've been wanting to go to New Orleans and check out the new Champions Square, which has become a popular place to watch the football games. Champions Square is a new outdoor place located right next to the Superdome, and it provides an open space with a huge television screen. Also, the outside of the Superdome has just been redone, complete with color-changing lights. We thought this sounded like a lot of fun, and we were not disappointed!
We brought our folding chairs, picked a spot in front of the big screen, and watched the SEC Championship with a ton of other LSU fans, as well as some long-time friends. It was really fun being in the middle of such a large crowd, all jumping and cheering when the Tigers scored.
The Superdome was right behind us, where more LSU fans watched the game .. makes a great background!
The game started at 3:00, so it was daylight when we arrived. As the day turned to night, the lights came on and Champion Square really came alive! The Super Dome lit up in purple and gold for the occasion, and it looked even better than we imagined. It was a cool, clear night ... great football weather!
For those more interested in boating ... our next post will be related to that.
Hasta luego ... until then. Mid-Life Cruising!