The winning photo for SailorBags competition!
I've been meaning to post this for a couple of weeks, but thanks to an unexpected visitor from
"Lee"
this post was pushed aside for a little while. I try to post only twice a week because I believe that many of you that give us your time (we are so grateful) by reading our posts are also reading a lot of other blogs. I don't want to take up too much of your time. So, with our
NKOTB series
taking up every Friday, I sometimes get a little behind.
Anyway, even though this post is a little late it's a very important post to us because Ken and I very much appreciate all the support the we receive from you, the reader.
If you have been following our blog, you know that we competed in a
Sailrite
competition for a $250 gift card. We really wanted to win this gift card because we've been having our eye on Sailrite's "Sail Pack Kit", which costs about $260. Our sail cover sucks, and this would not only replace it but also provide an easier way for us to store our main sail ... just lower into the sail pack and zip!
The winner of this competition would be chosen by the number of votes received. If you haven't heard on our
FB page
, we won! (Check out
our winning entry
). Thanks to all of you who voted for us, and thanks Sailrite! We were really surprised at the number of you who not only voted for us, but were kind enough to ask your own friends to vote. We couldn't have won this competition without you, and we are truly grateful. We wasted no time in ordering our sail pack kit, and we received it a few days ago. Today, I'm bringing the sail pack kit to my awesome step-mom, who has so generously agreed to sew this for us. She's an amazing seamstress and once again we are so grateful for her help. We'll post pictures of our new sail pack in the future.
The very same week that we won the Sailrite competition, we were informed that we also won a contest from SailorBags that we joined! What a great week it was ... we felt that finally luck was on our side. The
SailorBags
competition required that we send in a picture of sailing fun. No votes were required and SailorBags would choose the winner. We sent in the picture above, which won us a new SailorBags duffel bag ... woo hoo! We were told that this picture won the prize because we looked like we were having a great time and were genuinely relaxed ... we were! This picture was taken back in March (I think) and it was a great day on the water with friends. Thanks SailorBags!
We recently received our SailorBags duffel bag, and boy were we impressed! I'll write a post about their bags in the near future, because they really do have a fantastic product. We may just have to order a large tote bag soon!
So, "Gracias" to all of you. We really needed some good luck, as our personal life with work and "landlord hell" was really taking its toll on us. BTW, I think we found a new tenant for yet another vacated rental. We sign the lease today. We're keeping our fingers crossed that the drama is over for a while!

Oh, we did squeeze in some sailing this past weekend ... finally! The weather was perfect and the relaxation was much needed to de-stress. Like an addict, we need more this coming weekend!
We also had to get more of the French Quarter this past Friday night. This time we were at Margaritaville for another blues band. We sat by the bar as the band was just about to start playing. The bartender told one of the band members as he ordered another round for the band ... "Tell him to be patient, he's already had 10!" Ten?! Yep, the guy with the captain's hat was getting his share. That explains why he was so mellow with a little shit-eating grin on his face the whole time! I don't remember his name, but evidently he's traveled the world playing music. Those drinks must agree with him, because he was amazing. His hands just flowed across the guitar strings ... sooo smooth! It's amazing how much talent is in the French Quarter! At any given time you can walk into place after place (or street corner) and hear all types of great live music. We will miss the French Quarter once we "sail away", and we'll have to get our fix when we visit family.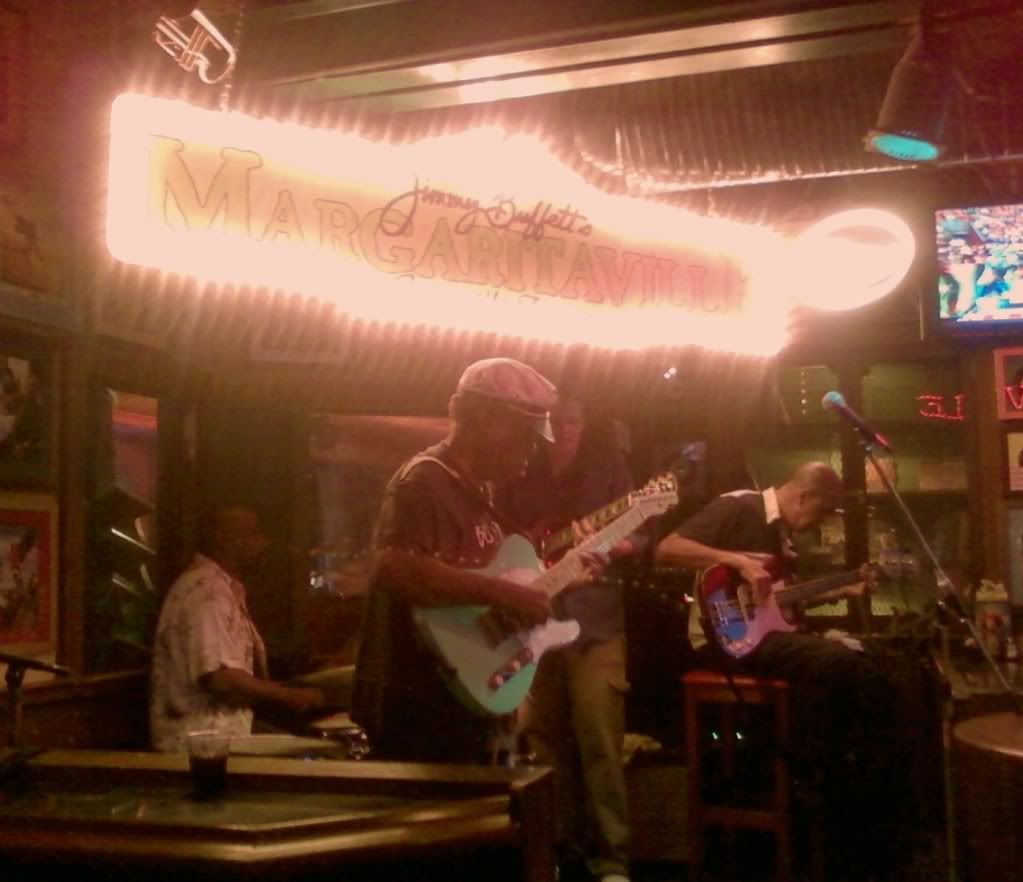 The "Captain" ... comfortably numb!
Hasta luego ... until then. Mid-Life Cruising!