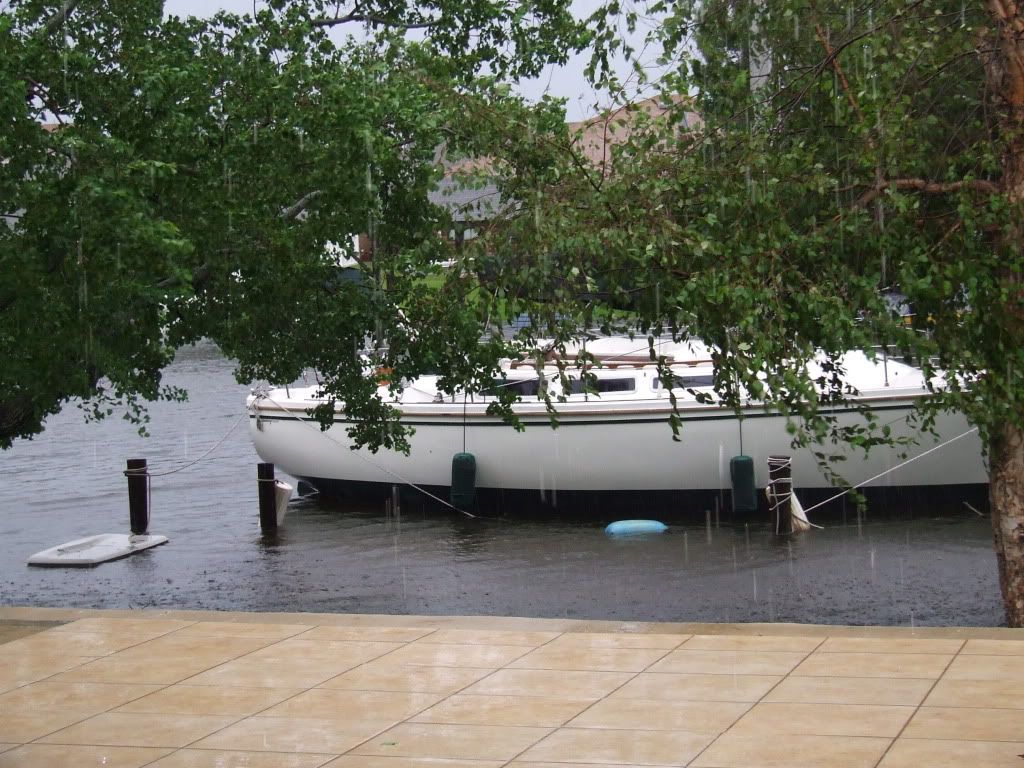 View from our back door Sunday morning. Luckily this was the highest the water got. Our storage box was almost covered!
This past Labor Day weekend did not go as Ken and I had hoped! We had planned on taking advantage of the extra day off by spending some time on Nirvana and the water. Instead, we had an unexpected guest who wore out his welcome and was not pleasant ... Tropical Storm Lee!
The rain started Friday morning and pretty much did not stop until mid-day on Saturday. While lying in bed Friday night listening to the rain, I thought about Noah and his ark! It seemed like the rain would never stop, and I was thankful that we had a sailboat in our backyard.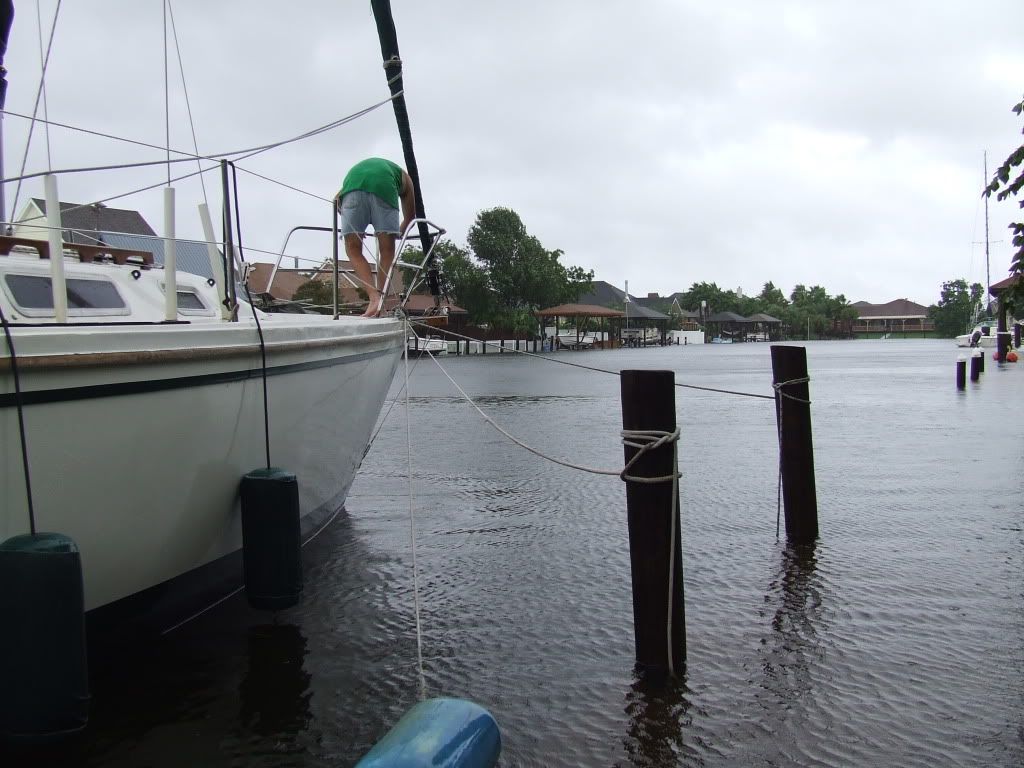 Ken making adjustments Saturday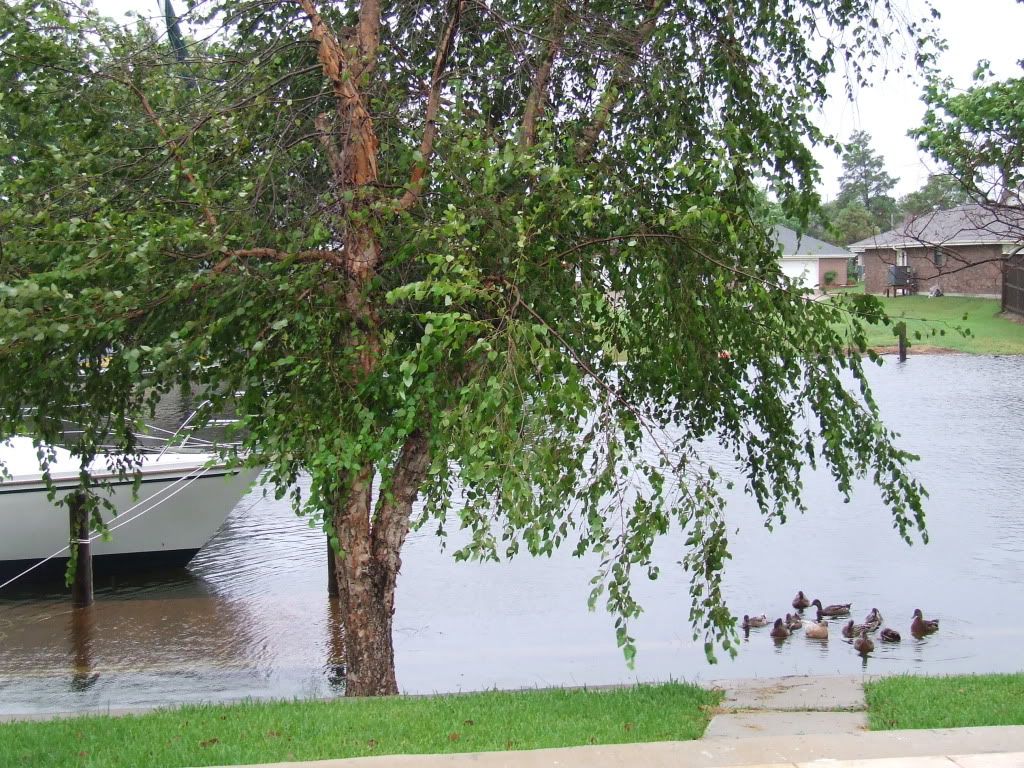 Some visitors in our backyard!
The rain finally did stop every now and then, only to start and stop again for the next 3 days. Ken and I were thankful for the breaks, which allowed us to check on Nirvana and make any necessary adjustments. The breaks were also a great time to run to the store for food and errands, and just to have an excuse to get out the house. Four days in our house gave us a little taste of what life will be like on our sailboat when anchored on a rainy day ... boring! I can pick up a book and get lost in it, but Ken is a different story. He does not like to read and has a lot of nervous energy. I told him he'd better start learning to enjoy reading or playing Scrabble or he's gonna go crazy!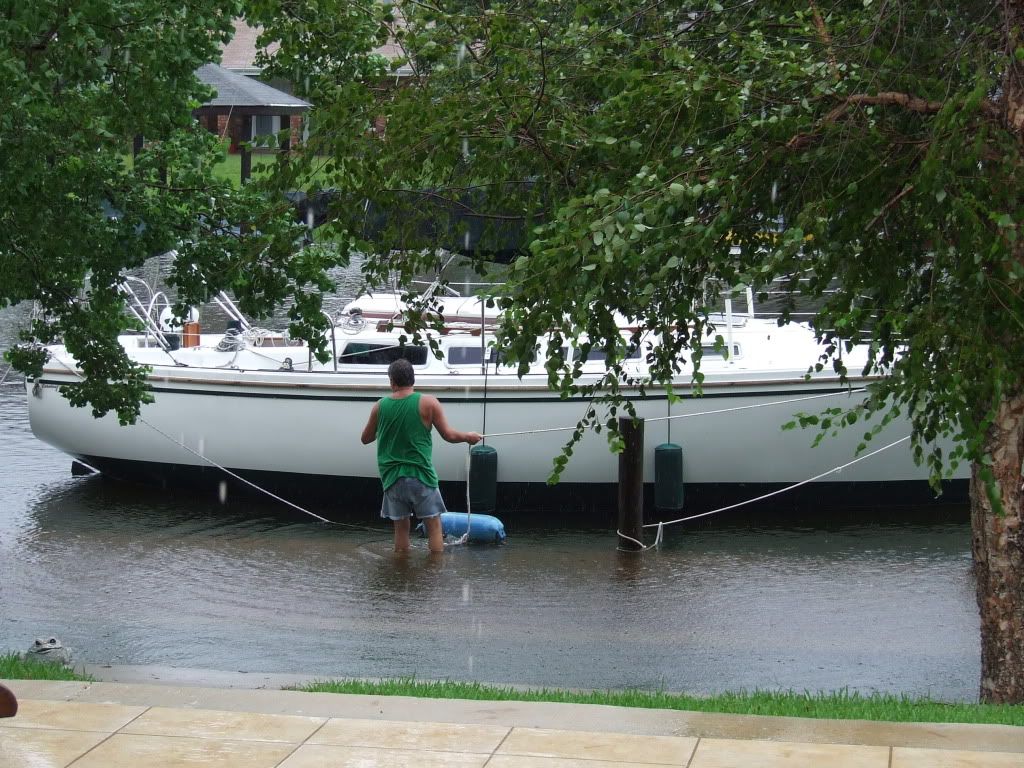 More adjustments on Saturday!
Oh, and the rentals! Thank goodness we only received one call regarding a broken pipe to a water well pump! Although we were not happy to spend the first 4 hours of Sunday morning running back and forth between our rental and Home Depot, we were very happy to have the well pump back up and running for less than $30. I am so thankful that Ken knows how to fix just about anything! However, in between runs to Home Depot the song "We Gotta Get Out Of This Place" by The Animals kept running through my mind. You know, the song that goes ...
We gotta get out of this place
If it's the last thing we ever do!
We gotta get out of this place
Girl there's a better life, for me and you!
I had to laugh and tell Ken about this song running through my head. We do need to get out of here!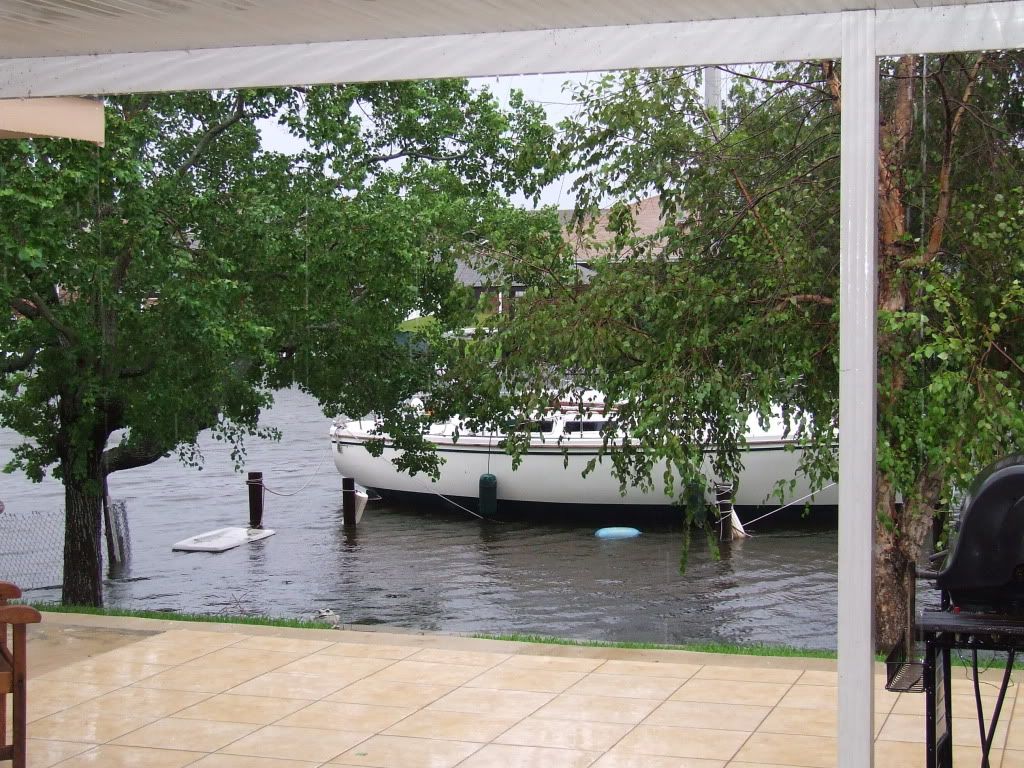 Another view from our back door Sunday ... the water at its highest.

On Labor Day, the fourth day, the rain finally stopped and the water started going down ... ever so slowly! By last night the water was almost off of the dock, but Ken had to keep checking the water level and adjusting the fenders. Around midnight we both woke up and the water was finally off of the dock! This allowed Ken to make one final adjustment to the fenders, and allowed both of us a good night's sleep.
This morning Ken and I woke up to sunny skies, low humidity, and temperatures in the low 60's ... just in time to go back to work! Before heading to work, I checked the interior of Nirvana for the first time in days. I was afraid that I was going to find a lot of water damage since we have a lot of leaky ports (windows). However, I was pleasantly surprised to find a dry boat! I couldn't believe it! The wind must have blown the rain in just the right way to avoid leaks ... another thing to be thankful for. We can't wait for our
new retrofit windows
to come in within the next week! In fact, Mike from
Cruising Concepts
just called while I was typing this post and we should have our new windows very soon ... woo hoo!
So, although "Lee" put a damper on our Labor Day weekend plans we can't complain. Our house, our rentals, and our future home (Nirvana) all made it through without any damage. After going through Hurricane Katrina, we know things could have been much worse. And, we'll be able to enjoy a week of fall-like weather ... that's unheard of this time of year in Louisiana!
Hasta luego ... until then. Mid-Life Cruising!