The "Dock of the Bay" ... on the bay, in Bay St. Louis, Mississippi
Not much exciting happening with us. We spent the past week working and recuperating from
Ken's birthday
celebration last weekend. Before we knew it, another weekend had come around! As most of you know, this past weekend was very exciting for the US East Coast. They were visited by Hurricane Irene, and she was not a welcome guest! However, it appears that although there was damage and a few unfortunate fatalities, Irene wasn't as mean as expected. We hope that all of you reading this from the East Coast are well and did not experience much of Irene's wrath.
Even though Irene was far away from Louisiana, it brought about a lot of talk and memories of hurricanes here in Louisiana. That's because
today is the 6 year anniversary of Hurricane Katrina!
Six years ago this morning, Hurricane Katrina slammed into Louisiana and the Gulf Coast. In some ways it seems like just yesterday, and in some ways the destruction seems a life-time ago. We had our fair share of loss during Hurricane Katrina, as did our family and friends. I can tell you that unless you were able to drive around and see the damage for yourself ... you just can't imagine the widespread destruction! It spanned across several states and with the lack of street signs and landmarks it was very easy to get disoriented. We are happy to say that our town has made a full recovery!
One nearby area that is still recovering from the massive damage is the Mississippi Gulf Coast. Since Ken and I had not visited the area in about a year, we decided to take the 30 minute ride to this area and check out the progress. Saturday was a beautiful day for a car ride and we rode along a portion of the beach in Waveland and Bay St. Louis. While we saw some beautiful new fishing piers and docks, we also saw an amazing amount of vacant lots. So many beautiful homes have yet to be rebuilt.
We stopped at one of the docks on the bay and soaked up the sun while watching the boats, fishermen, and beautiful views. We then headed over to the nearby casino for an all-you-can-eat buffet of crabs and brisket with all the fixings! We'd been craving this for a while now, and with our frugal selves we finally treated ourselves with a "buy one, get one" coupon! To make things even better, we had a coupon for a $15 chip at the blackjack table. Ken put the chip on the table, and in one play he got a blackjack! Woo hoo ... dinner was free for both of us!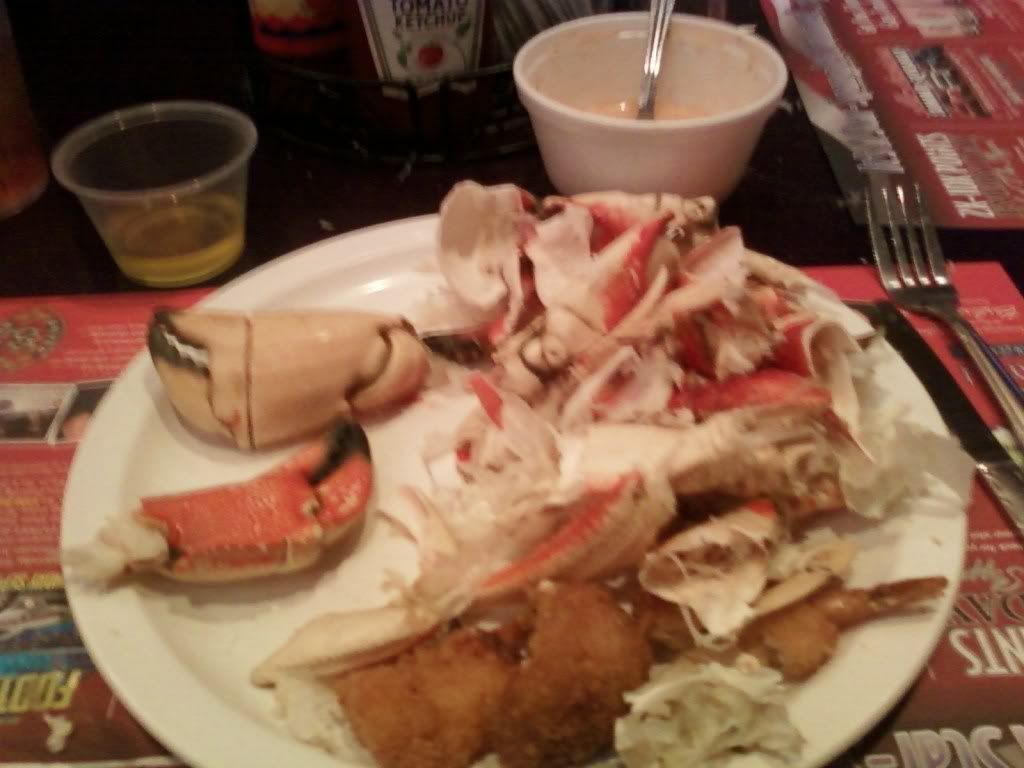 I can eat my weight in crabs!
I won't bore you with the details of our sad Hurricane Katrina story, but I will say it was miserable and exhausting! It took a very long time to get our life back to "normal". However, going through such a catastrophic event reminded us of what's important in life. It all fits in a car (or boat), cause what's really important is carried in our heart and soul!
On a lighter note ... when riding around the coast, we found ourselves on "Vacation Lane"! This is the closest we've been to a vacation in a long time. We really need to get movin'!
Hasta luego ... until then. Mid-Life Cruising!