We're on a boat! (Photo thanks to our friend Ted, who took this from his mast)
Ken's 45th birthday was this past weekend, and an excuse to kick back and have fun was way overdue! Our friend, Renee, shares the same birthday as Ken and it was her 40th. So, the celebration started Friday night with Renee, her daughter, our daughter and her boyfriend, and another long-time friend and her boyfriend. The night started off at the Daiquiri Shoppe (they actually have a
drive-thru
here in Louisiana) where my daughter and her boyfriend introduced us to "Granny". "Granny" turned out to be a blow-up doll, which really made for a bunch of laughs. We even took "Granny" to Copeland's for a late night dinner. We love to be crazy, and the looks on the people's faces as we walked to our table ... priceless!
Granny looking over the menu at Copeland's Ken n Renee (the birthday guys) and daughters
Saturday was spent recovering, and Sunday the same group came over and piled onto our sailboat. Nirvana had never had 8 people (plus our daughter's dog) on her at one time, but everybody fit on her just fine. We headed out to the lake, dropped anchor, and spent the day with food, drink, music and good company! Our friend, Ted, joined us on the water in his sailboat as well. We had plenty of noodles and floaties to hang out in the water for a while to cool off, and the dog even had a floatie to "chill" with everybody.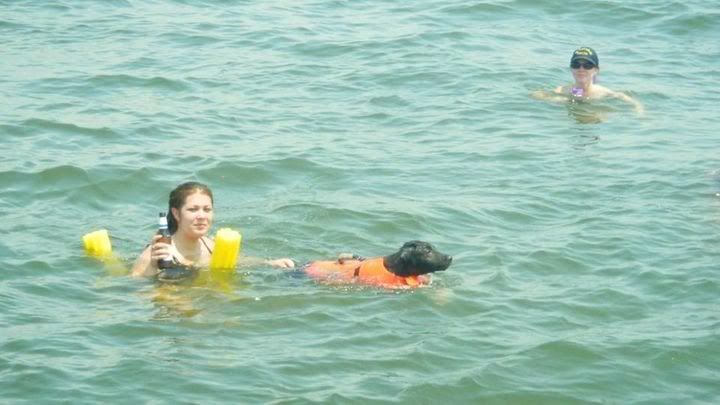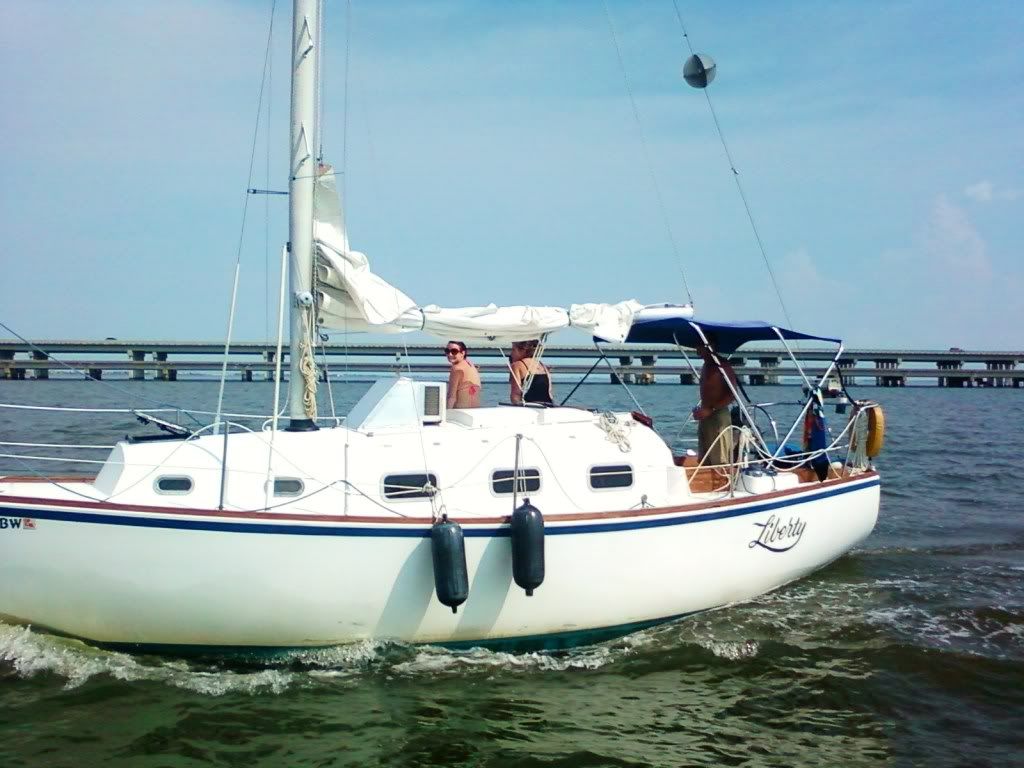 Above pic: creating a work of art! A few "floaters" got too far away to ever make it back to the boat, so we pulled up the anchor and saved their life! =) The above picture is Ted in his boat after picking up our daughter and Renee's daughter. We went even further out to pick up a few others "floaters".
After everybody was back on the boat, we headed towards home and made a stop at "The Dock". This is a little bar and grill with live music every Sunday afternoon. We got there just as the band started playing and enjoyed a few tunes before heading back home.
"The Dock" ... that's our sailboat mast in the background! "The Meanies" playing on the waterfront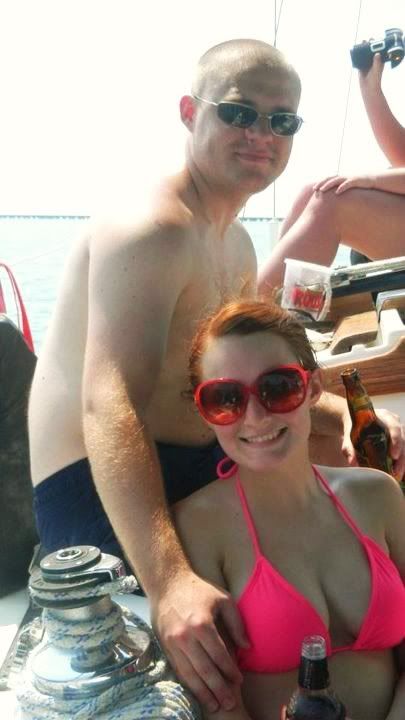 Ken and I were worried about having so many people on the boat, as well as being in the 90-something degree weather. However, the day couldn't have been any better! I think this was the best birthday Ken has had in a long time. We really enjoyed time with our friends, our daughter and her boyfriend. In fact, this was actually the first time our daughter had ever been on our boat! I think she and her boyfriend also had a really good time, and hopefully our daughter is embracing our sailboat a little more now.
Later that night after everybody left, we sat and thought (as we often do) about how quickly time is flying by. Ken and I were younger than our daughter when we started dating and now he's 45! I'll also be 45 in a few months, and yesterday our daughter started her second year at LSU. It really is mind-blowing just how fast the years pass. Our daughter recently told me that I still think I'm 16 ... I told her that she's right! I told her that other than being wiser, we don't think any differently than we did when we were her age. I also told her that she'll be in her forties before she knows it. Before we know it ... we should be living on our sailboat!
Hasta luego ... until then. Mid-Life Cruising!
*We'll have more pictures on our
Facebook page
once we get them from friends n family! They oughta be crazy!