Since our last post Ken has decided to spray our sailboat hull instead of brushing the second coat of Interlux Perfection paint. The first coat had brush marks in it, and we didn't want a "rippled" sailboat. So, more sanding! This past Saturday Ken sanded one side of the sailboat's hull to remove the brush marks and make the hull smooth for spraying the paint. Removing the brush marks pretty much removed the paint as well. So, back to the hardware store to order more paint, and spend more money!
Anyway, we're already experiencing above normal temperatures (around 93 degrees) and with Ken working physically in the heat all week, he really needed one day off. So, the other side of our sailboat hull will be sanded one evening after work and Ken hopes to spray the sailboat hull thisThursday if he can break away from work.
We woke up yesterday morning wondering what to do with a day off. Ken was feeling guilty about not heading to the boatyard, but I assured him his body needed a break. So, what's a future liveaboard couple to do with all money in the boat fund? Well, we started with a visit to our local Sam's Club and ate one sample after another while walking around in the air condition. Free lunch! After stuffing ourselves we came up with the idea of riding our motorcycles. We haven't had a chance to ride them since last summer! However, we realized that Ken's registration just expired and first he'll need to make a visit to the DMV in his "spare time".
So then we decided to visit our friend, Ted, and see if we could convince him to take us for a sail on his boat. Ted was just finishing the installation of mast steps on his sailboat, and was reading to go sailing. We took the boat to our regular spot, Lake Pontchartrain. We worried about the lack of wind and excessive heat, but the wind picked up and the clouds came in. It turned out to be a really nice, relaxing day.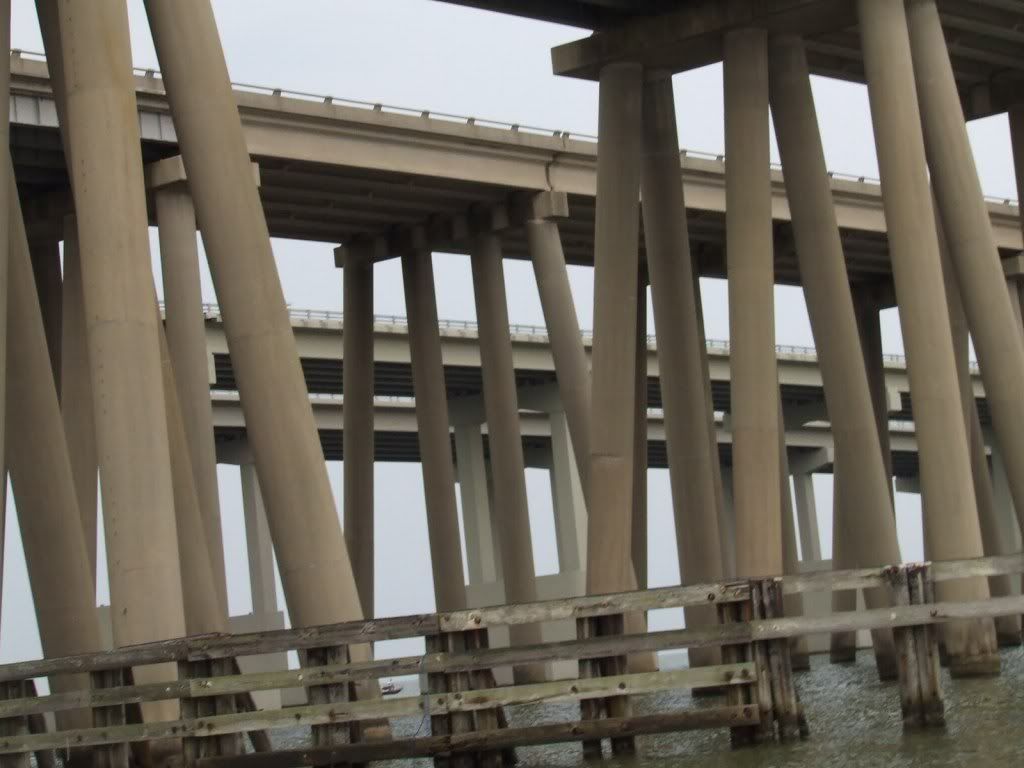 I mentioned Louisiana in the title because in the back of our minds is the growing oil spill. The oil is getting closer and closer to Lake Pontchartrain and BP has not stopped it yet! Will the oil get into our beloved lake? Will we no longer be able to enjoy days like this? Will another Hurricane Katrina blow oil into our homes? Will our sailboat that we've been working on so hard be damaged? Will our plans of selling our home and cruising be ruined for a while? We try to stay positive, but it is something that weighs heavy on our minds. And now, the East Coast and the Florida Keys may be in the oil path's future. So terrible!
I took a few pictures of the "Twin Span" which is the bridge conncecting New Orleans to Slidell, where we live. Under the bridge notice the emblem, which is the Pelican (our state bird) with three of her young babies. The images of pelicans soaked in oil have literally brought me to tears and I hope these and many other creatures can be saved.
Well, as the oil spill continues, we continue with everyday life and hope for the best and continue to work on our sailboat and our dreams.
Hasta luego ... until then. Mid-Life Cruising!