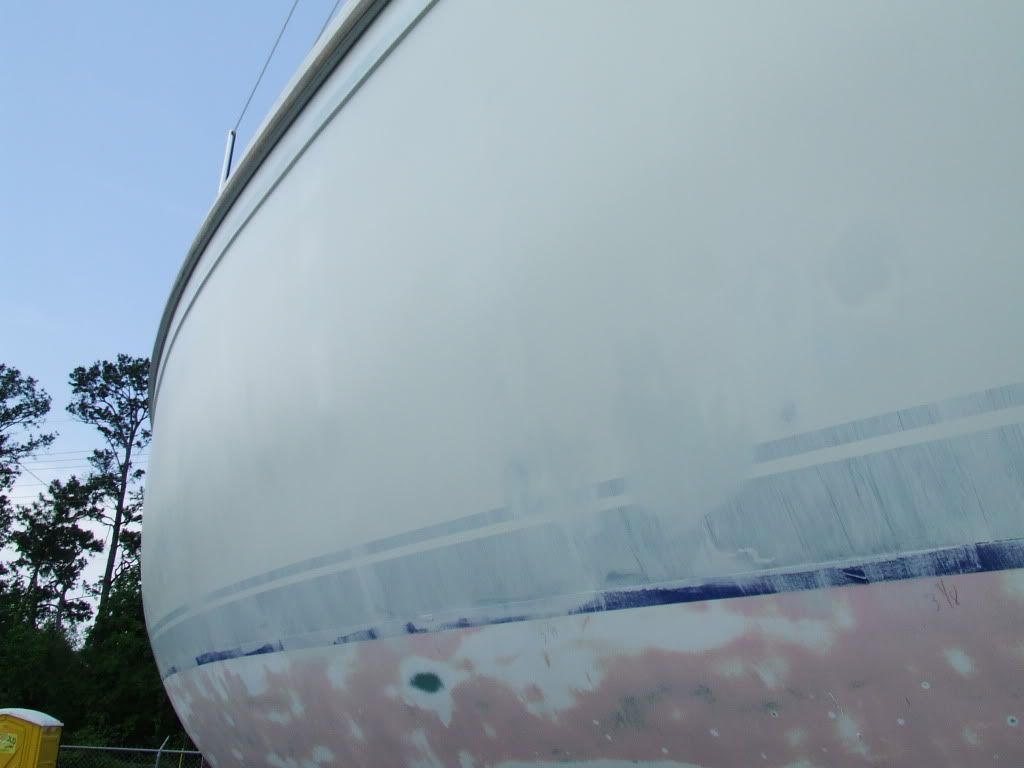 This past week Ken and I have been busy at our regular jobs, but Ken was able to find time to move on to the other side of the sailboat's hull and make the necessary repairs to the hull with epoxy filler. After all the repairs to the hull were made, Ken then lightly sanded it again. By this time I was able to show up and give Ken a break by washing the sailboat another time.
While Ken was working on our sailboat this past week he noticed that our fuel tank had leaked into the bottom of the quarter berth and into the bilge. Evidently when Ken moved the fuel tank in order to tighten the strut bolts, a leak somehow occurred. So, we ran to the house and got a few gas tanks and a hose to siphon the diesel out of the tank and then remove the tank from inside our sailboat. Yet another distraction! Ken had to clean the bilge with a degreaser to remove the excess diesel that had leaked into our sailboat. He had been wanting to clean the bilge anyway, so now it's done. Below is a picture of the fuel tank. We may repair the tank, but we're looking into replacing it with a thick plastic fuel tank. At least this is all happening now instead of later!
This past Friday afternoon Ken was able to paint the sailboat hull with primer (pictures coming soon), and it's now ready to paint. The sailboat hull is "smooth as a baby's bottom" and we're happy with the results so far. Ken's got a busy week coming up with work, but he's going to try to fit the painting in whenever he can. It may not be until next weekend.
Today is Mother's Day, but since we celebrated it yesterday along with Erica's graduation, Ken is finishing up a job in New Orleans and Erica is going to the House of Blues for Sunday brunch with a friend and his family. I'm going to enjoy the beautiful weather we've been having by relaxing in our backyard and peeling boiled crawfish that was left over from yesterday. Maybe tomorrow night I'll make crawfish and pasta with a garlic butter sauce or crawfish pie! Hasta luego ... until then. Mid-Life Cruising!