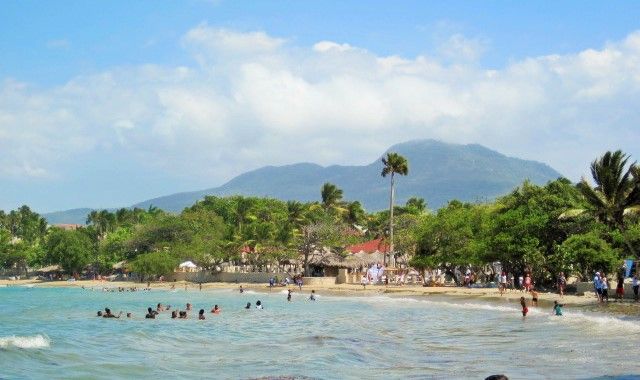 As we flew over Miami, Ken and I checked out the sailboats anchored down below. We were getting excited. That would be us someday. Those boats and the blue water also meant something else ... we were on our way to Puerto Plata in the Dominican Republic!
Neither one of us had slept more than 4 hours the night before the flight. We had spent our last day (Friday, July 24th) before our trip finishing up the cleaning & prep on our rental for the new tenants moving in while we were gone. That evening was spent paying bills, washing clothes & dishes, booking transfers to/from the airport, and most importantly ... making arrangements to meet Fransisco at our hotel lobby to pay for a white water rafting trip! About 9 pm we finally had time to think about packing. A few pair of shorts, a couple of bathing suits, sundresses for me, the obligatory Hawaiian shirt for Ken, some sandals & sunscreen ... we're good to go!
As we sat on the plane with our daughter & son-in-law, we were comfortably numb. We needed a break ... a beach, some palm trees, and a few glasses of
Presidente
beers were long overdue.
It was hard to see the island from the airport, but as we rode the van to our hotel room we took in the sites. The hills, the blue water, the palm trees and the island vibe were as good as we'd imagined. Our driver, who spoke Spanish, tried to converse with us by pointing to this or that. None of us speak Spanish (yet), but we do know the basics ... like Cerveza! Our driver pulled over, ran into a bar, and bought us bottles of Presidente for about a buck a piece. Let the vacation begin!
As it always seems to be on our visits to the islands .. the ride to the hotel was an experience. Our driver was fine, but the folks on the motorbikes known as "conchos" ... they had a deathwish! Conchos are a very popular mode of transportation on the island, and they're everywhere. Imagine streets that seemed to have no right of way, where the lines mean nothing and anything goes. Conchos would dart across lanes of traffic, make U-turns in the middle of the street, be barely out of reach from the side mirrors on the vehicles ... and not a helmet to be found! We found ourselves tensing up a few times and closing our eyes, just waiting to hear the splat of a concho against the van. Oh, and two guys on a concho ... how about a family of four? We had definitely left the United States, where Ken had once gotten a ticket when riding his Harley and not putting his feet on the ground long enough at a stop sign!
Yep, we were in the Dominican Republic and we were grinning from ear to ear. Our week trip went way too fast, and we've already been back in town since this past Friday night ... almost a week already! I've got lots to tell, and some great photos to share too.
I plan to write a post for each day that we were there, so stay tuned for white water rafting, a day in Caberete (known for its windsurfing), a trip down the waterfalls (literally), a group ride on conchos with cruisers from the local bar/grill to a beach in Luperon (great folks), and time spent at our all-inclusive resort relaxing on covered cabanas overlooking the water while being served food & drink like royalty ... good times.
I tell ya, it's hard coming back to the States and going back to work. The people of the Dominican Republic were so happy, so kind, and so patient of us foreigners that don't speak Spanish. The island was full of culture & beauty, and lacked the abundance of commercialism and consumption that we have in the States. The folks didn't have much, but they couldn't have been more pleasant. Oh, and not once did we feel unsafe. It was a nice change of pace for us and we loved every minute of it. We gotta get on our boat! Soon, real soon we'll be sweating bullets in the boatyard.
Hasta luego ... until then. Mid-Life Cruising!