When I realized that Kathy, my Facebook friend, owned
Putula's Bar & Grill
in Luperon I knew that I had to contact her to book a concho tour. Putula's is located near the marina, caters to both locals and cruisers, and puts together concho tours of the area. After several e-mails back and forth, Kathy was able to accommodate our schedule and put together a ride to
La Isabella
. We looked forward to meeting Kathy, her husband Johnny, and other folks living in Luperon or visiting on their boat.
The morning started with boarding the local "Javilla Tours" bus outside our resort and heading to Imbert, a small town about 20 minutes away. Once in Imbert, we met Kathy & Johnny at the gas station across the street to hop on the conchos. Ken was my driver, and the kids each had their own driver. It took Ken a few minutes to get used to riding the local concho, which had gears that worked in the opposite direction of an American motorbike. Luckily, he got the hang of it before he had to start dodging cattle!
We headed to Luperon, about 15 minutes away, to meet the other folks at Putula's. The ride to Putula's was beautiful, with hills and winding roads ... we were in the country. It felt so good to be back on a motorbike!
Once at Putula's, we had a few minutes to meet a few folks before getting back on the bikes for another 20 minute ride. There were about 30 people riding, and Kathy said they were there to "meet the new cruisers" ... wow!
Pictures don't show how pretty of a drive we had through the hills ... beautiful!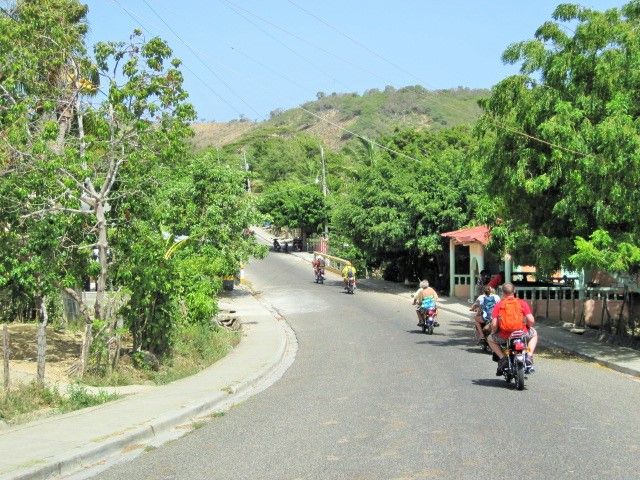 Sharing the road. At one point turned a corner and had cows running right towards us!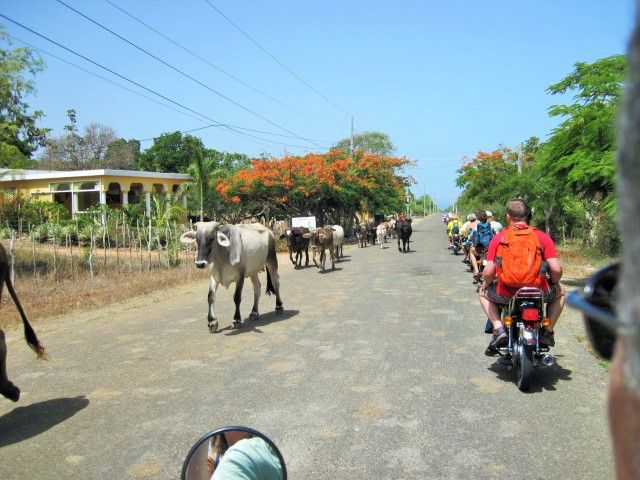 La Isabella beach ahead ... wish my camera would have cooperated when were still on the hill. As I looked down to my left, there was a little white church (the first church built during the days of Columbus) that overlooked the water ... it was beautiful. Can't believe I didn't get a photo!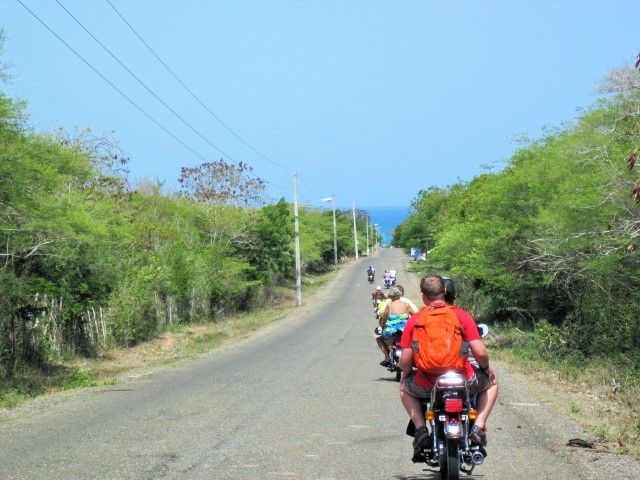 We made it!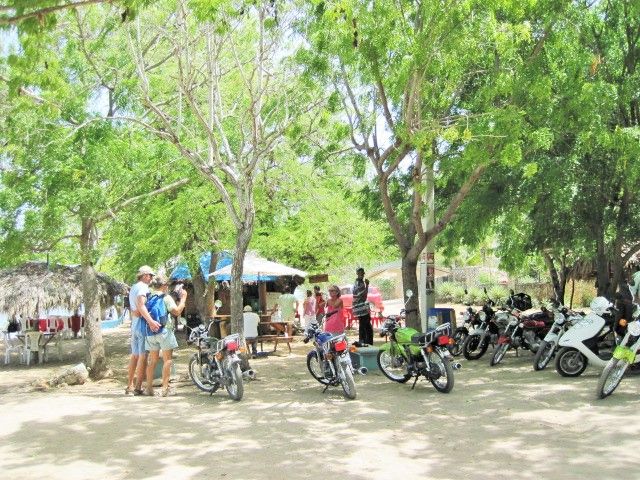 What a beautiful place to make new friends and cool off!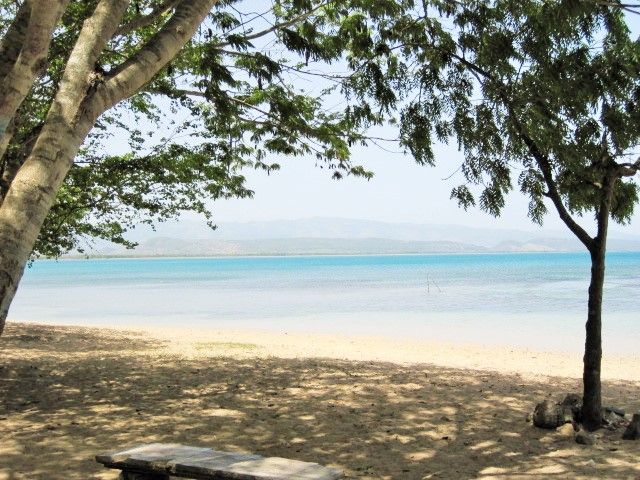 We pulled together the tables & chairs and chatted with some great folks while enjoying Presidente beer (do you see a theme in these DR posts) and a lunch of grilled chicken, beans and rice ... a very common dish that we had quite a bit during our vacation, but very tasty!
We met a really nice cruising couple from Bogalusa, LA (where our son-in-law's family is from) and their visiting friend that has a boat around Pensacola, FL ... but from New Orleans, LA. Another woman sailed from Thibodaux, LA ... is it a small world or what?! Then there was the couple that had recently sailed from South Africa ... so many great stories. We also met several other folks from the US ... some were cruisers and some had purchased property in Luperon and are now living there.
A few of the cruisers had only been in the area for a few weeks, while others had sailed to Luperon temporarily to be in a hurricane hole ... only to still be around years later. It seems Luperon has a way of keeping cruisers around ... they love it! Everyone was extremely nice and they all said the same thing about cruising ... you're gonna love it! They were really helpful with some of our questions and said that as long as we're self-sufficient and handy (Ken is), we'll be fine. They assured us that our 30 footer was big enough to make it to Luperon. Since we've yet to experience a night passage, we asked how many it takes to get to Luperon. The couple from Bogalusa had only done one other night passage before their second night passage to Luperon ... making their way from the Bahamas and island hopping. That made us feel a little better!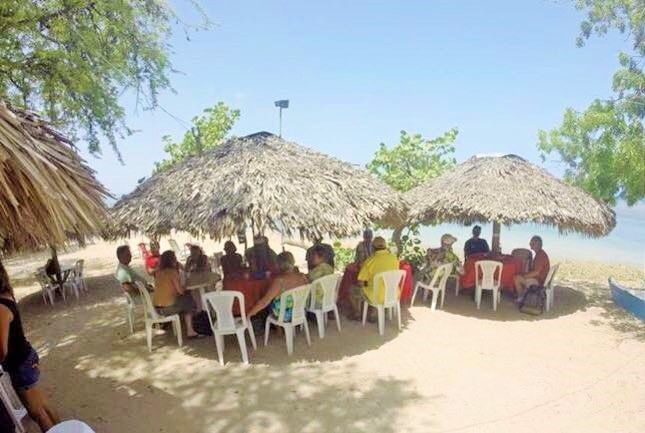 Kathy and Johnny, the owners of Putula's, were amazing! Kathy is one of those cruisers that sailed to Luperon to avoid bad weather, and never left. She sailed to Luperon about 3 years ago and loved the island. She's made Luperon her home and recently got hitched to Johnny! Below is a pic of me with Kathy & Johnny ....
The kids really seemed to enjoy the day, and the cruising conversation too.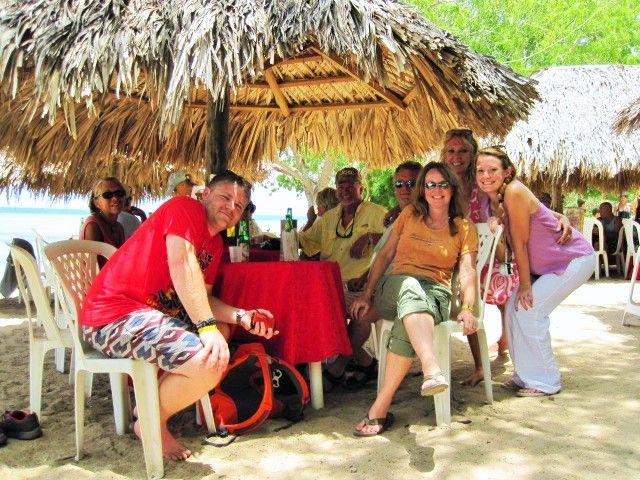 After lunch and a few beers, we all headed into the water to cool off for a while before heading back to Putula's. What a great day! If you're ever in the Dominican Republic, I highly recommend that you contact Putula's. I hear they have fantastic food, and you've gotta take a concho tour!
Thanks so much Kat & Johnny for a great time!
Hasta luego ... until then. Mid-Life Cruising!