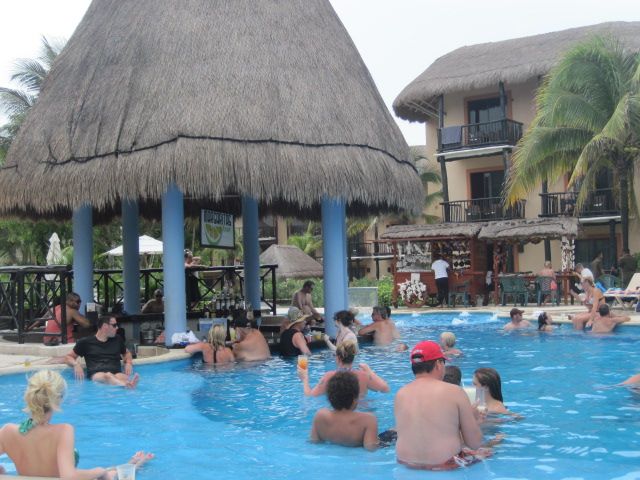 After Hobie cat sailing earlier in the morning, Ken and I decided to stay at the resort and just relax by the beach and pool bar. (See Ken in picture above at the bar?)
After brunch, we settled in on the beach ... near the bar. With the skies clearing, this was the perfect way to wrap up our vacation ... the beach, a lounge chair, and a waiter bringing us drinks!
The bar wasn't too far from our chairs ...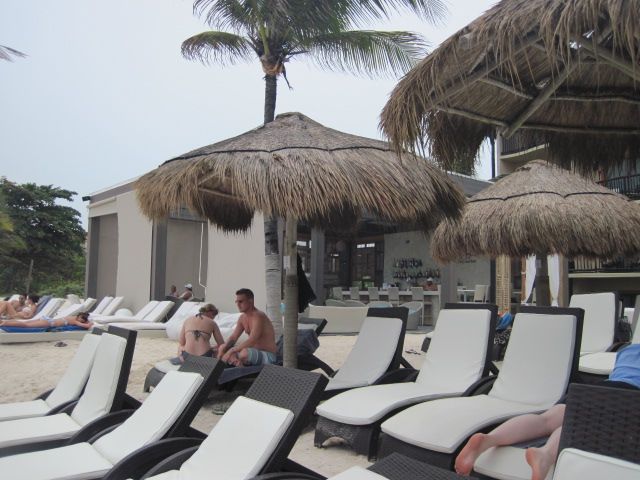 After sailing and some sun, I was a happy girl!
We eventually made our way to the pool bar, and I actually had to put on a t-shirt to keep from getting burned. We socialized with the other guests and met a lot of great people during our stay. Their homes were from all over the world ... Canada, Spain, Germany and Romania to name a few. We met two couples not much older than us that have been to the resort over a dozen times!
The resort has several pools, and we watched some games involving tequila being played in the pool nearby.
We tried not to think about the fact that we'd be headed home the next day ... the tequila helped. The margaritas were a little weak, so I asked for an extra shot on the side ... they used a champagne glass!
That evening, we got cleaned up and enjoyed another great meal. Because of the location of the resort, we weren't able to view the sunset from the beach but we weren't complaining ... at least it wasn't raining!
The next morning we filled up on breakfast and took in the views one last time.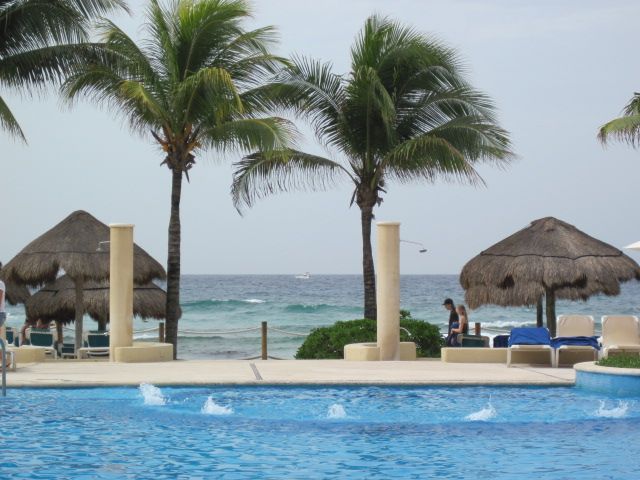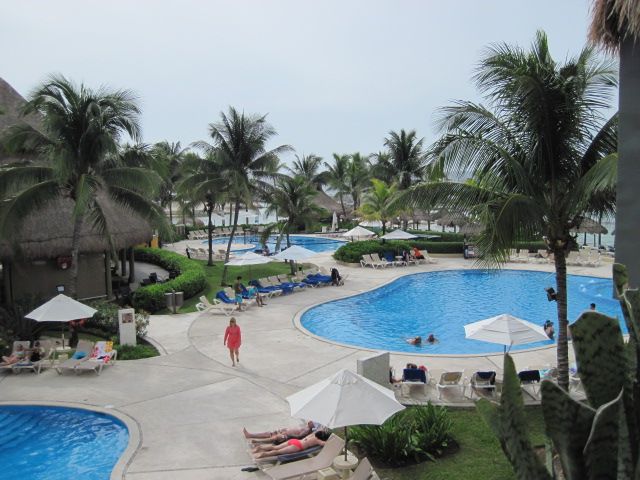 Even with dodging the rain, we had a great time in Mexico and couldn't have been happier with our choice of
all-inclusive resorts
. We've been back home just over a month now, and we're already wishing we were back in Mexico. As usual, it's been a busy month since we've been home ... all for reaching the goal of permanent living in the tropics!
Hasta luego ... until then. Mid-Life Cruising!