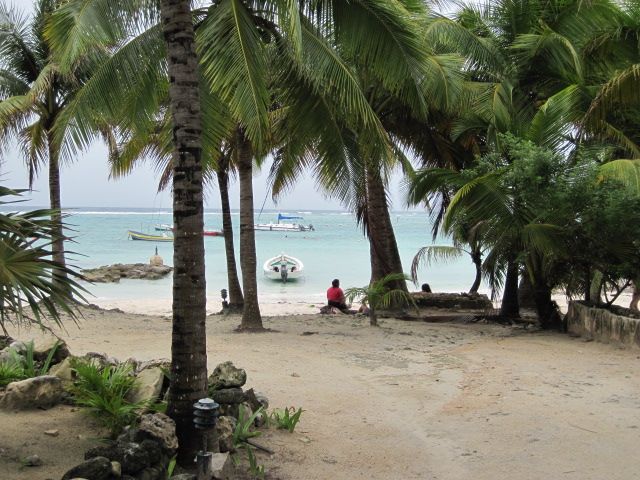 Our first view of the Akumal beach ...
After a
rainy day at the resort
, we were pleasantly surprised to wake up the next day to a better weather forecast. Although there was a chance of rain every day until we left, the forecast had changed from rain all day to a chance in the afternoon .. more of a typical summer forecast.
With only two full days left of our vacation, we decided to take our chances and grab a "collective" to Akumal. This little town is just minutes away from our resort, and I'd read that it has a beautiful beach and is a great place for snorkeling. Akumal means "place of the turtle", and this beach is known to be a place for snorkeling with sea turtles. We love to snorkel and were looking for a pretty beach to chill out.
After the "collective" dropped us off on the side of the road, we walked over the highway on the pedestrian pathway and headed down the street. If I hadn't done my research, we wouldn't have had a clue where the beach was. But, just as I'd read, we continued down the road until we hit some shops, restaurants, and the beach. The Riviera Maya is full of iguanas, which just hang out in the sun. We didn't see any crabs, but we did take the sign's advice to "enjoy"!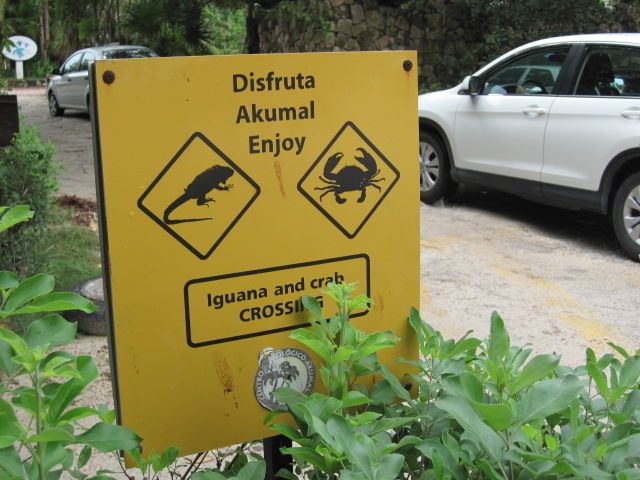 To the left of the beach area entrance ... we didn't venture down this little road but I think there were a few more restaurants and shops. Notice the puddles from all the rain ... it was still pretty cloudy and we were hoping we'd be able to snorkel before the rain came.
As we walked upon the beach, we were happy with what we saw. The little beach with palm trees along the way kind of reminded me of the beaches in the Virgin Islands ... without the hills. It was so pretty, tropical, and peaceful. Like the beaches in the Virgin Islands (and unlike Waikiki Beach in Hawaii), the beach wasn't covered with condos. There were a few small hotels and restaurants tucked behind the trees, but nothing obstructing the natural beauty of the beach. A fair amount of tourists were around, but not too many ... perhaps due to the weather.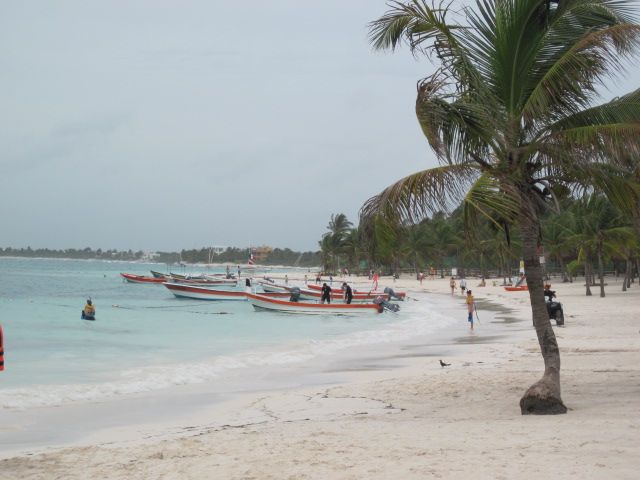 We laid out a towel that we'd brought and sat a while ... just checking things out. After a while we figured we'd better not take our chances with the weather, and it was time to rent some snorkel gear. For just a few bucks each we rented our gear at a dive shop on the beach. The shop offered lockers and/or a snorkel tour for an additional fee, but since we'd watched the "tour" group being walked right into the water we knew that was a waste of money. We could figure out how to walk in a straight line and start snorkeling. The locker wasn't appealing to us either, as the beach felt very safe. We were confident that our small backpack wouldn't be touched while we were snorkeling ... and it wasn't.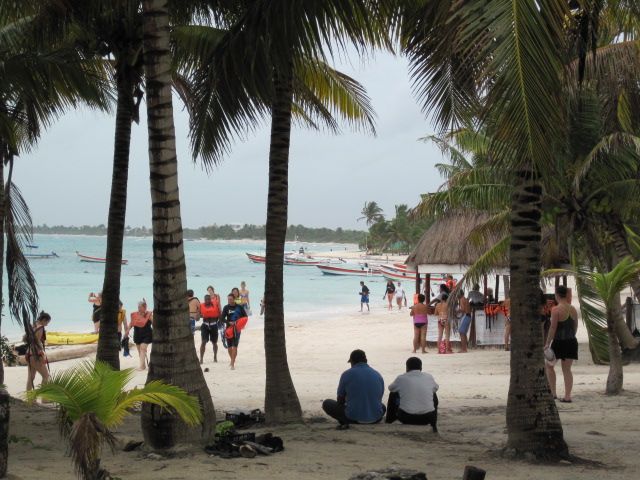 Although we'd hoped to see some sea turtles, our expectations were low. We figured that with all the recent rain and murky water we probably wouldn't see much of anything. After snorkeling for a bit and not seeing much of anything, I was starting to think we had picked a bad day. The water felt good so I figured I'd just swim around a bit more, and out of nowhere was a huge sea turtle ... right in front of me! I had been looking down and when I looked up a bit, it was right there. I kept still while watching the turtle swim around and come up to the surface for air ... it was so graceful. I popped my head out of the water to find Ken, but he was nowhere to be found. I was hoping that he'd seen some turtles. Just a few minutes later I came upon two more turtles ... so cool! The water was murky, but here's a few shots.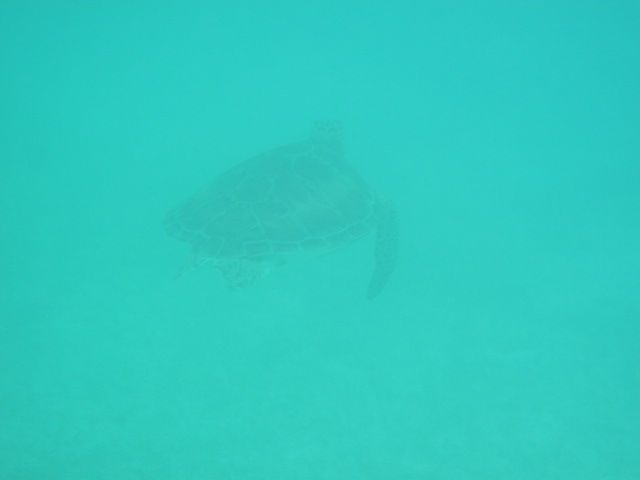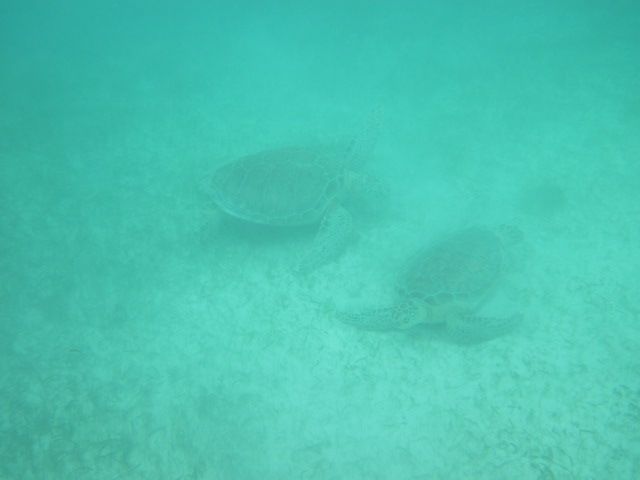 Just about the time I started swimming back to shore ... a spotted stingray! It took me by surprise and it was underneath me. I couldn't help think of
Steve Irwin
, and his death by swimming over a stingray and getting "stabbed" in the chest. I was much more relaxed when I got on the side of him. Where was Ken? He's missing all of this!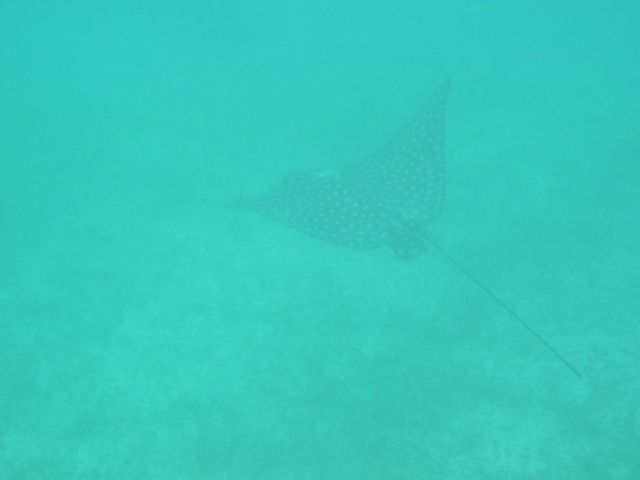 As I got close to shore, I saw Ken sitting on the beach. I was excited to tell him about what I saw, and had hoped that he'd seen at least one turtle. As it turned out, he did see a few turtles and a stingray too. However, the stingray that he saw was a lot bigger. Like me, he was swimming over the stingray and also had visions of Steve Irwin. Luckily, we both survived and didn't share the same fate as the "Crocodile Hunter".
As I was walking out of the water, I saw this guy and his catch ...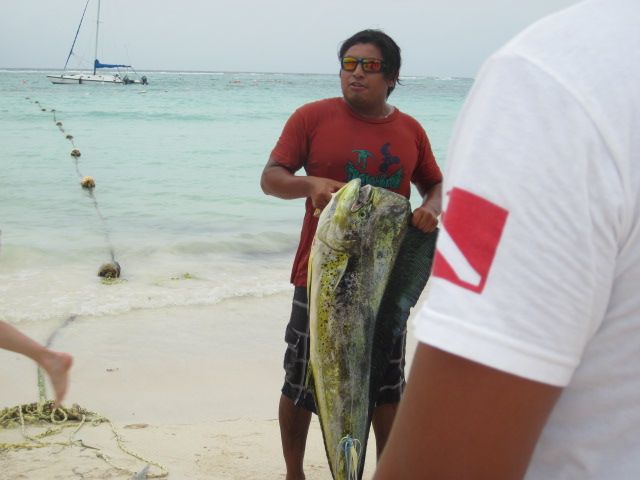 Just as we returned our snorkel gear, the skies opened up once again. We hung out under the cover for about 20 minutes, and then the skies cleared up a bit. Again, we were pretty lucky with our timing and dodging the rain. With the sale of our rental back on and a day on the beach, our spirits were once again lifted and we were back in "vacation mode". We hung out at the beach a while, then headed back to the resort for a late lunch.
Of course, I had to get a couple of pictures of the sailboat anchored out ... one day Nirvana would be anchored out somewhere like this!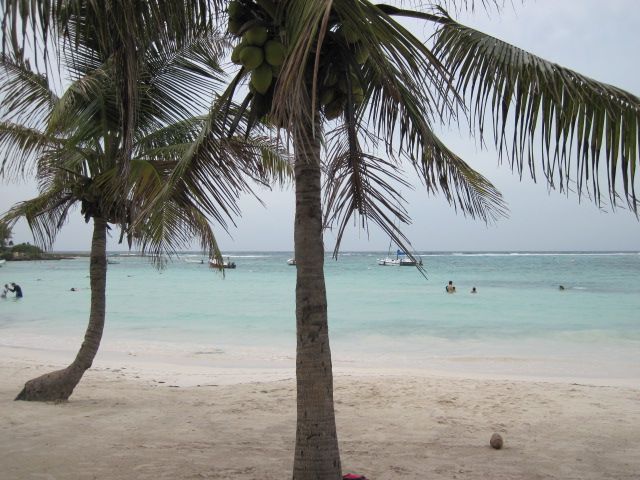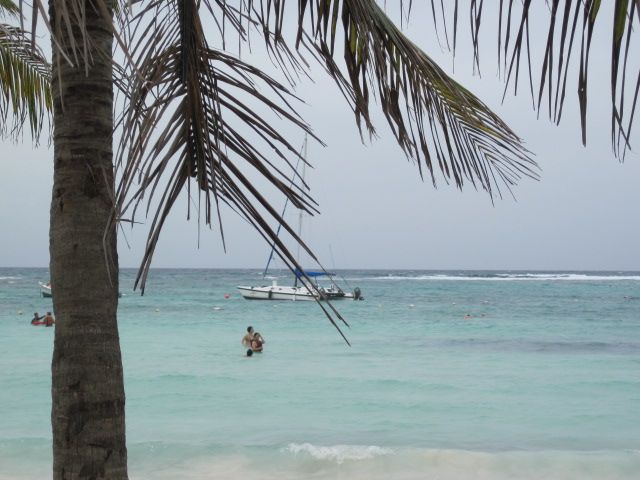 We had an excellent "Spanish" dinner and the evening wasn't too rainy. The weather forecast was improving for our last full day at the resort. During our entire stay, the free Hobie cat sailboat rides had been shut down due to the weather. Would the rides be available on our very last day? We were hoping so, and I planned on arriving bright and early the next morning to find out.
Hasta luego ... until then. Mid-Life Cruising!