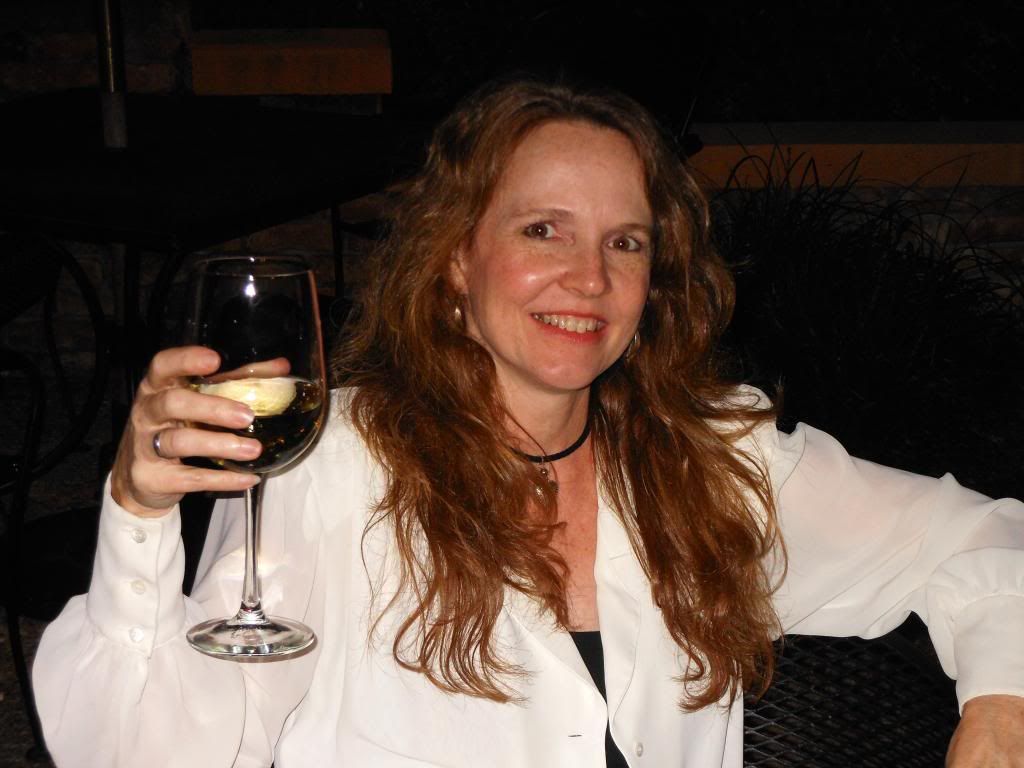 When things don't go as expected ... have a glass of wine!
I think I mentioned in my last post that I love Halloween. It's one of my favorite holidays .. the candy, the scary decorations, and the costumes. It's a time when we can all act like kids, no matter what our age. I'd been looking forward to last night for the past few weeks. We'd be joining our friends from the
Bon Jeudi bike social
to ride bikes along the Mandeville lakefront and through the neighborhoods. We'd all dress up in Halloween attire, give out candy, and stop for a few "spirits" along the way.
Since I wasn't going to go buy a costume (cruising always on my mind), I figured I'd dress as a cat. That worked for me
last week
. At the last minute I thought of some things that I had and threw together a pirate outfit. Three costumes in the past week from things in my closet ... none of them elaborate but they worked. I figure a dollar saved is a dollar earned, and I won't have room for a bunch of costumes on Nirvana anyway.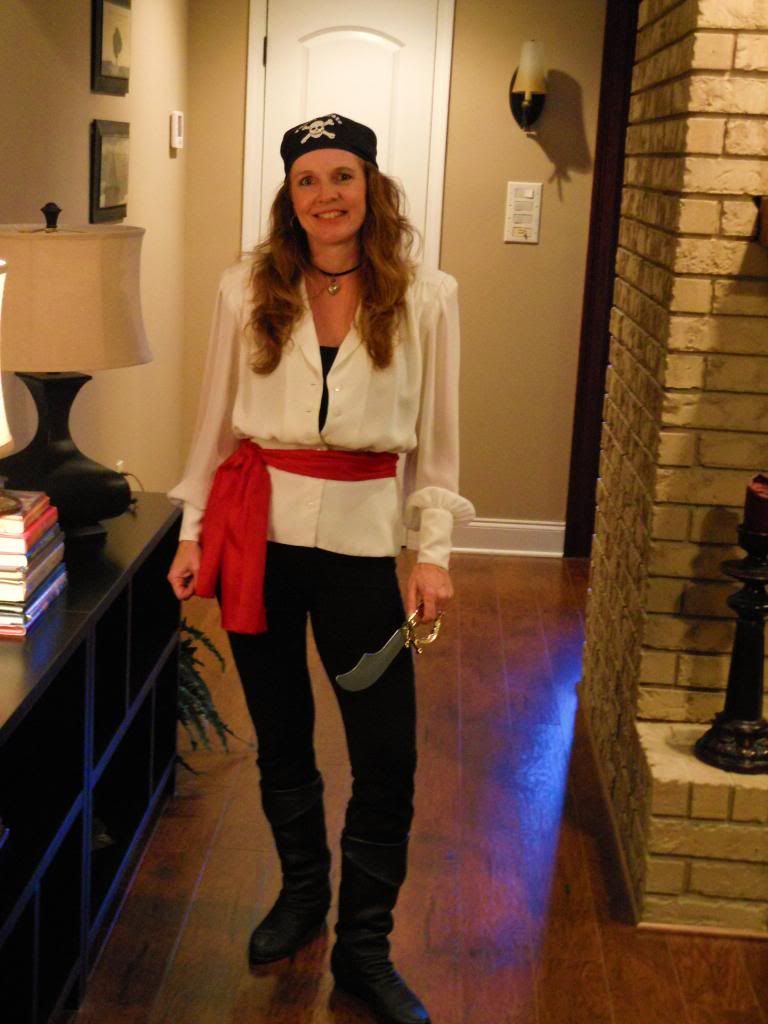 While at work, my heart sank when I heard we were under a tornado watch. Tornado watch?! The skies were gray and the rain wasn't supposed to arrive till after nine o' clock! As the day progressed, the forecast continued to change for the worse. The rain was now scheduled to arrive around 6:00 ... the same time we were all supposed to meet up with everyone, thirty minutes from our house. After going back and forth in our minds, Ken and I decided to stay closer to home. It seemed pointless to drive thirty minutes down the road, have our friend bring two extra bikes for us, then get rained out shortly afterwards.
I wasn't about to sit home on a street that typically doesn't have any trick-or-treaters. I was all dressed up with no place to go. What to do? When all else fails ... go to a bar!
Ken and I wound up at Copeland's bar, where we enjoyed happy hour prices on drinks and food. When seven o' clock arrived and it was still dry outside, I wasn't sure if I should be disappointed or not . The disappointment would be easier to handle if it was the right decision. However, as we drove past a ton of trick-or-treaters on the way home, it started to drizzle. By the time we were home at seven thirty it started to pour. The kids got to enjoy their Halloween and I was feeling better about our decision. I guess the timing couldn't have been better. I think Ken was glad the rain finally came because not only did it make us feel better, but it prevented me from pulling over and walking among all the trick-or-treaters and their parents. I love walking around the neighborhood and looking at all the little kids and their costumes!
Yep, when looking at the picture below you can tell that I threw together my costume ... and that I don't sew. Look at all those threads on my red sash! I swear they were only noticeable for the picture .. of course.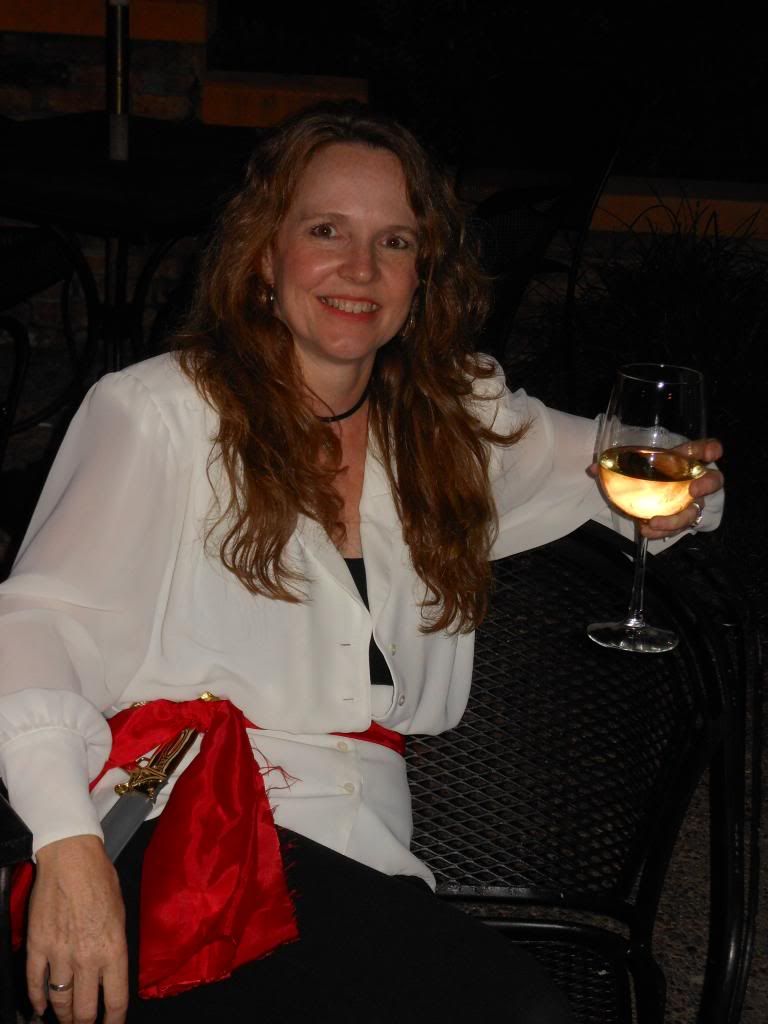 When our daughter was young enough for trick-or-treating I always volunteered to take her while Ken gave out the candy. He preferred it that way too. He liked to sit out front with the candy and a few beers. Too bad our current street doesn't ever have any trick-or-treaters. Here's a picture of me and our baby girl on her first Halloween in 1992 ... fun times!
Hasta luego ... until then. Mid-Life Cruising!