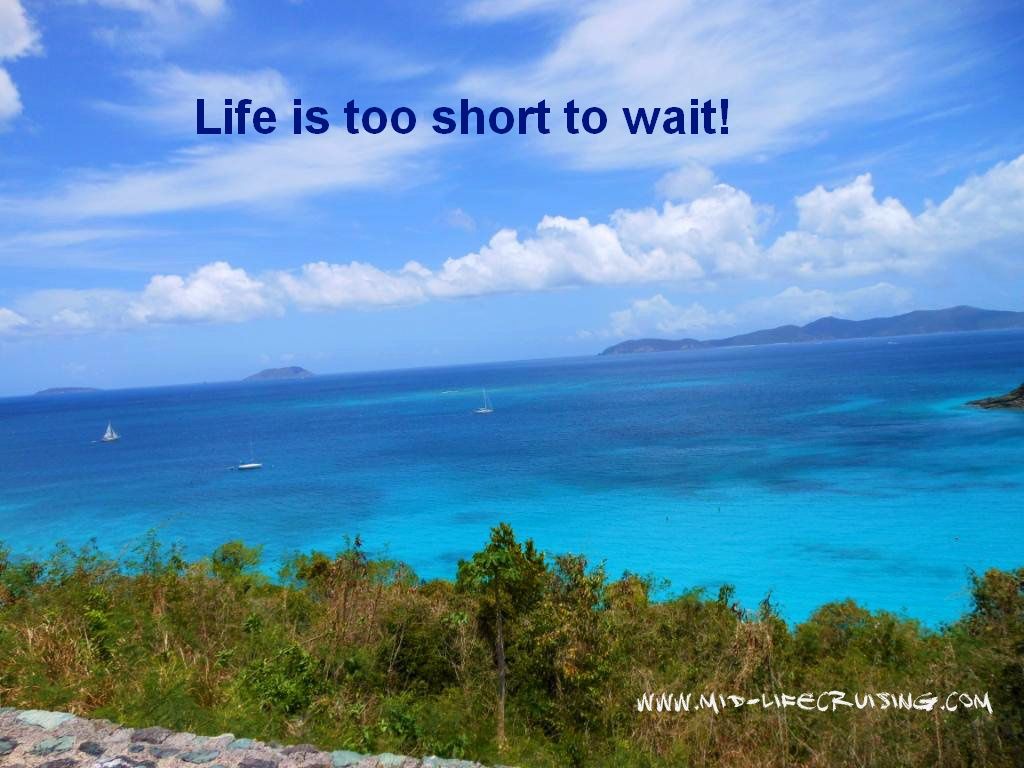 View from the roads of St. John, USVI
Until a few years ago, I'd never heard of a "bucket list". Since then I've read several of these lists and thought about what I'd write if I made my own. There would be all sorts of amazing things on that list. However, trying to write down everything I'd like to do during this short time on Earth seems a little overwhelming. There's so much I wanna do!
So instead of trying to think of everything I'd like to do, I thought I'd write down what I'd like to accomplish by the time I turn the age of fifty. That's only just over three years away ... damn! Anyway, by the time this "
Pirate Looks At Fifty
" I'd like to ...
Quit my job
Live on our sailboat
Attend our daughter's college graduation
Experience sailing in the Gulf of Mexico
See our daughter get married (she's engaged)
Watch my husband dance with our daughter at her wedding
Sail at night, under a full moon
Cross the "Gulf Stream"
Watch dolphin at Nirvana's bow
Motor through the "swimming pool" of the Bahamas
Sit on a beach around a fire ... with cruisers and locals from the islands
Swim with the pigs in the Bahamas
Catch and grill my own lobster
Try surfing
Pet a stingray
Snorkel as much as possible
Lay in a hammock under the stars
Crack and eat conch
Have our daughter & her (soon-to-be) husband wake up with us on our boat ... in the tropics
Practice yoga in Georgetown
Catch a Mahi-Mahi
Make the leap from "Chicken Harbor" ... and not become a chicken
Visit Dean's Blue Hole
Hike in the Dominican Republic
Skinny dip in a quiet anchorage ... because I can!
Visit Cuba
Dance to salsa music at night with the locals
Hang out with Foxy in the BVI's ... again
Attend a full-moon party
Drink a few more "Painkillers" from the Soggy Dollar Bar
Maybe ... get a tattoo that says "Nirvana" on my inner wrist but it'd have to be on an island after we're cruising ... only then would it be meaningful
Define ourselves as cruisers!


Maybe not by the time I'm 50 but ... become a grandmother
Share this amazing lifestyle with grand-kids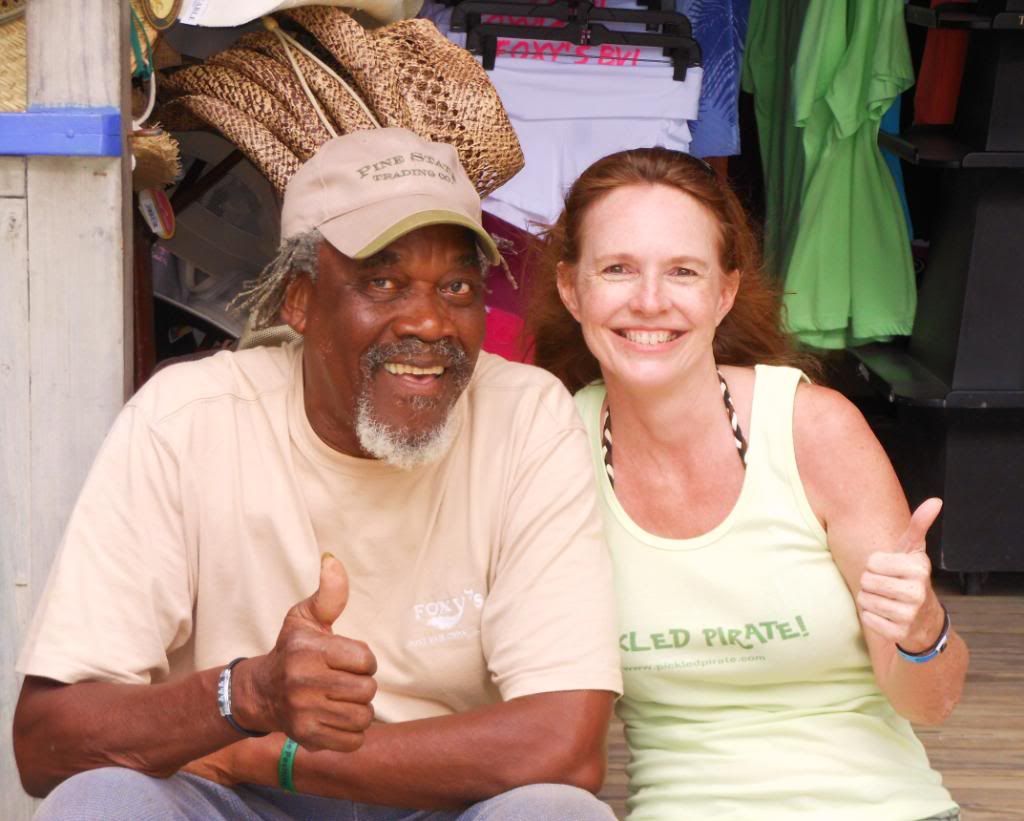 Me n Foxy ... Jost Van Dyke, BVIs 2012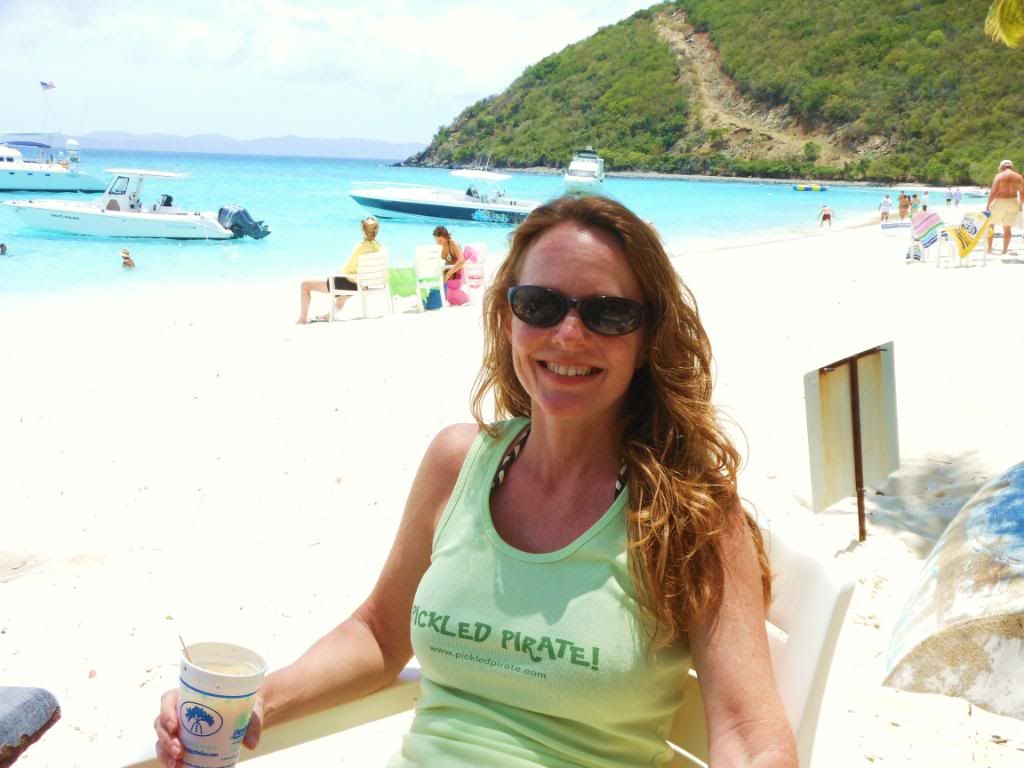 Then on to the Soggy Dollar Bar for a few Painkillers
If for some reason I don't make it to fifty then my husband, our daughter and her new family will be burdened with doing the above in my honor ... not such a bad thing to be burdened with.
Beyond that I'd love to visit Bali and Thailand, eat a simple meal on the floor with Buddhist monks ... wait, I feel another long list coming. Better stop for now.
Hasta luego ... until then. Mid-Life Cruising!