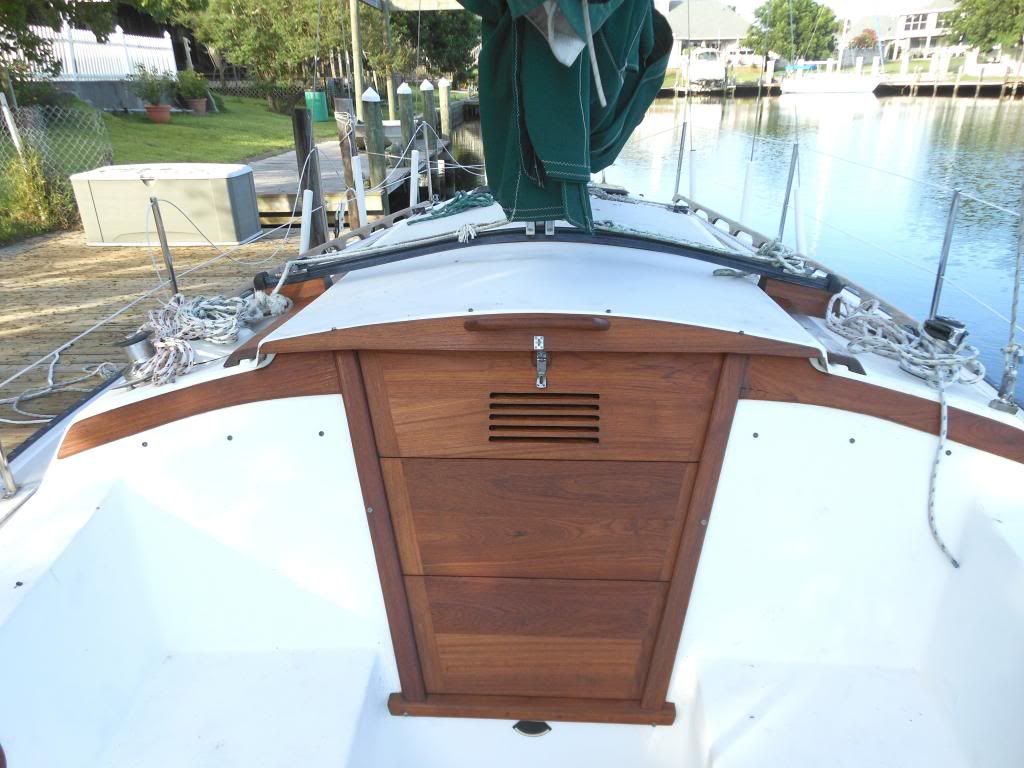 She's come a long way baby! That's what I told Ken when I got home from work Monday and was pleasantly surprised to see what he'd done to our teak. Just over a week ago, we had a
dirty-ass boat
that had been neglected for over nine months and now ... she's looking pretty!
Like the
last time we refinished our teak
, we used CWF-UV (Clear Wood Finish) by Flood, owned by Awl-Grip. We've been able to buy it at Wal-Mart, and it's less than $30 a gallon. It's an easy solution to protecting our teak, and it gives it a great look. There are several colors, but we like the "Clear". Just clean the teak (we just used water), lightly sand and apply the CWF. Let it dry, and apply one more coat, with no sanding in between. It's really easy, especially since this wasn't our first application and we didn't have any varnish to remove. We should probably re-apply this every year at the least, but it's actually been two years since we first applied the CWF, so there wasn't much of anything left.
The three pictures below show Nirvana's refreshed teak, and the teak before and after being cleaned. Ken didn't mess with the handrails, because one is broke and we decided on a teak alternative called
Plasteak
. Thanks to this site, they're giving us a break on the price! Both Ken and I have spoken to the folks at the company and they've been very friendly and helpful. Ken drew up a picture with our measurements and we placed an order yesterday. We don't expect the handrails to match the rest of our teak perfectly, but we're fine with that. Less maintenance is our main concern.
Although we think we've found a pretty easy way to maintain our teak, we'd like to eliminate maintaining the handrails and the companionway boards. Ken plans on eventually making some companionway doors out of starboard or something similar. We figure we'll have enough to maintain when cruising, so this will be one less thing.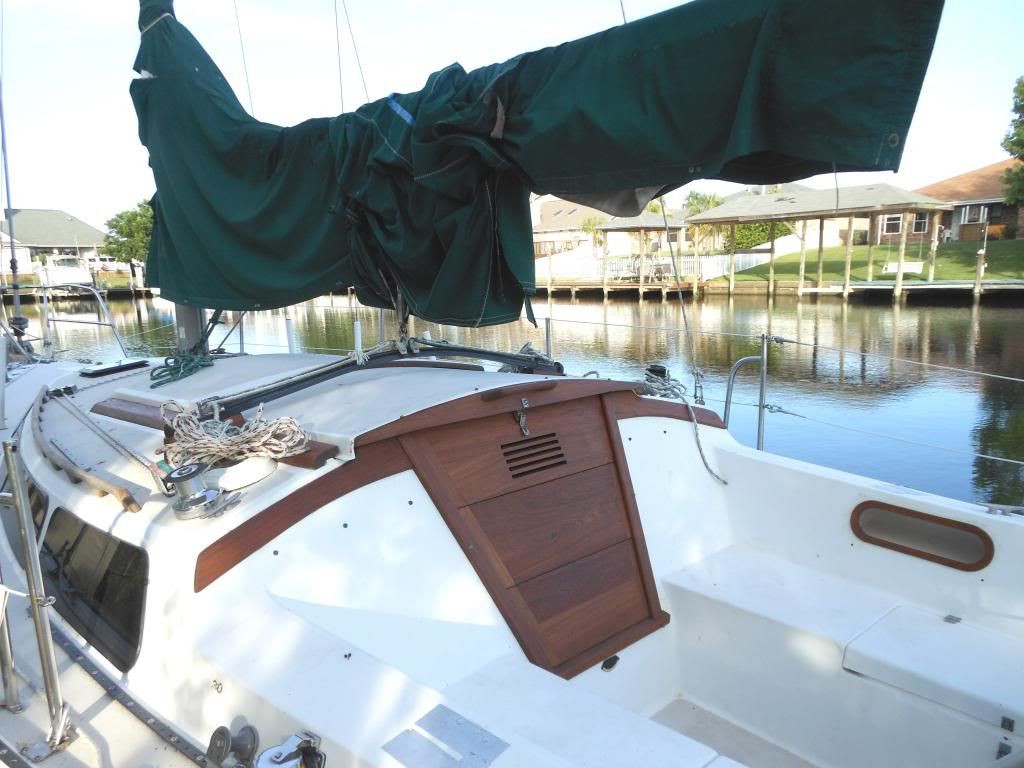 Some new handrails and a sail pack coming soon!
Before cleaning
After cleaning
Wow, what a difference! I gotta get a picture of our cockpit table ... after removing the varnish last time, and adding CWF for what's now the second time ... it looks really good. From yellow (originally) to a nice warm, reddish tone.
By the time I got home Ken had all of this done ... lucky me! We poured ourselves some Margaritas and sat out back. We drank, listened to music on
our new Flips
, and admired our boat. She really has come a long way in the last week!
We should have the finishing touches on
our new bimini
soon, as well as the things we need for our lazy jack system for our new sail pack. Then, replacing the fluids and filters and putting our head sail back on.
Hasta luego ... until then. Mid-Life Cruising!