Love these guys ... I could just eat 'em up!
After partying on Bourbon Street for the
Superbowl
and then
Mardi Gras
, we continued the party all the way to Vegas! You're probably wondering why the heck we chose to go to Vegas right in the middle of trying to sell our house, fix and sell our rental, and save for cruising. Well, we have a really good reason and it has to do with family. Our daughter to be exact.
When she invited us to go along with her, her boyfriend, and his parents to celebrate her 21st birthday we knew we wanted to go. We've been to Vegas before, but our "little girl" has seemed to grow up overnight and vacations together no longer occur as often as we'd like. Add to that something even bigger ... her boyfriend snuck over to our house and told us of his plans to propose in Vegas! How cool was that of him to talk to us and get our approval ahead of time?! He's a really great guy and we're happy to have him as part of our family. I was totally caught off guard and started tearing up. I swear it seems like just yesterday when she was learning how to walk and talk. Needless to say, we were going to Vegas!
We cashed in our credit card miles that we've been saving since our trip last year to
the Virgin Islands
and booked the trip several months ago. (I love this perk and it's paid for quite a few trips over the years). Now, the trip has come and gone and our daughter is engaged! We're so glad we managed to go on the trip and share such a special time with the kids. Heck, how many kids want their parents to go with them to Vegas?! We got to know our future in-laws better, and we couldn't ask for nicer people to become part of our family. We had a great time!
He proposed on the gondola in the Venetian Hotel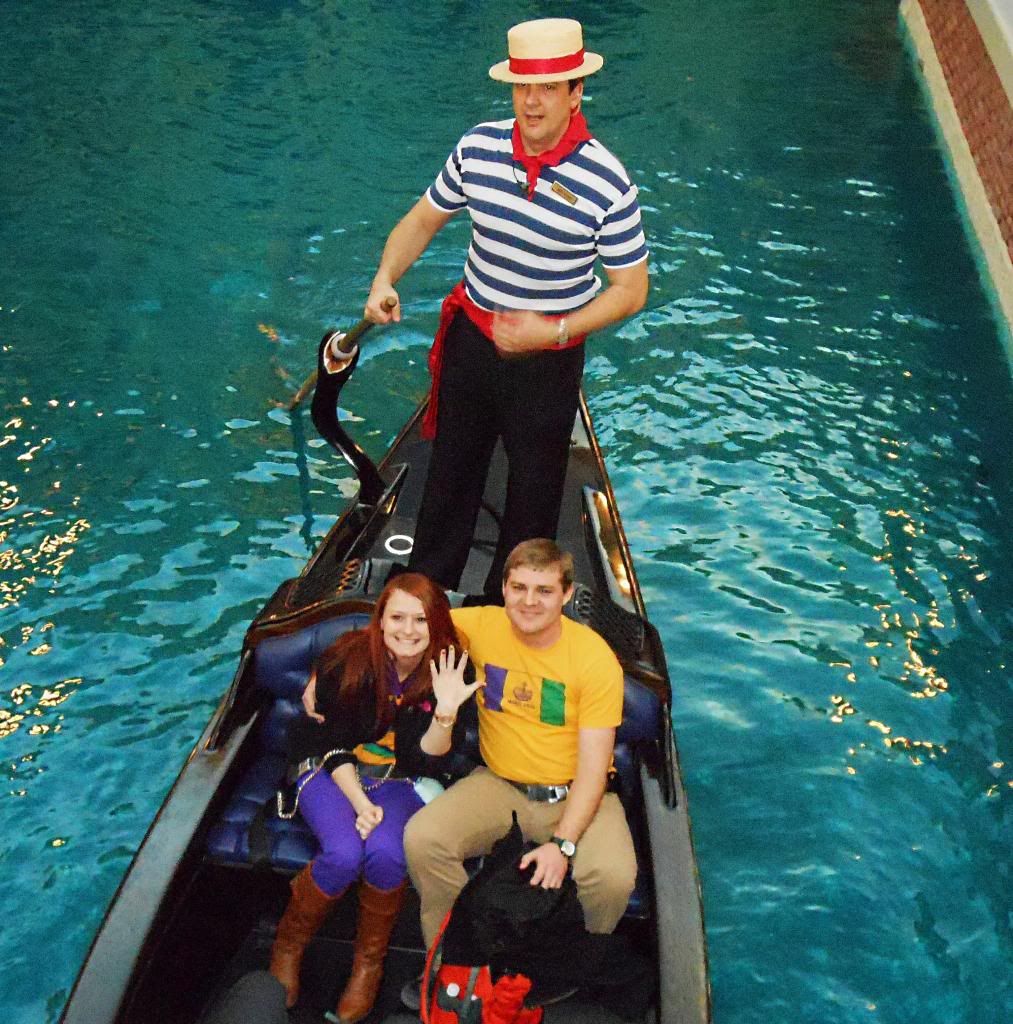 Proud parents waiting for them to get off the boat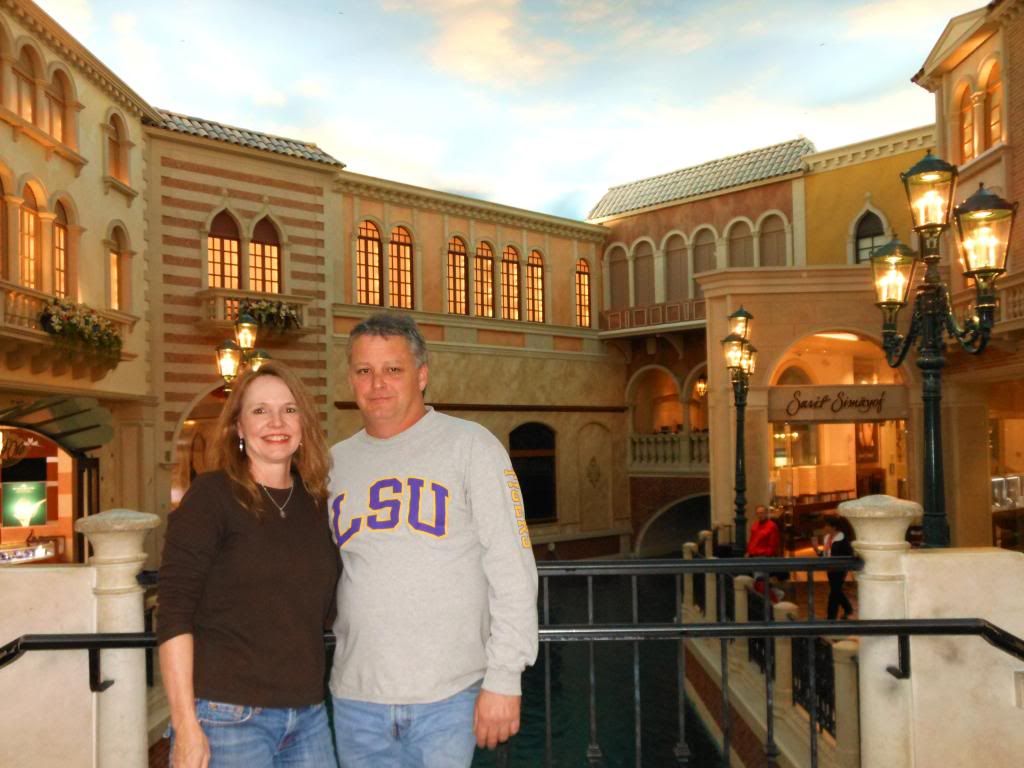 Afterwards, we went to the top of the Stratosphere Hotel for great views of the sunset at the 107 Lounge ... 107 stories high. Our ears were popping us the elevator took us up. Let me tell ya, this is one of the best deals in town! We went for happy hour for 1/2 price martinis and appetizers while enjoying the views and jazz music. As I was getting ready to take this picture, a body flew by! Yep, people actually pay to jump off the top of this thing with some sort of bungee chord set-up. No thanks!
The newly engaged couple!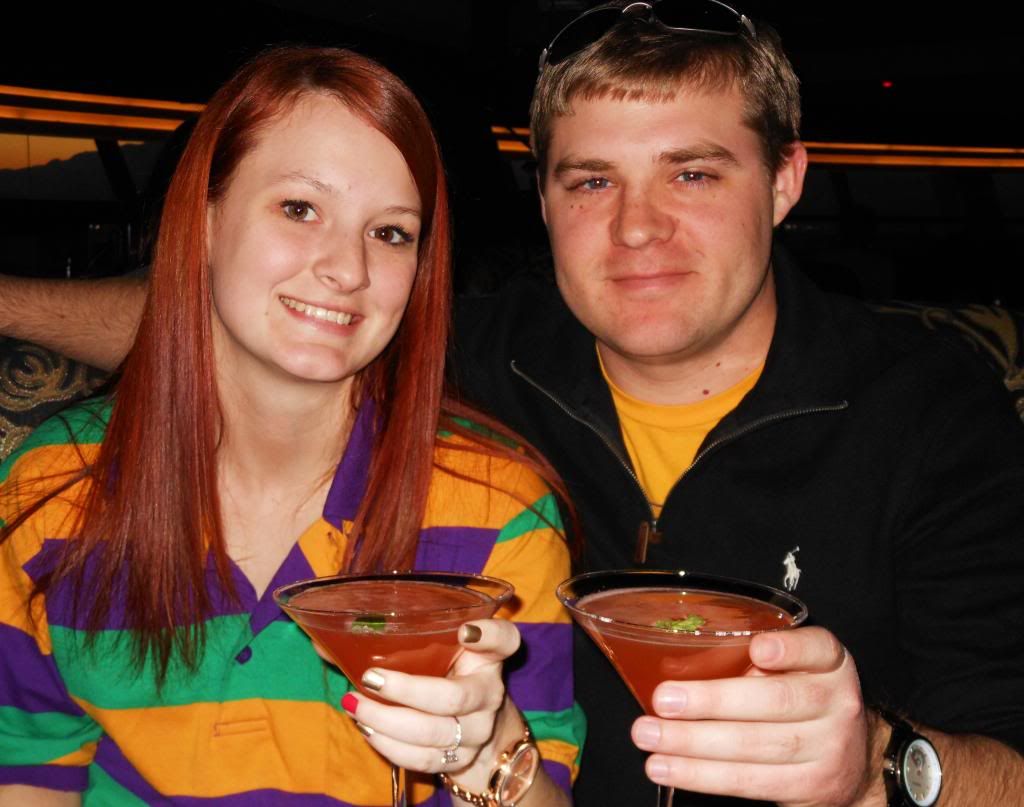 Of course, we had to stop at Margaritaville!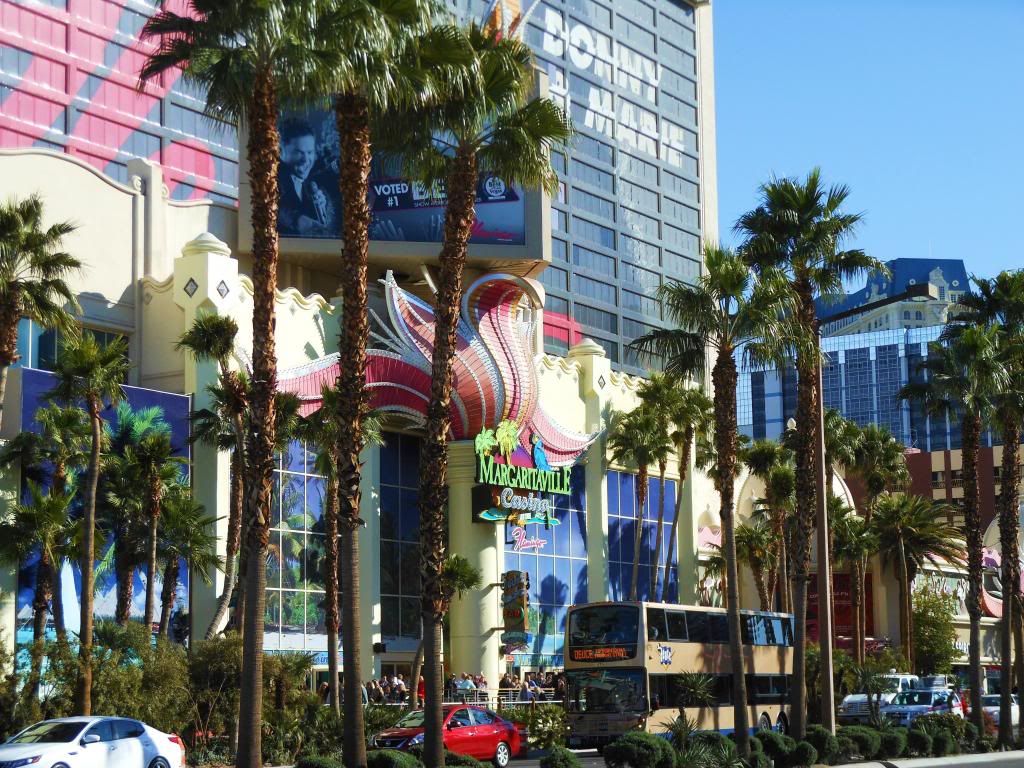 In case you were wondering, Elvis is alive and well! Have you noticed Homer's been in a few of our posts lately?
Chumlee is alive and well too at the Pawn Shop! Actually, I'd call the place a souvenir shop at this point. We had to wait in line to get in the place, it was full of t-shirts and souvenirs, and we just happened to get lucky enough to catch one of the "pawn stars" that was about to leave after shooting an episode. The place was packed and we were told to get our cameras ready. Chumlee came out, walked behind the counter, gave a few autographs and let us take a quick picture. Crazy how all these people (including us) now flock to this place to see some guy that looks like a big teddy bear with tattoos 'cause he's on tv! It was fun though, and we didn't dare buy anything. We already felt like silly groupies.
We also caught the free pirate show at Treasure Isle. It's pretty good, with wenches and explosions!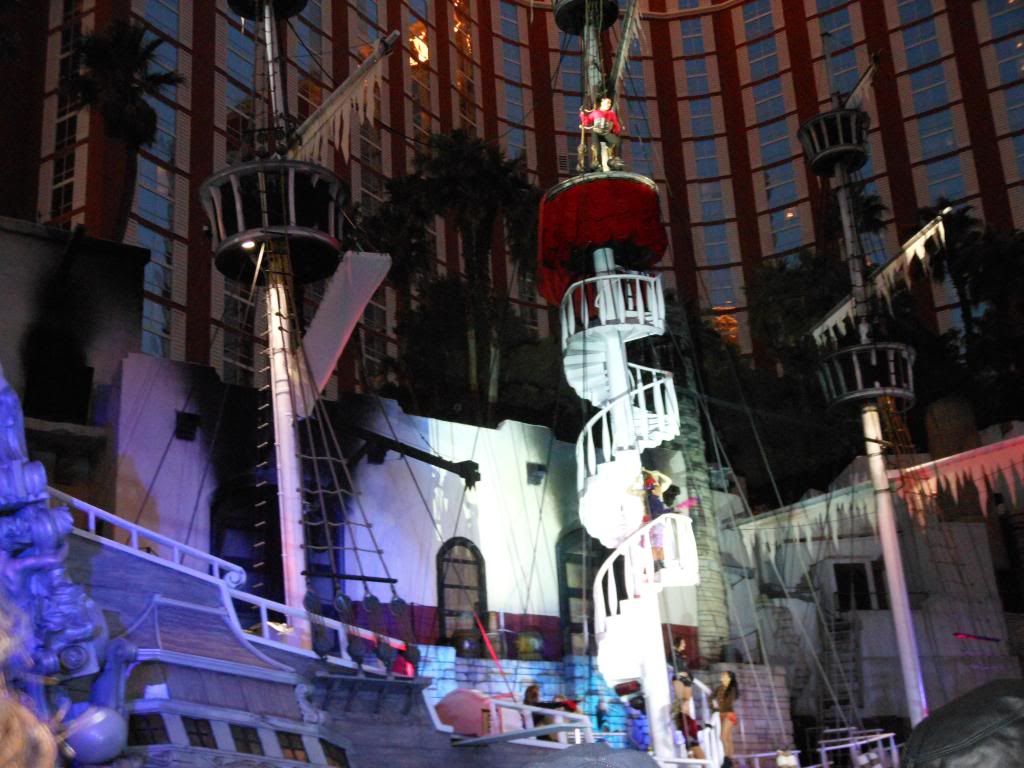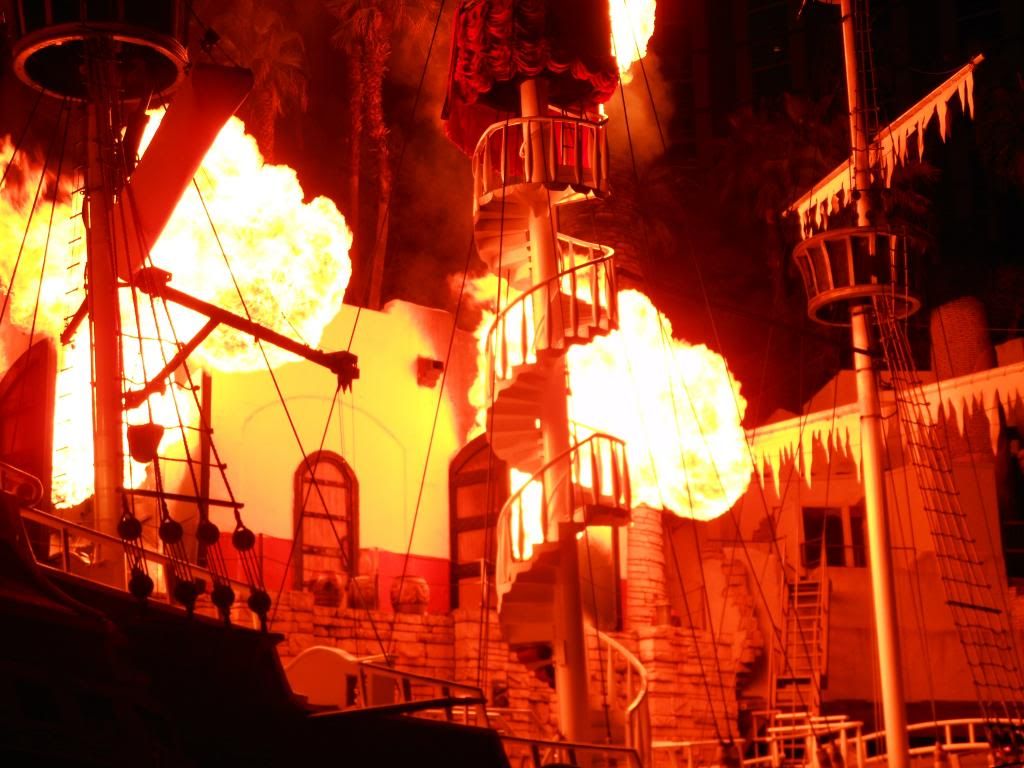 We stayed at the New York, New York Hotel, which I recommend if you want a place with a good atmosphere, reasonable room rates, and great location. The inside of the lobby looks like the streets of New York, with restaurants and bars along the way. Why didn't I get a picture of the cool inside and the Statue of Liberty with the roller coaster outside?! We also visited Fremont Street, which has a laser light show in the evenings and is the original Las Vegas. Again, no pictures. Too much fun I guess.
Excalibur ... next to New York, New York. I love wizards, fairies and castles ... I have a really nice collection of castles that won't be able to come with us on Nirvana. I hope my daughter takes them for me.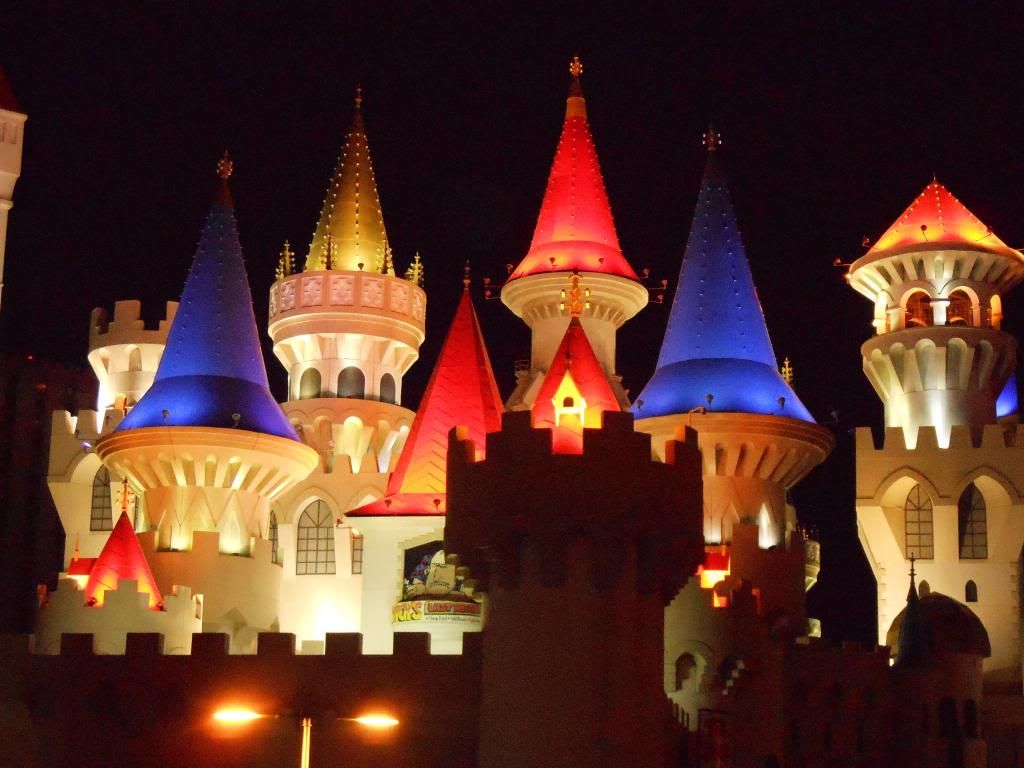 Vegas is no longer the place of $4.99 steak dinners, and it can be crazy expensive if you let it. However, we generally ate a good breakfast that held us over till "Happy Hour". We hit the House of Blues, Margaritaville, Senor Frogs, the Stratosphere ... all serving specials on drinks and sometimes appetizers.
We also went to the dinner show, "Tony n Tina's Wedding" ... hilarious! If you want to catch a show that's not too pricey, serves great Italian food, and is a lot of fun ... this is it! In fact,
Groupon
has been selling 2-for-1 tickets making this a real bargain. Basically, you go to the show as guests of the bride/groom and the family and friends sit and gossip about the bride's ex that showed up uninvited, the pregnant bridesmaid, the priest that gets smashed by the end of the show. The wedding turns into a reception with great music, dancing and wedding cake. We ate, drank and laughed a lot!
I guess we may have a wedding next Spring! But don't worry, we're still focused on our cruising plans. We don't give up that easily!
Hasta luego ... until then. Mid-Life Cruising!