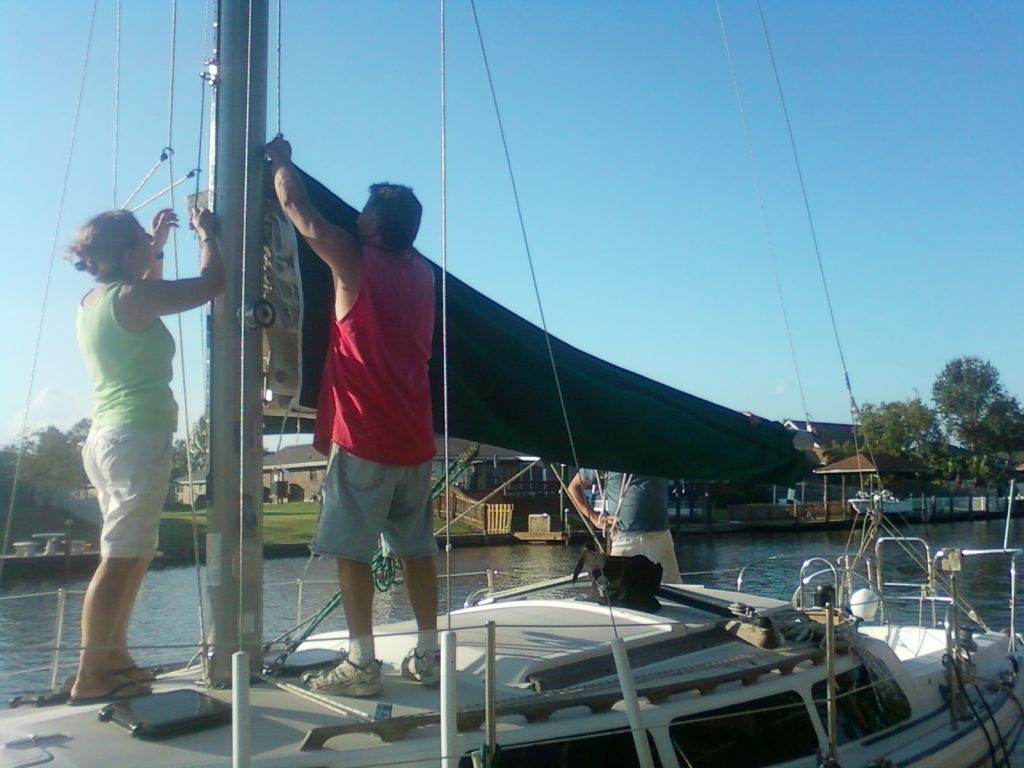 About a year ago I was lucky enough to win a Sail Pack Kit from
Sailrite
thanks to the many votes I received from followers. Since I can't even sew a button on a shirt, the kit had been put aside for a while. However, we finally found a great seamstress (
Robin
) that lives nearby and agreed to sew our sail pack.
Robin has been working on our sail pack, and she came by Wednesday evening with the almost finished product. She wanted to make sure that Ken's measurements were right and that the sail pack would fit properly, which it did. I'm glad Ken took the measurements because if I had taken them ... surely a disaster!
Robin took a few more measurements for the piece of fabric that would go around the front of the mast (see where open in above picture). We needed two pieces of 3/4" 40 PVC pipe, cut to 12 feet, for the top of the sail pack ... one on each side. The pipe was inserted into the pockets to make sure they would fit, and again they did. So far, so good!
We discussed where the loops on the top of the sail pack would be located for the lazy jack system. We decided on six loops (3 on each side), starting 18 inches from the mast ... then another loop 4 ft. down and then one last loop another 4 ft. down.
Since we have a loose footed main sail (sail not attached to the boom ... a new term for me) we also discussed options for attaching the sail pack to the boom. The kit seems to address a main sail that IS attached to the boom, so we had to come up with a solution. We decided to attach a few slugs (slides) to the bottom of the sail pack, which will then fit into the boom track and keep the sail pack attached.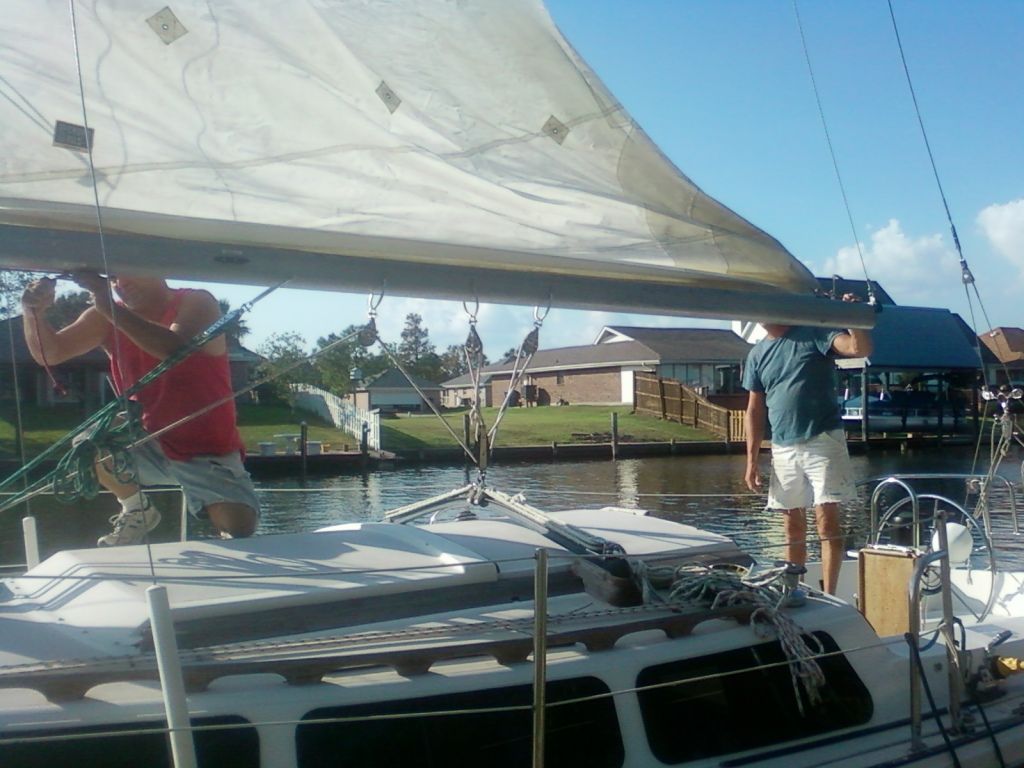 Our loose footed main sail is only attached at the front and back of the boom.
The sail pack is looking great, and we were excited to see it on Nirvana! Once we receive the finished product, Ken is going to create and install the lazy jack system. Lazy jack kits are really expensive, and there's not much to them. Creating our own system should save us quite a bit of money.
Since winter is around the corner, we'll probably just continue to use our old sail cover until next Spring. We figure there's no need to put on the "good stuff" while Nirvana sits most of the Winter.
Of course, I'll write a post with pics of the finished sail pack and a post about our lazy jack system.
Hasta luego ... until then. Mid-Life Cruising!