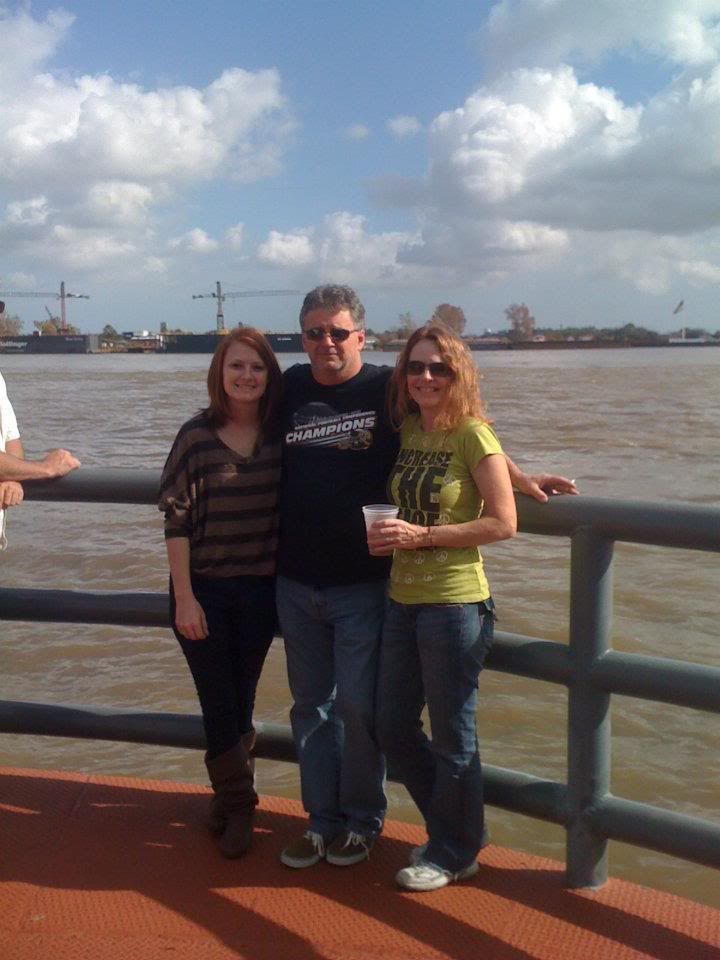 Well, Christmas is over and we're facing the end of another year ... already! Ken and I had a great time with our family on Christmas Day, but we're ready for the New Year and warmer weather! Ken and our daughter, Erica, have been sick since Christmas Eve and hopefully they'll be feeling better soon. I've been lucky enough to stay well, but I've been feeling like a bear ... wanting to hibernate on the sofa during this cold weather. I guess things could be worse, cause I'm spending winter in Louisiana instead of somewhere like Minnesota. I don't know if I could survive living in a Northern winter! So, while I know things could be worse I find myself wasting away the winter days longing for Spring and time back on the water.
I know the warm weather will be here before I know it, because once again the year has flown by faster than we could ever imagine. I've chosen some pictures that best reflect
2011 - Our Life!
The picture on the left is Ken and I with our daughter, Erica. We are so proud of her! The next post will cover the things we accomplished in 2011 ... and the things we did not. I'll also post our goals for 2012 ... we've got a lot to do in this upcoming year!
I've also added the above link to our
"Pictures" page
, which also includes pictures from 2010, Nirvana's haul-out, and other pictures from years before the cruising seed was planted.
We hope that everyone had a great Christmas, and that all of you have a fantastic 2012!
Hasta luego ... until then. Mid-Life Cruising!