NKOTB (New Kids On The Boat) ... A Weekly Series Sharing Our Thoughts and Questions as Beginner Sailors and Future Cruisers. NKOTB or Experienced Cruiser ... Tell Us Your Thoughts!
Since cruising requires living on a boat, we know that some comforts that we now enjoy will be lost. Long showers, air conditioning, a washer and dryer nearby, and even a normal flushing toilet will be missed!
To make up for the air conditioning, we plan on purchasing a few
Caframo fans
and a windscoop that works in any direction. We'd also like a nice canvas tarp to cover our deck and shade us from the scorching sun. Recently we noticed a sailboat that had a tarp draped over its deck, and we were envious! The boat looked so cool and comfortable, and with the matching canvas it looked really good. Of course, matching sunbrella will not be cheap but it's our understanding that those inexpensive, blue tarps don't last very long. Perhaps we'll have to break down and make the investment once we're finally "out there".
Other than the air conditioning and the things mentioned above, comfort to us means having a place to kick back and relax while reading, watching a movie, listening to
music
, or playing a board game. Our salon's settee converts to a full sized bed, or what we'll probably call a "lounging area". We don't like to sit up straight while relaxing after the day's end, so the ability to create an area for kicking up our feet is really important to us. We're so glad we'll be able to do this. We've been planning on adding a 19" flat screen television to the salon, but since we'll be anchored a lot I'm wondering if an iPad with a mount on the wall would be a better idea for movies. We could also place a mount in the v-berth ... any thoughts on this?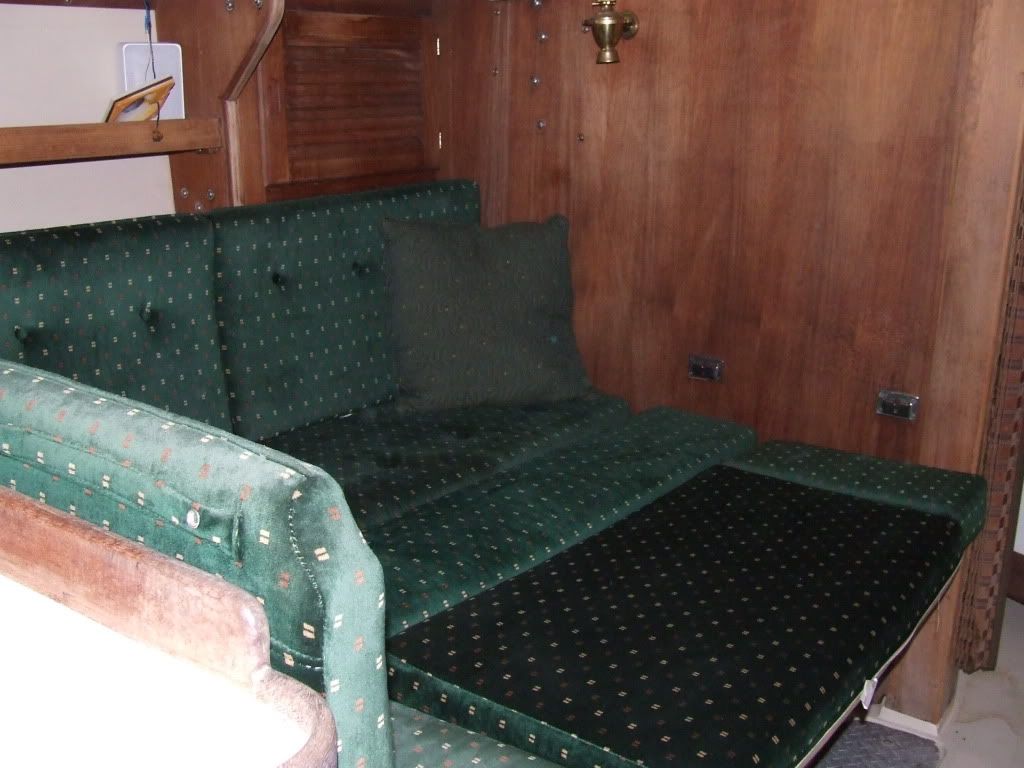 Our lounging area!
Of course, comfort while sleeping is crucial! We won't be able to do a whole lot regarding interruptions during the night due to weather and other boats, but we hope to create a comfortable space in our v-berth for those nights that we do actually get some sleep. Recently, we placed a
foam mattress
on top of the v-berth mattress to get rid of the feeling that we were sleeping on concrete. It has definitely helped, and we no longer wake up feeling bruised and sore. This is a temporary solution, and we hope to invest in a real mattress before living on our sailboat.
For me, comfort also means living in a space that is pleasing to the eye. Perhaps my mom's career as an interior designer has rubbed off on me, but I want Nirvana to feel welcoming and cozy. After all, it will be our home. Personal touches in the salon (den) will make it feel like a home, but what about the v-berth? The v-berth mattress is currently covered in a nice velour-type fabric that matches the salon. I believe this is original, but it's in fantastic condition. I'm happy with this and don't plan on changing it, but I wonder what others do to keep their v-berth from looking like a big mess. When placing another mattress on top plus sheets, I wonder if we will we ever see the original cushions. .
What do you do to keep your v-berth welcoming and a part of your "home"? Do you remove the sheets daily? Do you have a nice comforter and never reveal the original mattress? Does all of this bedding get moist, and does it have to be aired out frequently? Do you just use a sleeping bag?
Oh, and no bugs buzzing in our ears or biting us while in our home would be nice. We don't have any screens for our hatches, but I bet Ken could whip up something for us.
I can hear the comments already . We'll probably be told that we need to forget about having a tidy place. After all, we'll be living on a 30 foot sailboat! I know there will be times when everything is torn apart just to get to something, but I do believe that we can keep Nirvana looking like a home with some organization. To help us keep organized, we'll probably turn our aft-cabin into our garage and storage area. Our settee can be used for those times when we're blessed with visits from our daughter or other guests.
There are a few simple things to bring us comfort ... real wine glasses, utensils, and those hard to break "Corelle" plates and bowls will be in our galley. Oh, and a hammock for the deck is definitely a must!
When thinking of comfort, I wonder what other liveaboards do to create a comfortable place to lay their head or lounge. What does comfort mean to you, and what tips do you use to get there? Any info would be greatly appreciated
Hasta luego ... until then. Mid-Life Cruising!
Note: Here are the previous posts from this series. Check them out and feel free to give us your advice. We've really enjoyed reading your comments!