Well, Ken and I have been busy this past week trying to earn a living, mostly by trimming shrubs and cleaning out garden beds of a customer of ours .... 3 days in 105 degree heat index. So, the water pump still isn't installed in Nirvana yet. We're not missing much sailing this weekend anyway, due to T.S. Bonnie headed straight towards us (New Orleans). It's already starting to rain a little, and it's supposed to continue through Monday. We are relieved to hear that the storm is falling apart, and hopefully there will be no tar balls in Lake Pontchartrain afterwards. About 1500 lbs. of tar balls were removed from our lake a few weeks ago after a storm (Alex), so it's very stressful during this hurricane season.
Since there's not much sailing action just yet, here are a few pictures of our Catalina 30 before and after her recent
haul-out
. If you click on the picture, you can enlarge it for a better view. The two below show her being pulled out of the water and then being put back in the water 2 1/2 months later.
These two pictures show the keel shortly after being pressure-washed at the boatyard and then after Ken repaired the keel and repainted it. We believe the deep scratches in the keel are a result of Hurricane Katrina.
Here is another set of pictures showing our Catalina 30 with her old name and her new name after denaming and renaming ceremonies, of course. We also changed the bottom paint color from bright green to what I'd call an eggplant color. A local hardware store was going out of business and had two cans of paint left on the shelf at 40% off. One can was black and one can was electric blue. We figured at 40% off we didn't really care what color our sailboat's bottom was. We figured we'd wind up with navy blue, but it's more like purple! We're still glad we saved the money, and I'm starting to like the color. How many sailboats have a purple bottom?!
Below is a picture of Nirvana shortly after purchasing our sailboat, and then a picture of Nirvana at rest after the haul-out. You can see the hull was a little damaged and very dull. When we repainted the boot stripe, we went with a darker green color and one solid green stripe instead of trying to complicate things with one thick and one thin stripe. We also went with "Oyster White" (Interlux Perfection), which is a little creamier and softer color than the original white color.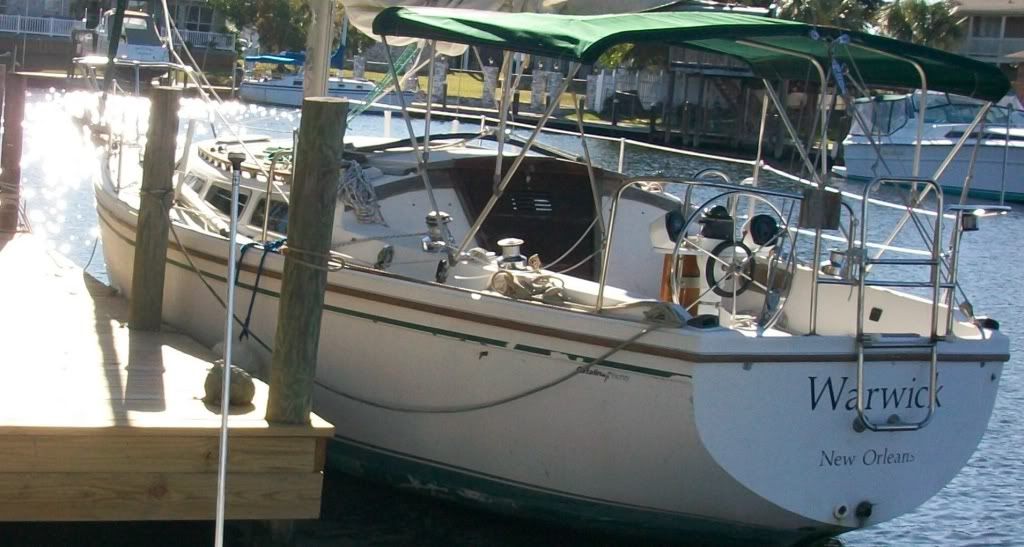 We are really pleased with the results of all our hard work! Don't look too close, or you'll see that one of our next projects needs to be refinishing the teak. We'll probably tackle that project (inside and out) this fall after we've taken a much needed break and the weather is a little cooler. Who wants to work in a heat index of 110 degrees?! In a future post we'll break down the costs of the haul-out ... not cheap!
Hasta luego ... until then. Mid-Life Cruising!